Francesco Mazzei: Top London chef exports anti-food-waste campaign to his native Italy
Even pigs' heads are on the menu at two-day Calabrian festival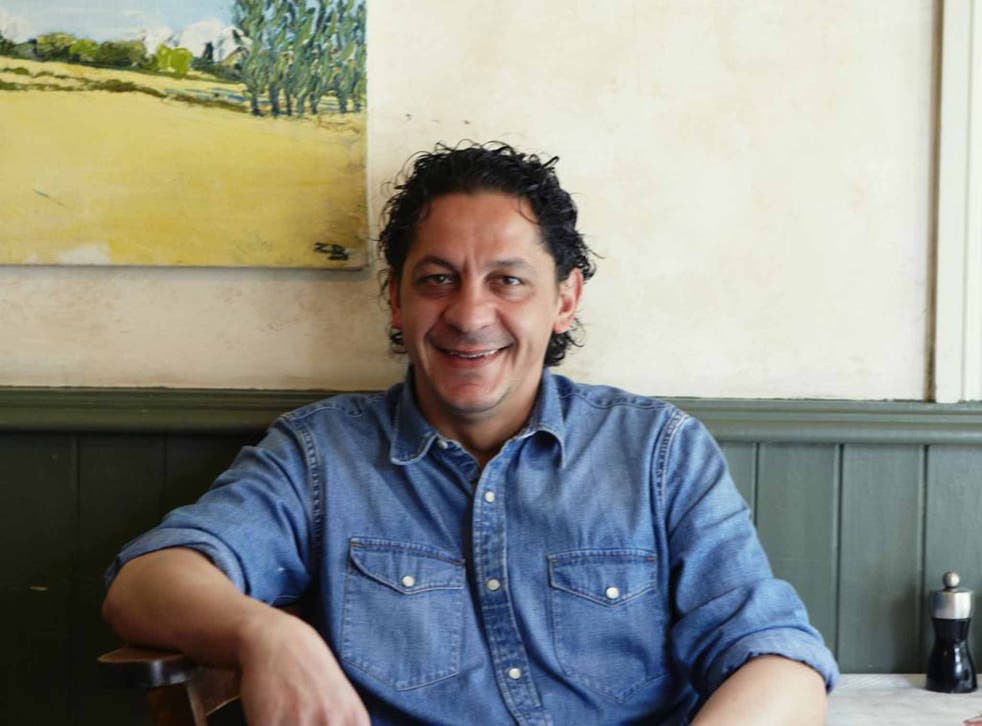 A top chef who served meals created from surplus produce to London's homeless over the summer was so inspired by the idea that he is taking an anti-food-waste campaign to his native Italy.
Francesco Mazzei used leftover supermarket food collected by The Felix Project, a charity that feeds homeless and other disadvantaged people in the St Cuthbert's Centre, Kensington.
Other well known chefs including Michel Roux Jr and Angela Hartnett also served up gourmet dinners.
Mr Mazzei is now promoting the use of leftover food in his home town of Cerchiara di Calabria, at a festival which thousands of people are expected to attend.
"Where I come from, Calabria, is known for the Mediterranean diet," he told The Independent. "We don't waste anything."
"Being a top chef, a big name, these days there's a responsibility for us to tell people how to use food, how to have correct storage at home."
He added: "The reason I'm doing it in Cerchiara di Calabria is that's where I was born, and that's where I'm going to start this movement. Hopefully this will become something which I do every year, and I involve international chefs."
Around 2,000 or more guest are expected each day. They will pay a small fee to dine at the part-sponsored event.
The Felix Project was set up in 2015 by The Independent's chairman Justin Byam Shaw, in memory of his late son.
It provides a pick-up service to 60 suppliers including Waitrose, Sainsbury's and Costco, who offload surplus in-date produce which volunteers sort and distribute to other charities.
The campaign takes inspiration from fellow chef Massimo Bottura, whose Food for Soul project made headlines during the Rio Olympics and was behind the St Cuthbert's Centre's conversion into "Refettorio Felix" in June.
Top chef cooks for volunteers of Felix Project
This week's two-day event on Friday and Saturday will see Mr Mazzei demonstrate low-cost recipes on stage, using the sort of ingredients that often end up in the bin.
Grocers have donated "perfectly good" produce they were unable to sell, like "aubergine with little spots on it", or tomatoes that were "a bit soft", Mr Mazzei said. He added: "A friend of mine is a butcher, and doesn't know what to do with the pigs' heads."
Michelin-starred French chef Pierre Koffmann will show guests how to use those more awkward cuts, and Alfred Prasad will demonstrate a leftover vegetable curry.
A third of all food produced for human consumption globally is either lost or wasted, amounting to about 1.3 billion tonnes, according to the Food and Agriculture Organisation of the United Nations.
In the industrialised world, where $680bn-worth (£532bn) of food is lost or wasted annually, more than 40 per cent of losses occur at the retail and consumer level, the agency said.
World news in pictures

Show all 50
Mr Mazzei, chef patron at Savile Row's Sartoria, said: "The most common mistake people make is we over-buy stuff, I think that's a big deal, we're buying too much food.
"And of course, before we go to buy food we should definitely check our fridge. Then we check in our cupboards and see what we've got. The thing we should do at home is have a little board, and write down every time something is finished. And then when you go shopping you'll know exactly what to buy."
He added that throwing away half a pack of salami, or leftover cheese, "shouldn't really happen," because even if the cheese was no longer sandwich-worthy it could still be used in pasta or another dish.
In August last year Italy passed a number of new laws designed to cut food waste, which ministers said cost businesses and households some £10bn a year.
They enabled businesses to give away food past its sell-by date in a tax trade-off, while farmers can also offload unsold produce to charities for free.
Find out more about The Felix Project here.
Register for free to continue reading
Registration is a free and easy way to support our truly independent journalism
By registering, you will also enjoy limited access to Premium articles, exclusive newsletters, commenting, and virtual events with our leading journalists
Already have an account? sign in
Register for free to continue reading
Registration is a free and easy way to support our truly independent journalism
By registering, you will also enjoy limited access to Premium articles, exclusive newsletters, commenting, and virtual events with our leading journalists
Already have an account? sign in
Join our new commenting forum
Join thought-provoking conversations, follow other Independent readers and see their replies