Francois Fillon apologises for 'anti-Semitic' tweet about presidential rival Emmanuel Macron
Republican leader says tweet about independent candidate evokes anti-Semitic sentiments and goes 'totally against' what his party stands for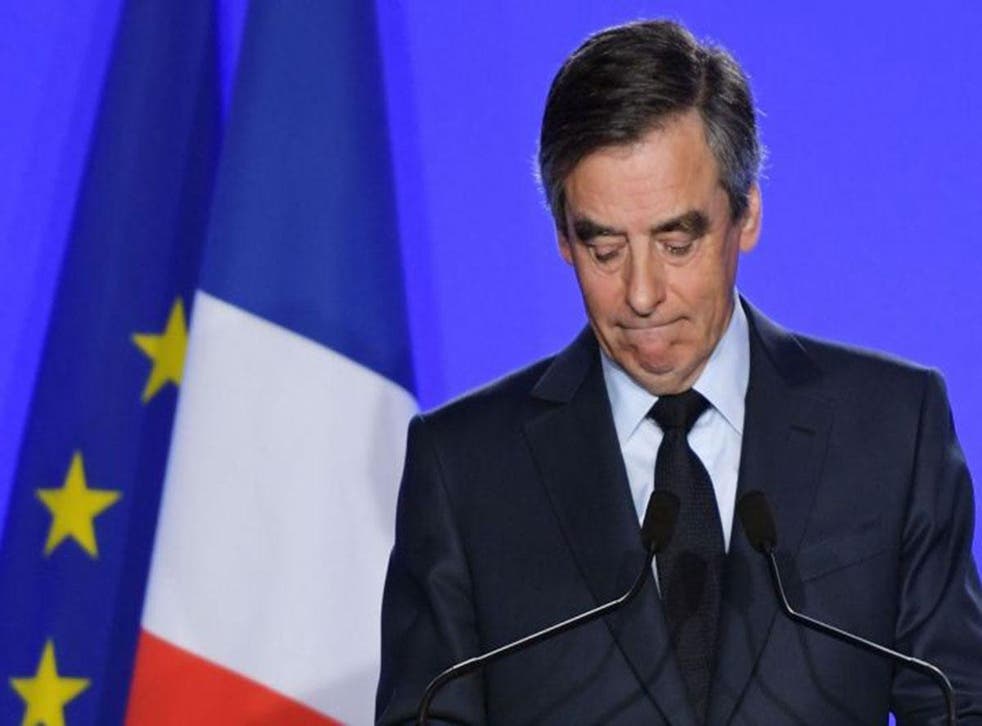 Right-wing French presidential candidate Francois Fillon has apologised for tweeting a caricature of his main rival Emmanuel Macron, admitting that it evoked anti-Semitism.
Mr Fillon's party The Republicans tweeted an image of the independent candidate with a hooked nose — apparently referring to Mr Macron's past as an investment banker for Jewish company Rothschild — wearing a top hat and cutting a cigar with a red sickle.
The image, posted on Friday, provoked outcry after it was widely thought to resemble anti-Semitic propaganda from World War Two when France's Vichy government collaborated with the Nazis and their discrimination of Jews.
Among a wave of criticism, essayist Raphaël Glucksmann tweeted: "They've reached this point ... hooked nose, the alliance of capitalism and Bolsheviks (the red sickle and the cigar) ... Even the [far-right Front National] wouldn't dare."
In response to the tweet, which was deleted within hours, Mr Macron's spokesman Benjamin Griveaux told AFP: "The use of terms and imagery that draw on anti-Semitic fantasy is extremely worrying for the quality of debate in the republic but also for the state of mind that prevails in certain [party] headquarters."
Mr Fillon issued a statement shortly afterwards saying the image was "unacceptable" and went against his party's ideology, adding that those who were behind it would be disciplined.
"I understand the anxiety this could have caused because it evokes the drawings of a dark period of our history and conveys an ideology I have always fought against," read the statement.
"The political battle is tough, but it must remain dignified. I will not tolerate my party publishing caricatures that use the codes of anti-Semitic propaganda.
"I've asked the general secretary of the Republicans to take sanctions against those who gave our movement an image that goes completely against our values."
It comes as the right-wing candidate, once a favourite to win the French presidency, has seen his poll ratings plunge following a financial scandal in which he was accused of paying his wife and two of his children large sums of money for work they did not carry out.
While Mr Fillon has denied wrongdoing, saying his wife was paid hundreds of thousands of euros for genuine work as his parliamentary assistant, he has acknowledged giving her the work was an error of judgement.
Last week, he urged his supporters "not to give up the fight" in the race to the Élysée Palace, embarking on a last-ditch attempt to save his candidacy and giving what commentators dubbed "the speech of his life".
Mr Macron and Front National's far-right leader Marine Le Pen are ahead of Mr Fillon in the polls and are both expected to beat him to the final presidential run-off in May, although the two-round election remains highly unpredictable.
Join our new commenting forum
Join thought-provoking conversations, follow other Independent readers and see their replies