French presidential candidate Francois Fillon faces preliminary charges over 'fake jobs' for wife and children
Mr Fillon has been accused of paying his wife, Penelope, for work she allegedly did not do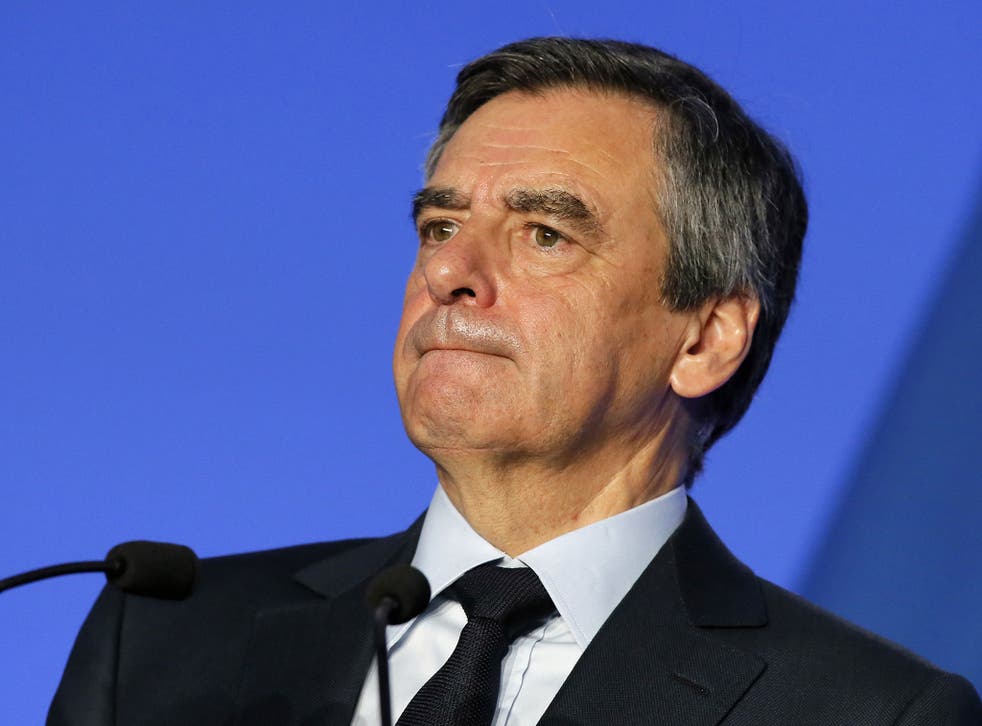 French presidential candidate François Fillon has been handed preliminary charges in an investigation into a "fake jobs" scandal involving his wife and children.
The charges further damage the former Prime Minister's dwindling chances of winning the two-round presidential election, taking place between 23 April and 7 May.
Mr Fillon was considered the favourite for the contest until the "Penelope gate" scandal over the payment of hundreds of thousands of euros to his wife broke in January.
Fillon announces he will not be standing down from the French presidential race
The Les Républicains politician insists she was legitimately employed as his parliamentary assistant and carried out the work for which she was paid, but has been placed under formal investigation on suspicion of embezzling public funds, complicity in misappropriating funds, receiving the funds and not declaring assets fully.
The charges came as a surprise, coming a day earlier than Mr Fillon was due to answer a summons to explain his conduct before magistrates.
Under French law, being put under formal investigation means there is "serious or consistent evidence" that points to probable involvement of a suspect in a crime.
It is a step towards a trial, but a number of such investigations have been dropped without going to court in the past.
Mr Fillon originally said he would withdraw from the presidential race if formally charges were brought against him but has since gone back on his promise, refusing to step down while claiming the charges are politically motivated.
The 63-year-old decried a "political assassination" in a press conference last month, adding: "I will continue to the end because it is democracy that is under attack."
During his campaign to be selected as the Les Républicains candidate, he had said: "Those who don't respect the laws of the republic should not be allowed to run.
World news in pictures

Show all 50
"There's no point in talking about authority when one's not beyond reproach."
Mr Fillon denies wrongdoing and says he will cooperate fully with investigators as his campaign continues, while relatives insist they did the work for which they were generously paid.
While it is legal in France for politicians to hire family members for legitimate jobs, the case against Mr Fillon hinges on whether parliamentary positions he gave to his wife Penelope, from Abergavenny in Wales, and two of their five children were real.
Mr Fillon's refusal to step down has caused a deep rift within his centre-right party, causing several members to boycott his candidacy and high profile resignations from the campaign.
The scandal has obliterated his standing in polls, which currently predict a close-fought first round between far-right leader Marine Le Pen and centre-left independent candidate Emmanuel Macron.
Many surveys have predicted Mr Fillon will be knocked out in the first round of voting, with Mr Macron winning in the second and decisive ballot in May.
Ms Le Pen and some members of her National Front party are also embroiled in ongoing investigations, with the Front National leader refusing to appear before judges in a case concerning the employment of aides in the European Parliament.
Additional reporting by agencies
Register for free to continue reading
Registration is a free and easy way to support our truly independent journalism
By registering, you will also enjoy limited access to Premium articles, exclusive newsletters, commenting, and virtual events with our leading journalists
Already have an account? sign in
Register for free to continue reading
Registration is a free and easy way to support our truly independent journalism
By registering, you will also enjoy limited access to Premium articles, exclusive newsletters, commenting, and virtual events with our leading journalists
Already have an account? sign in
Join our new commenting forum
Join thought-provoking conversations, follow other Independent readers and see their replies