Francois Fillon 'was paid $50,000 to arrange meeting with Vladimir Putin'
It comes as French Interior Minister Bruno Le Roux resigns over his own 'fake jobs' scandal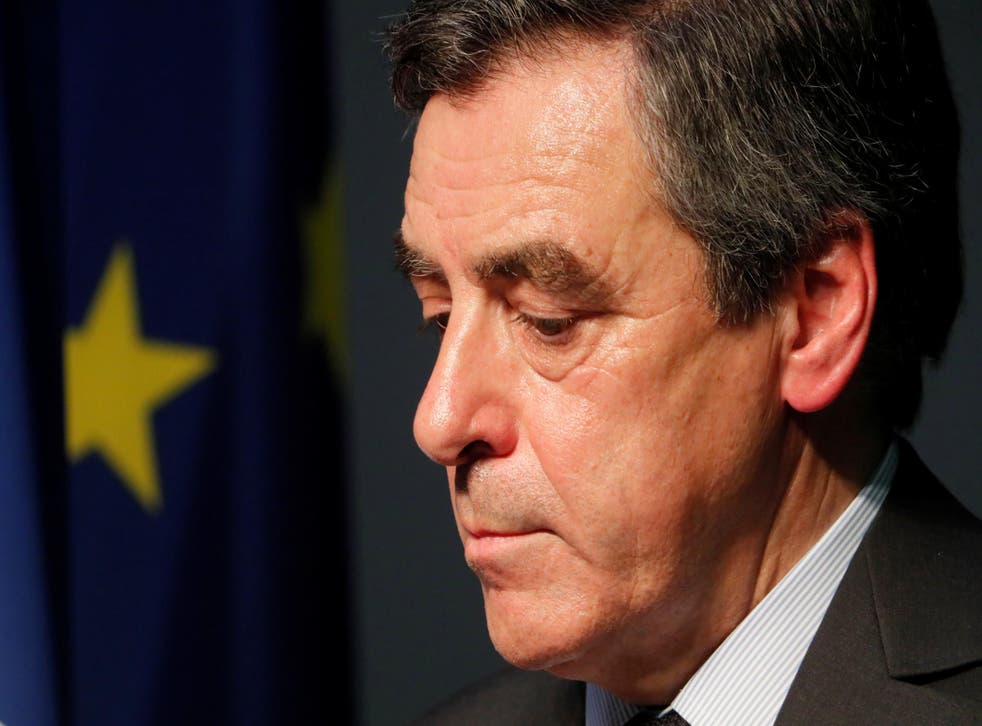 French presidential candidate François Fillon was reportedly paid $50,000 (£40,000) for setting up a meeting between a Lebanese billionaire and Russian President Vladimir Putin.
The former Prime Minister allegedly used his contacts to facilitate two meetings for Fouad Makhzoumi in 2015; one with the Kremlin leader and another with Total CEO Patrick Pouyanné, satirical weekly newspaper Le Canard enchaîné is expected to report.
The latest allegations follow claims by the Mediapart journal that Mr Fillon's consulting firm 2F Conseil signed a contract with Future Pipe Industries in 2015, a company owned by the Lebanese businessman.
Meanwhile, French Interior Minister Bruno Le Roux has been forced to resign over a "fake" parliamentary job scandal embroiling his family.
Mr Le Roux said he had handed his resignation to French President Francois Hollande because he felt it was his "responsibility". However, he continues to deny wrongdoing.
French financial prosecutors opened an inquiry to investigate the claims Mr Le Roux paid his daughters from public funds for parliamentary work - an allegation similar to the one which has damaged Republican candidate Mr Fillon's presidential bid.
The inquiry was prompted by a TV show in which Mr Le Roux acknowledged he had used parliamentary assistance funds to hire his two daughters as summer helpers.
The Quotidien TV show reported that his two daughters had been paid a combined total of €55,000 (£48,000).
The controversy follows similar press revelations in January that also brought a judicial investigation into hundreds of thousands of Euros paid by Mr Fillon to his wife Penelope and children.
They were also disclosed by Le Canard enchaîné in January.
Since then, the one time frontrunner has fallen from first to third place in opinion polls since news of the payments came to light.
The Quotidien show reported that Mr Le Roux had employed his two daughters, one when she was in secondary school and one just after leaving school, several times as parliamentary assistants during summer breaks.
"My daughters have worked for me ... notably during school holidays, but never on a permanent basis," he told a reporter when asked about the matter.
Mr Le Roux, who was previously head of the Socialist Party group in the lower house of parliament, was appointed interior minister in December when Bernard Cazeneuve left the post to take up the role of prime minister.
Members of the National Assembly, France's lower house of parliament, are allowed to hire family as assistants and pay them from funds put at the disposal of all lawmakers.
At issue is the extent to which work was actually done for the money, which in Mr Fillon's case was in the region of 800,000 euros (£700,000).
Additional reporting by agencies
Join our new commenting forum
Join thought-provoking conversations, follow other Independent readers and see their replies