Francois Hollande to step aside from French elections to help stop 'extremism' winning
Mr Hollande said he is stepping down to give his Socialist party a chance to win 'against conservatism and extremism'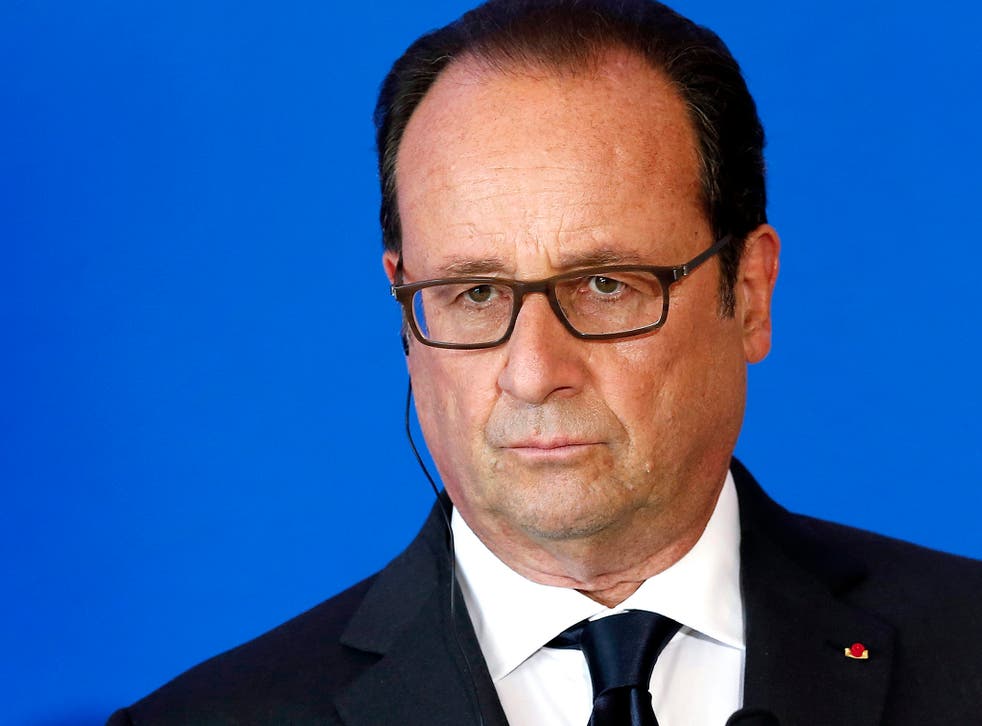 French president Francois Hollande has announced that he will not seek re-election in 2017.
Mr Hollande said he had decided against running for another term because he wants to give his Socialist party a chance to win "against conservatism and extremism", and warned particularly of the threat from the far-right Front National (FN) led by Marine Le Pen.
Mr Hollande's presidency has been dogged by low public satisfaction ratings – with recent polls showing his rating having fallen to just four per cent – and in a live television address Mr Hollande said he was aware of the "risks" this would bring for the French left.
Mr Hollande becomes the first French president not to run for re-election since the Second World War.
"What's at stake is not a person, it's the country's future," President Hollande said.
His decision not to seek re-election means the Socialist Party will now go forward under a new candidate, five years after Mr Hollande ended the centre-right's 17-year stranglehold on the French presidency.
The Socialist Party will select its candidate for the Elysee Palace in primaries in January. Former Economy Minister Arnaud Montebourg and former Education Minister Benoit Hamon, already have announced they would run in next month's Socialist primary.
Another former Economy Minister Emmanuel Macron and the hard-left Jean-Luc Melenchon, have rated higher than Mr Hollande in recent polls. Both Mr Macron and Mr Melenchon have said they will run in the presidential election but without taking part in the primaries.
"I have decided not to be a candidate to the renewal of my mandate," said Mr Hollande, who will hand over to his successor in May.
"In the months to come my sole duty will be to continue to lead the state, the mandate for which you elected me in 2012."
With a nod to the 2017 field, Mr Hollande called on a collective reaction of "all progressives who must unite in these circumstances".
"As a life-long Socialist, I cannot allow the dissipation of the left, its breaking up, because it would rid us of any hope of winning in the face of conservatism or, worse still, extremism," Mr Hollande said.
There has been tension between Mr Hollande and his prime minister Manuel Valls, who raised the possibility in a weekend interview that he might run in the primaries against Mr Hollande, saying his was "ready".
In his address Hollande avoided saying if he would support Mr Valls, or any other candidate.
The president's office – denying rumors of an internal battle – said the two men had their weekly working lunch on Monday at the Elysee Palace in a "cordial and studious atmosphere". As for Mr Valls, he said Mr Hollande had led France with a "constant concern" for the protection of the French people, in an implicit reference to several attacks by Islamic extremists in the country in recent years and the fact that the country is still under "state of emergency" conditions.
Mr Hollande beat conservative incumbent Nicolas Sarkozy in an election in May 2012 after a classic left-wing campaign in which he targeted big business and pledged to raise taxes for high earners.
But his popularity soon began to decline with a perceived lack of leadership and flip-flops on key issues, particularly tax reform, which dismayed many on the left. His popularity has been undermined by stubbornly high unemployment and anaemic economic growth.
Grassroots supporters were further alienated by a pro-business switch in 2014, a wavering over security reforms, and by labour laws that brought thousands out onto the streets in protests early this year.
Mr Hollande's image was also hit by a series of communication mis-steps, including a very public split with his ex-partner Valerie Trierweiler and pictures of him going to visit his new partner on a scooter.
In a series of tweets following his decision to step aside, Mr Hollande listed his achievements as president, including working to boost employment rates and improve equality between the sexes.
"I only have one regret, and that's to have proposed a policy allowing the government to strip citizens of their nationality. I thought it would unite us, but it has divided us".
Mr Hollande's eventual replacement faces a tough election race, with the centre-right expected to triumph after the two-round vote which begins in April.
Last week, former French Prime Minister Francois Fillon beat rivals to win the presidential nomination for the centre-right Republicans.
Mr Fillon placed himself to the right of his rivals, opposing same sex marriage and arguing that "Russia poses no threat" to the West.
World news in pictures

Show all 50
Mr Fillon did not wait long to take aim at the man he hopes to succeed in May. After Mr Hollande's announcement, he tweeted: "This evening, the President of the Republic admits with lucidity, that his patent failure prevents him from going on further. This five-year term is ending in a political mess and the dissolving of power."
The election cycle has also been characterised by strong support for Ms Le Pen, who polls predict will make the second-round of presidential voting – likely against Mr Fillon – in part because of the weakness of the French left.
One recent poll by Odoxa put Mr Hollande at only 7.5 per cent in the first round of the presidential race, behind Mr Fillon, Ms Le Pen, Mr Macron, and Mr Melenchon.
The latest polls indicate Mr Fillon will win the first round of voting, ahead of Ms Le Pen.
Join our new commenting forum
Join thought-provoking conversations, follow other Independent readers and see their replies