Frauke Petry appointed AfD's new leader as German Eurosceptics turn to the right
The AfD made big gains in regional elections in eastern Germany last year
Tony Paterson
Monday 06 July 2015 14:10 Comments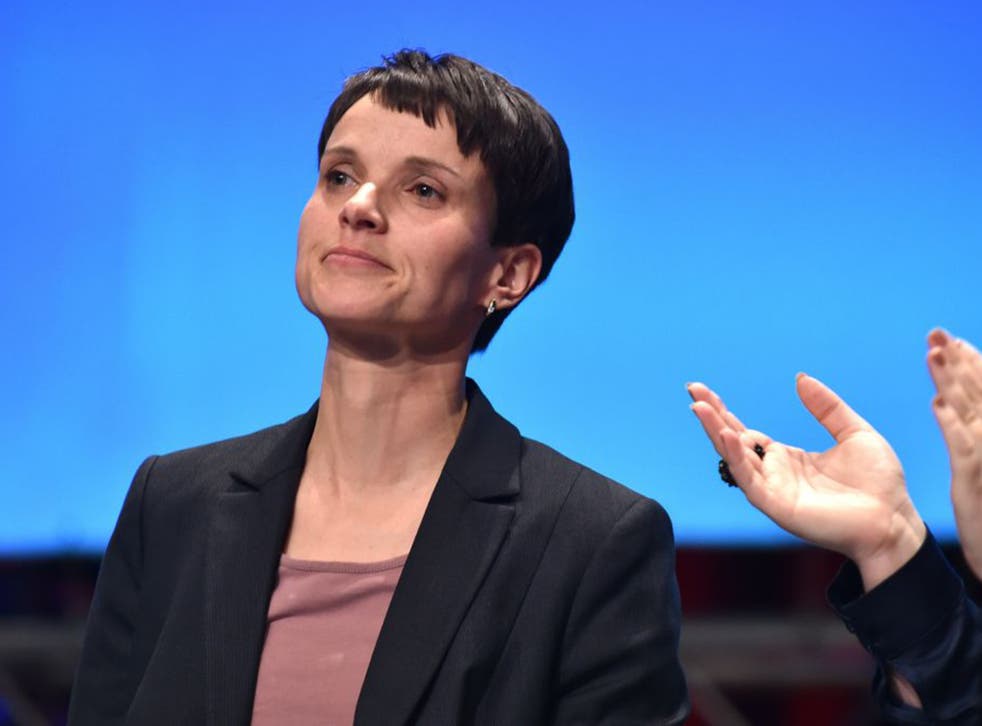 She has been called the German equivalent of Marine Le Pen and she certainly arouses the kind of left-wing hatred invoked by the French far right leader.
Frauke Petry was sitting in a cafe in the provincial town of Göttingen in May when six masked young men burst in. They overturned her table, pelted her with plastic bags filled with fruit juice and screamed "Nazis out!" before running off.
Ms Petry, was soaked, stained and furious. She described the attack as a "malicious assault on my right to freedom of speech" and demanded an immediate police investigation. Her assailants were never caught.
As the national spokeswoman for Germany's Eurosceptic and increasingly xenophobic Alternative for Germany party (AfD) Ms Petry is used to such animosity. And she is prepared for more.
In pictures: Extremists in the EU

Show all 6
On Saturday she was elected the party's undisputed leader, winning 68 per cent of the vote at an extraordinary congress of the AfD held in the industrial city of Essen. After months of internal party bickering, Ms Petry successfully ousted the party's previous moderate chairman, the economics professor Bernd Lucke by securing a landslide victory in a battle for the party leadership.
"You remain the figurehead of the first AfD to be founded," Ms Petry in a concession to Mr Lucke.
The AfD made big gains in regional elections in eastern Germany last year and now holds seats in five state parliaments. Ms Petry wants to see her party installed in Berlin as a right-wing antidote to Chancellor Angela Merkel's centre-right Christian Democratic party at the country's 2017 general election.
Mr Lucke, who founded AfD in 2013 with the support of conservative, middle-class euro opponents, has tried to keep opposition to the currency as his central policy. But in last September's east German state elections Ms Petry and others on the right of the AfD campaigned on an anti-immigration, and "more children for German families", platform. Their arguments began winning votes.
Ms Petry's policies were given a further boost with the subsequent arrival of the xenophobic "Patriotic Europeans Against Islamisation of the West" (Pegida) movement which attracted thousands to its rallies in the east German city of Dresden last year.
Mr Lucke called on his party to distance itself from Pegida because of fears that any links with the movement would alienate middle-class AfD members. But Ms Petry rejected the call and met Pegida supporters, saying she opposed a ban on contacts with the group. She insists that the "Pegida phenomenon must be seen in a differentiated manner".
Since then Ms Petry and Mr Lucke have been at war. The outcome of the power struggle will be decided this weekend when the AfD membership votes on who to install as the party's leader. The result will determine whether, under Ms Petry, Germany's first new right-wing party in decades shifts further towards the right.
Things were already looking bad for Mr Lucke at the opening of the conference yesterday afternoon. In an atmosphere some compared to a football match, hundreds of Ms Petry's supporters booed Mr Lucke as he tried to address delegates. Many flashed red cards.
Ms Petry, an East German who was born in Dresden 40 years ago but who lived in West Germany after the fall of the Berlin Wall, is married to a Protestant vicar and has four children. She dismisses comparisons with Marine le Pen. "She is a right wing extremist, she simply goes too far," Ms Petry says in what appears to be an entirely reasonable comment. However, her critics argue that she is well known for her knack of appearing entirely reasonable when she supports the xenophobic far right.
She recently attended an AfD campaign rally held in the run-up to Dresden city mayoral elections. The venue was a conference centre in the small town of Freital, south of the city. American-style pickup trucks were parked outside, some decorated with Confederate flags.
Inside, the meeting hall was packed with more than 150 AfD supporters, all of whom had come to see Ms Petry in person. It took only a matter of minutes for the assembly to degenerate into a session reminiscent of a British National Front meeting.
A red-faced man in a white T-shirt near the front suddenly stood up and addressed the meeting: "We all know what the AfD stands for," he said, "It stands for the principle that illegal asylum seekers who take our money should be deported immediately." His remarks were greeted with an eruption of applause.
Ms Petry seemed like an admonishing school teacher faced with a rowdy class, insisting that Germany had an obligation to accept genuine refugees. However, she then went on to demand tough immigration controls and finally agreed that failed asylum seekers should be deported.
At this point, the gathering became a free for all, with many of the audience shouting abuse about immigrants and referring to the town's Hotel Leonardo, which has recently been converted into an asylum centre for refugees. Since the AfD's visit, Freital's hotel has become the target of nightly anti-immigrant protests.
Register for free to continue reading
Registration is a free and easy way to support our truly independent journalism
By registering, you will also enjoy limited access to Premium articles, exclusive newsletters, commenting, and virtual events with our leading journalists
Already have an account? sign in
Join our new commenting forum
Join thought-provoking conversations, follow other Independent readers and see their replies