French election: Poll surge by leftist candidate Jean-Luc Melenchon threatens to upset odds
Far-right leader Marine Le Pen seen as leading first round of presidential election, followed by centrist candidate Emmanuel Macron
Samuel Osborne
Tuesday 11 April 2017 07:22 Comments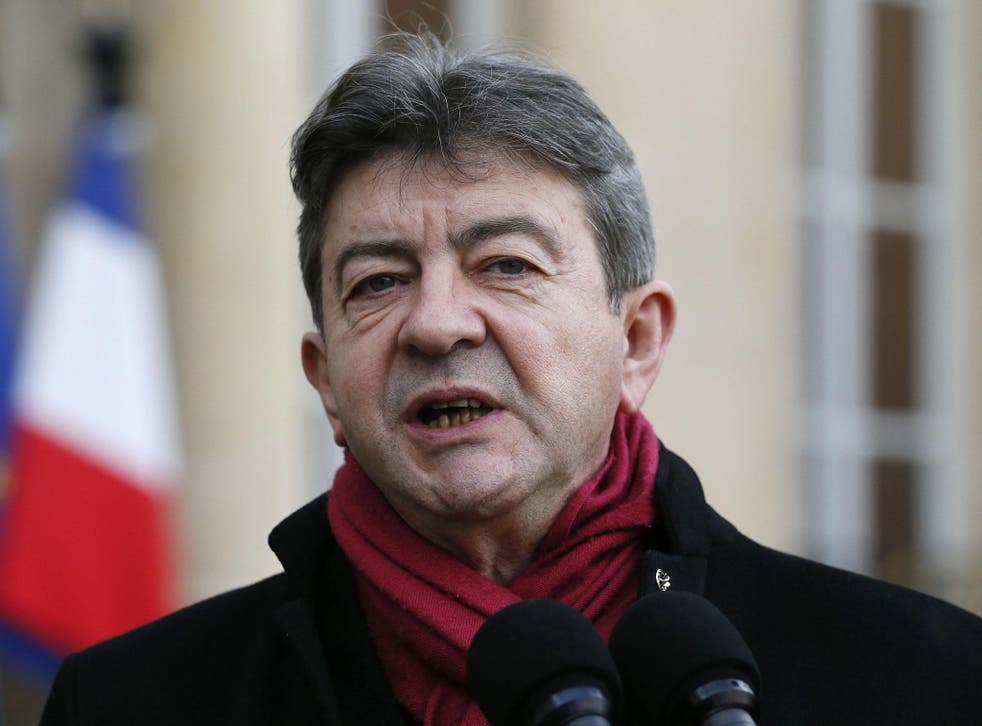 The first round in the French presidential election could turn into a four-way contest, after a leftist candidate's unexpected surge in the polls.
Jean-Luc Melenchon is now 0.5 per cent behind conservative Francois Fillon, who sits in third place.
Mr Melenchon gained one percentage point in the daily Ifop-Fiducial poll, putting him at 18 per cent, while Mr Fillon was stable at 18.5 per cent.
Far-right leader Marine Le Pen is seen as leading the first round of the presidential election at 24 per cent, while centrist candidate Emmanuel Macron is at 23 per cent.
Marine Le Pen says France not responsible for WWII Jew round-up
Jitters about the French election have hit financial markets after the polls tightened, as both Mr Melenchon and Ms Le Pen want a referendum on the country's membership of the European Union.
"Two weeks ago, investors were starting to get comfortable with the idea of a Macron victory, but with the rise of Melenchon this is on the verge of becoming a four-horse race," said Rabobank strategist Lyn Graham-Taylor.
Ms Le Pen has drawn protests from her election rivals by denying the French state's responsibility for a mass arrest of Jews in Paris during the Second World War.
Her comments appeared at odds with years of efforts to make her once-pariah National Front (FN) more palatable to mainstream voters.
"I think France isn't responsible for the Vel d'Hiv," Ms Le Pen said, referring to the Nazi-ordered roundup by French police in the Velodrome d'Hiver cycling stadium of 13,000 Jews, who were then deported to Auschwitz concentration camp in July 1942.
"I think that, in general, if there are people responsible, it is those who were in power at the time. It is not France," she said in an interview with media groups Le Figaro, RTL and LCI.
World news in pictures

Show all 50
While her father Jean-Marie Le Pen, who led the FN until he passed the baton to his daughter in 2011, revelled in minimising the Holocaust, Marine Le Pen has sought to purge the FN of anti-Semitism and even expelled her father from the party because of his comments.
By reopening a debate about the state's role under the Nazi occupation, she touched a raw nerve. In a sign of how sensitive her comments have become, "Vel d'Hiv" was the top trending topic on Twitter in France on Monday, the first official day of election campaigning.
"This brings back the old demons of the far-right," said pollster Ifop's Jerome Fourquet. "This could cost her in terms of voting intentions at a time when the gap between candidates is tightening."
Jewish groups and the Israeli government criticised Ms Le Pen. The Israeli foreign ministry said it regretted that anti-Semitism was "raising its head again today".
Her rivals also pounced on the comments.
"It's a political and historical error," Mr Macron told a news conference. "This is the true face of the French far right."
Le Pen issued a statement saying she considered the French state was in exile in London during the occupation and that her stance "in no way exonerates the effective and personal responsibility of the French people who took part in the horrible Vel d'Hiv roundup and in all the atrocities committed during this period."
Additional reporting by Reuters
Register for free to continue reading
Registration is a free and easy way to support our truly independent journalism
By registering, you will also enjoy limited access to Premium articles, exclusive newsletters, commenting, and virtual events with our leading journalists
Already have an account? sign in
Join our new commenting forum
Join thought-provoking conversations, follow other Independent readers and see their replies