French presidential election: Marine Le Pen set to be crushed by Emmanuel Macron, poll reveals
Latest poll predicts clear victory for Emmanuel Macron in second round of voting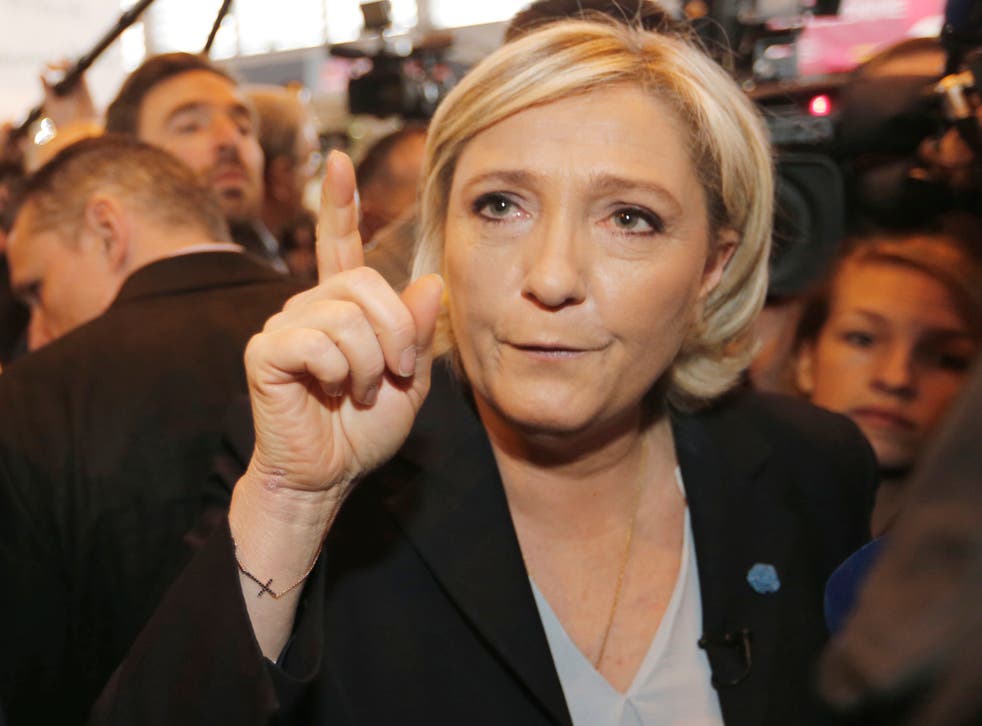 Marine Le Pen could still win the first round of the French presidential election but will then be crushed by her likely opponent, according to the latest poll.
The far-right leader is tied on 25 per cent for the initial ballot on 23 April, but looks set to lose heavily to the centrist candidate Emmanuel Macron in the second, decisive vote.
More than 14,300 people were surveyed for the opinion poll by LeMonde/Cevipof, which showed a sharp rise in voter certainty as choices solidify ahead of the rapidly approaching election.
French Presidential Debate: Le Pen and Macron clash over immigration and burkini policy
The research predicted that Mr Macron would beat the Front National leader Ms Le Pen in the second round of the election on 7 May by 61 per cent to 39 per cent.
Francois Hollande's former finance minister defected from the French socialists to run for president last year, founding his own centre-left En Marche! party.
He has enjoyed growing support from voters and gained high-profile backers, including the ex-Prime Minister Manuel Valls, after former favourite François Fillon was engulfed by a "fake jobs" scandal.
Mr Fillon, the candidate for the centre-right Les Republicains, is under formal investigation over payments made to his wife for work she is alleged not to have carried out.
He has resisted calls to step down and hit out a "conspiracy" against him but shows no sign of recovering in the polls as the scandal over thousands of euros of public money paid to his wife, son and daughter continues.
Mr Fillon is predicted to be eliminated from the first round with the remaining candidates, with just 17.5 per cent of support according to the poll.
The far-left candidate Jean-Luc Melenchon, polled at 15 per cent, up 3.5 points and ahead of Socialist candidate Benoit Hamon on 10 per cent.
Voter certainty rose sharply compared with the previous survey, with 64 per ent of those surveyed sure of their decision – an increase of five points.
Ms Le Pen's supporters voters were the most certain, with 82 per cent sure of their choice, while Mr Fillon's certainty score was up seven points at 75 per cent and Mr Macron's up nine points to 61 per cent.
All 11 candidates are due to face each other in a televised debate on Tuesday evening.
Join our new commenting forum
Join thought-provoking conversations, follow other Independent readers and see their replies