Isis leader Abu Bakr al-Baghdadi's rise of terror: From second-rate schoolboy to world's most wanted man
The man who has declared himself 'caliph' of a new 'Islamic State' had to repeat a year at school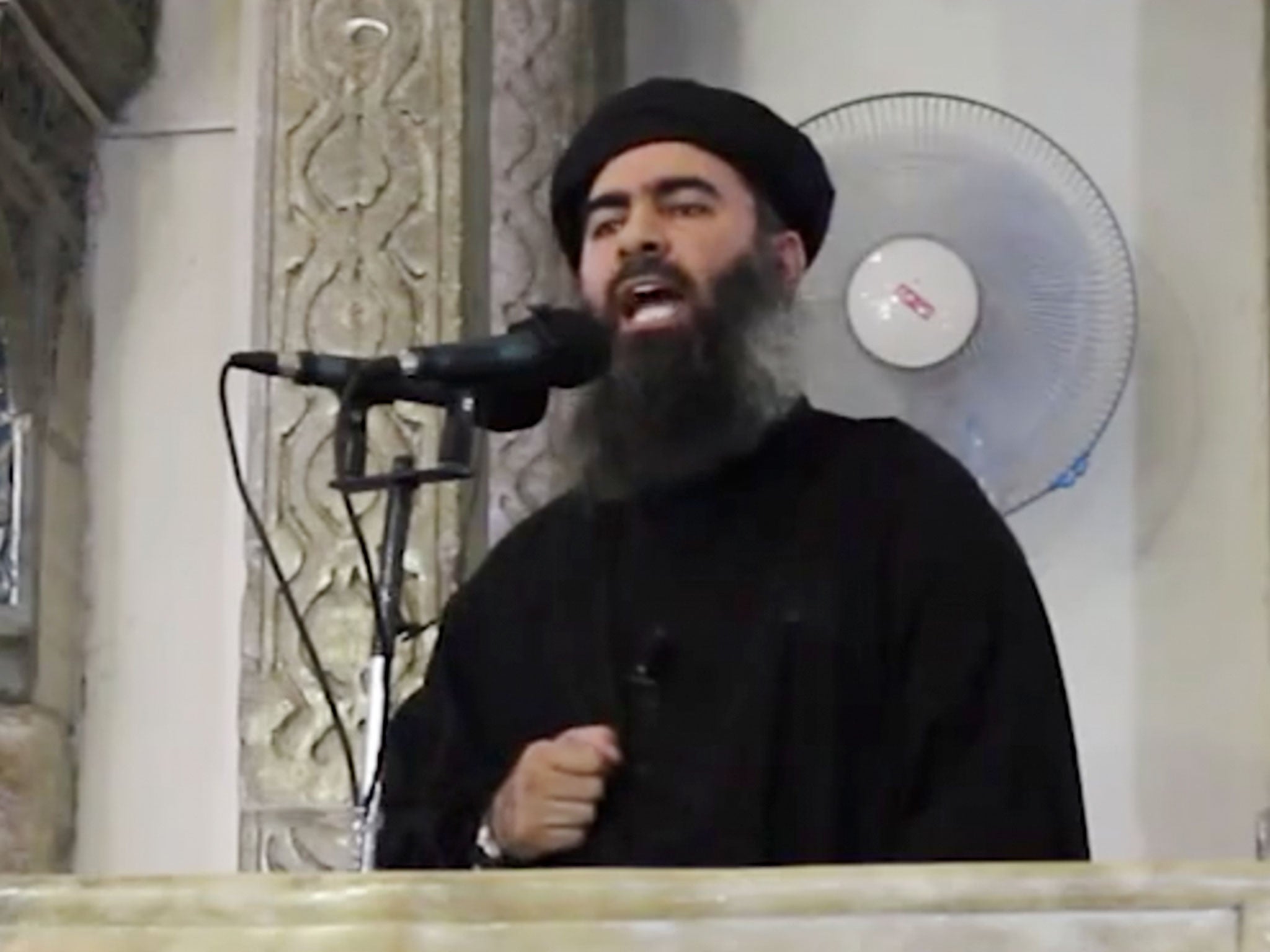 He is the most wanted terrorist in the world, with a $10m (£6.5m) bounty on his head. But 44-year-old Abu Bakr al-Baghdadi, the leader of the feared Isis terror organisation, was less than outstanding in his youth, according to information unearthed by researchers in Germany.
The man who has declared himself "caliph" of a new "Islamic State" had to repeat a year at school because he was so bad at English, investigators have discovered. He was turned down for the Iraqi army, despite being a member of the Sunni minority favoured by the regime of the country's dictator, Saddam Hussein, because he was too short-sighted – and then failed to win a university place to study law. Instead, he opted for Islamic theology, a subject whose study – perhaps combined with his earlier experiences – contributed to radicalising his views.
Apart from two photographs, few details had previously emerged about the background of the Isis leader. But the Süddeutsche Zeitung newspaper and Germany's ARD television channel revealed new details yesterday after interviewing residents of Samarra, Baghdadi's home town in Iraq, where he went to school, played football in its narrow streets, and gave children Koran lessons. "They called him the believer," ARD quoted residents as saying.
In pictures: The rise of Isis
Show all 74
Former neighbours, who requested anonymity, revealed that Baghdadi – the third of four sons born to a devout Sunni Muslim family – was ambitious even then. "He loved power and being influential," one neighbour said. "But we were all completely shocked to suddenly see him as the 'caliph'."
He was rated as an average pupil at the town's grammar school and his school matriculation marks were too low for Baghdad university to accept him on its law course. But after eight years studying Islamic theology, he emerged with a PhD degree in 1999.
The Süddeutsche Zeitung said his university doctorate helped him rise to become Isis leader and enabled him to construct a "theological justification" for the organisation's brutality. "Terrorism is honouring Allah" – it cited him as saying.
Baghdadi experienced the start of the Gulf War in the provinces and in 2004, for reasons that are unclear, he was arrested by US forces and held for 10 months in the Camp Bucca detention centre in southern Iraq. The camp is still referred to as "The Academy" because it held so many radical Islamists, jihadists and battle-hardened soldiers.
Baghdadi is thought to have joined al-Qaeda at this time, and from 2007 was responsible for Sharia law with a remit to provide religious justification for acts of terrorism.
Some say he was a "pupil" of Abu Musab al-Zarkawi, the former leader of al-Qaeda in Iraq who pioneered the practice of beheading hostages and making them wear orange jumpsuits. He is reportedly "commuting" between Raqqa, the Isis "capital", and the occupied Iraqi city of Mosul.
"School friends of his have been killed by Isis," one neighbours told the Süddeutsche Zeitung. "Then he emerges as emir of this organisation – that's really frightening."
Join our commenting forum
Join thought-provoking conversations, follow other Independent readers and see their replies