G7 summit: Controversial TTIP trade deal between Europe and the US to be agreed within 'the next six months'
It forms part of a string of outlined initiatives designed to boost growth
Oliver Wright
Tuesday 09 June 2015 06:43 Comments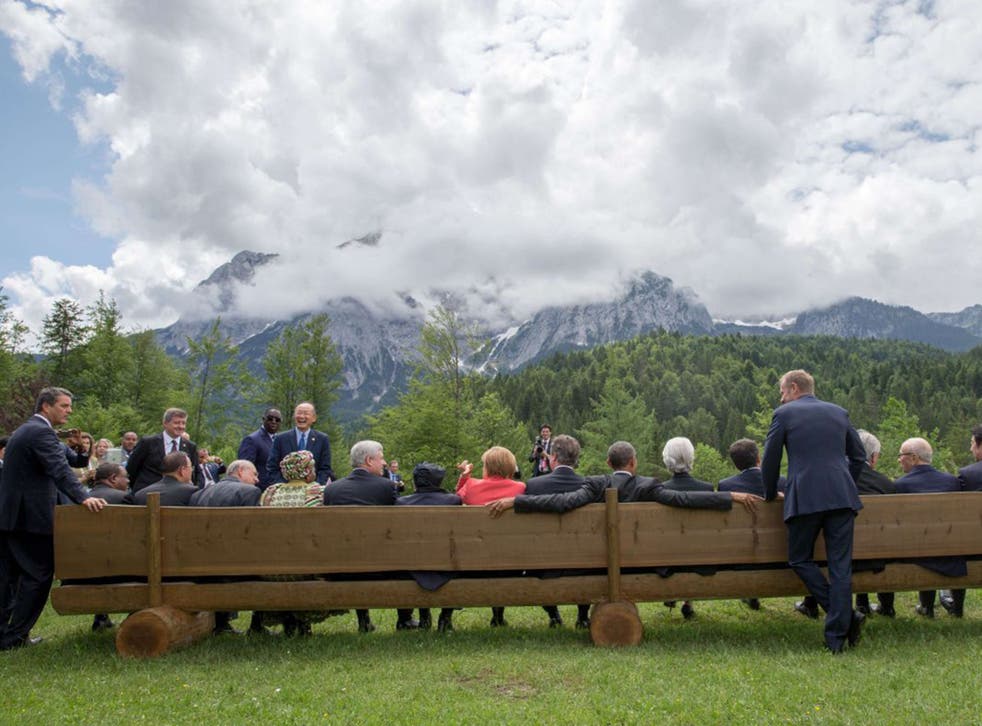 Broad agreement on a controversial trade deal between Europe and the United States should be completed by the end of this year, the G7 leaders have announced as they outlined a string of initiatives designed to boost growth, tackle climate change and check Russian ambitions in Ukraine.
Wrapping up the two-day Summit of world leaders in Bavaria, David Cameron and the German Chancellor Angela Merkel claimed the meeting had put new impetus into the Transatlantic Trade and Investment Partnership (TTIP) that has been bogged down by disagreements between US and European negotiators.
But while Mr Cameron claimed that signing the deal would add £2bn to the UK economy every year, the plan to fast-track talks will be vociferously opposed by various campaign groups.
Nick Dearden, director of Global Justice Now, said that over two million people across Europe had now signed a petition demanding an end to the TTIP negotiations.
"This shows that the EU does not have the public mandate to continue this deal," he said. "People across Europe are standing up to protect our labour rights, our environmental standards and vital public services like the NHS from TTIP. Members of the European parliament must listen to the two million voices telling them to reject TTIP when voting on the deal."
But Mr Cameron insisted it was a good deal for the British economy. "It is now over 700 days since we launched negotiations and every day we don't do a deal is costing the global economy £630 million," he said. "So we must redouble our efforts and reach a political agreement on an ambitious deal in the next six months."
In a communique issued after the two-day summit, the G7 leaders also backed reducing global greenhouse gas emissions by 40 to 70 percent by 2050, as part of efforts to limit global warming to two degrees Celsius.
But the leaders stopped short of agreeing any immediate binding targets for their economies and did not commit any further money to a fund set up to help developing countries tackle climate change.
These are expected to be the subject of fierce negotiations at the Paris climate change summit in December.
Green lobby groups gave a relatively lukewarm welcome to the communique.
"They've given important political signals, but they could have done more, particularly by making concrete national commitments for immediate action," said Sam Smith, leader of the WWF Global Climate and Energy Initiative. "We had hoped for more commitments on what they would do right now."
On Ukraine, the leaders agreed to urge all European countries to back the continued use of sanctions against Russia until Moscow fully implements the Minsk Agreement. The communique went on to explain that any removal of sanctions should be "clearly linked to Russia's complete implementation of the agreements and respect for Ukraine's sovereignty".
It cautioned that G7 states remain ready to take "further restrictive measures" if Russian support for separatist forces continues.
The communique also expressed a determination to reach agreement in September on new United Nations development goals which would "complete the unfinished business of the Millennium Development Goals" by ending extreme poverty worldwide by 2030.
Mr Cameron was also forced to dismiss claims that Britain's role on the world stage is "shrinking" after the US president Barack Obama raised concern that UK defence spending was set to fall below the Nato target.
Nato's evolution

Show all 7
The Prime Minister was tackled by Mr Obama over the prospect that Britain's military spending would drop below 2 per cent of GDP.
But speaking at the closing press conference, Mr Cameron insisted that the UK remained a "serious global player" as he highlighted the involvement of UK forces around the world.
Mr Cameron said: "When our flagship is saving lives in the Mediterranean, when we are training the Iraqi army, training Afghan officers, our jets are flying air patrolling missions over the Baltic, our submarines are silently patrolling the seas giving us a nuclear deterrent 365 days a year, we are ordering the largest aircraft carriers that the Royal Navy has ever had, we have the A400Ms, we have the Joint Strike Fighters on their way...
"The idea that this £160 billion equipment budget that we have protected (from) inflation represents strategic shrinkage, is nonsense.
"Britain is a serious global player in the world with the budget to back it up."
Register for free to continue reading
Registration is a free and easy way to support our truly independent journalism
By registering, you will also enjoy limited access to Premium articles, exclusive newsletters, commenting, and virtual events with our leading journalists
Already have an account? sign in
Join our new commenting forum
Join thought-provoking conversations, follow other Independent readers and see their replies