Garry Kasparov returns to face his fiercest opponent: The head of world chess
The grandmaster has set his sights on the position of the Buddhist, alien-believer incumbent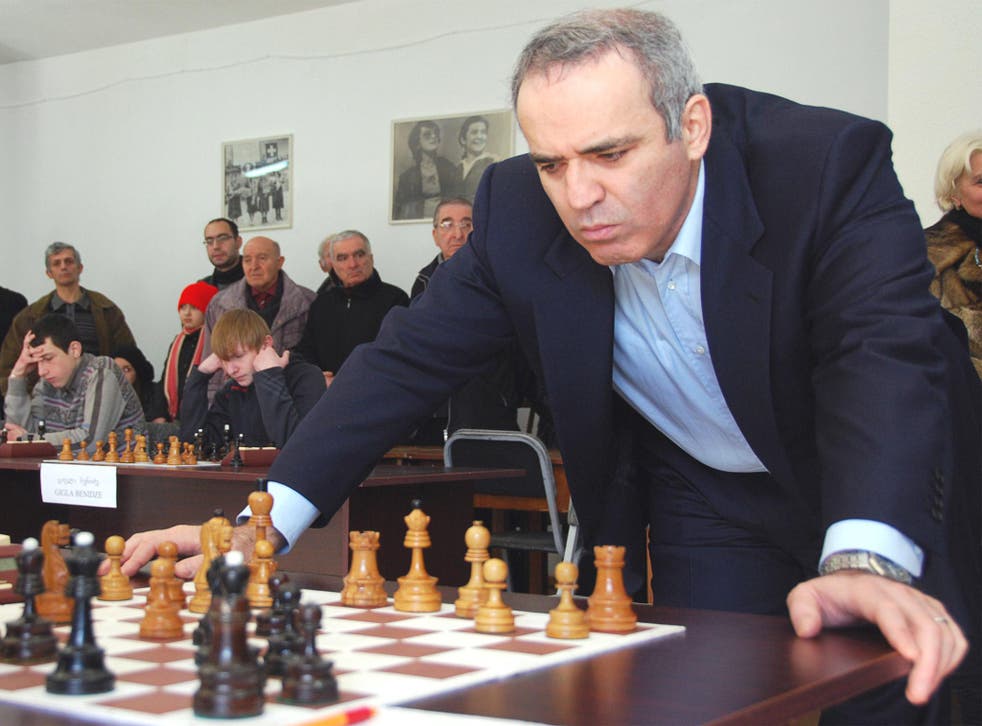 Garry Kasparov, the chess grandmaster turned activist, has engaged his toughest – and oddest – opponent yet in the form of a millionaire Buddhist former goat-herder and politician who believes aliens will destroy the planet if people do not play enough chess, a game he says they invented.
Kirsan Ilyumzhinov has also been president of the World Chess Federation for almost 20 years, surviving attempted coups, accusations of corruption, and ridicule that peaked when he described how he was transported to a distant star in a spaceship that had landed on his balcony.
Now Mr Kasparov, 50, wants Ilyumzhinov's job. The grandmaster, who was known for his aggressive opening play in a career spanning decades, has announced he will run for presidency of the federation, known by its French acronym, Fide.
Mr Ilyumzhinov, who counted Saddam Hussein and Muammar Gaddafi as friends, was first elected to the post in 1995, two years before his reported alien abduction. His match against Mr Kasparov will run until a victor emerges at the Chess Olympiad in Tromso, Norway, next August.
In a game frequently beset by the political machinations of large egos and bank balances, Mr Kasparov tried to woo Fide's 158 member nations by claiming Mr Ilyumzhinov, 51, had put off corporate sponsors.
"Anybody Googling Fide sees he is dealing with someone who is taken by aliens and is playing chess with Gaddafi," he told the New York Times.
The Gaddafi game came in 2011, when Mr Ilyumzhinov entered Tripoli at the height of the civil war to take on the country's leader in a bizarre tie broadcast on Libyan state TV from a five-star hotel. The game ended in a draw but would be Gaddafi's last public appearance – he was captured and killed four months later.
More than a decade ealier, Mr Ilyumzhinov had offered Saddam Hussein a four-acre plot of land in Kalmykia, the Russian republic on the Caspian Sea where he was born, and which he ruled as President from 1993 to 2010.
In 1998, Mr Ilyumzhinov hosted the 33rd Chess Olympiad at Chess City, a controversial glass-pyramid monument to the game he built at great expense in Elista, the impoverished republic's remote capital city.
The eccentric never achieved greatness as a player but, inspite of what one chess insider described as his "lunacy", he is admired by many in the chess world for his passion for the game. But he has also faced accusations of bribery and voting fraud, which he denies. Defeated challengers to the title of Fide president include Anatoly Karpov, one of Mr Kasparov's big former rivals.
Mr Kasparov has built up a formidable army, meanwhile, including Rex Sinquefield, a chess-mad American philanthropist from Missouri. Their challenge is to win over member states loyal to Mr Ilyumzhinov. Each country, from Russia to Rwanda, has a single vote of equal value. "I have resources that can help me to run a global campaign," Mr Kasparov said.
The move marks a deviation for the grandmaster. Since his retirement from chess in 2005, Mr Kasparov has thrown himself into politics, becoming a figure of opposition to Vladimir Putin. Earlier this month, the European Court of Human Rights ordered the Russian government to compensate Mr Kasparov for his 2007 arrest.
At stake in Oslo next summer, apart from personal reputations, is the future of a game that has struggled to win the recognition of sports federations or sponsors. Andrew Paulson, the American entrepreneur and newly-elected president of the English Chess Federation, says it would be too early to support either man, and wants focus on the game to shift from boardroom wrangling to the chessboard.
"I want to turn chess into a spectator sport and find ways of organising it so it is consumed as entertainment as well as game," he told The Independent. Among his first moves, he added, was to campaign for chess to be recognised as a sport in the UK.
Join our new commenting forum
Join thought-provoking conversations, follow other Independent readers and see their replies