Gay Olympians competing at Sochi Winter Games face risk of prosecution under Russia's crackdown
Minister confirms that athletes and fans who 'flaunt' their sexuality will be prosecuted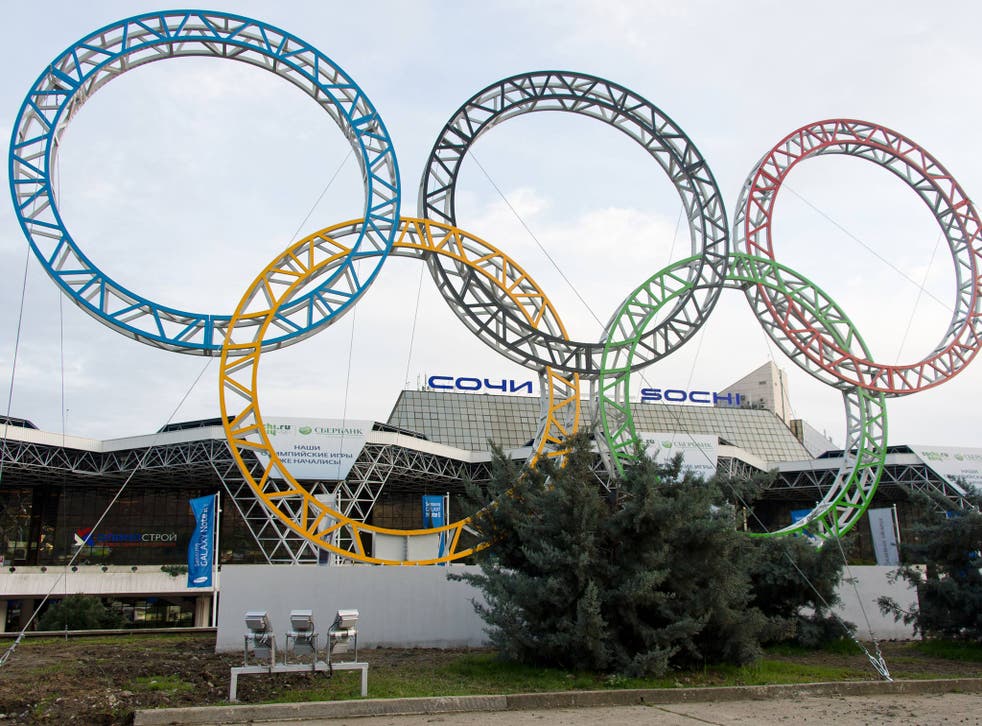 Gay competitors in next year's Winter Olympics risk arrest by Russian police if they engage in "propaganda" of their homosexuality, Russia's Sports Minister has confirmed.
In a direct contradiction of assurances from Olympic officials that competitors and spectators attending the Sochi Olympics next February would be exempt from the controversial new law, Vitaly Mutko said competitors who flaunted their sexuality would be punished in accordance with the legislation.
"No one is forbidding a sportsperson with non-traditional sexual orientation from coming to Sochi, but if they go onto the street and start propagandising it, then of course they will be held accountable," Mr Mutko told Russian agency R-Sport during a visit to Barcelona.
Last week, the International Olympic Committee told a Russian agency that it had "received assurances from the highest level of government in Russia that the legislation will not affect those attending or taking part in the Games".
Mr Mutko's comments are an unequivocal rejection of these claims. "Whether they are sportspeople or not, if they go to another country, they should respect its laws," said the Sports Minister.
President Vladimir Putin signed the controversial law banning so-called "gay propaganda" into force in June, after both houses of the Russian parliament had voted overwhelmingly for it.
The language of the law is vague, but "propaganda" of homosexuality includes statements that gay relationships are "socially equal" to straight relationships.
The key distinction is that the propaganda has to be publicised in the vicinity of minors, but gay rights activists have pointed out that this makes counselling for gay teenagers illegal along with any attempt to tell children that there is nothing wrong with homosexual relations.
So far, police have taken people holding rainbow flags or placards bearing slogans calling for equal rights for gay people in public places as evidence of "propaganda". Individuals can be fined for breaching the law, while foreigners can be detained and deported from the country.
A Dutch television crew filming a documentary about gay rights was detained under the law in the northern city of Murmansk last month, though in the end they were not charged.
The crew were detained while conducting a seminar with local LGBT group Center Maximum. Members of Center Maximum were also arrested.
New Zealand speed skater Blake Skjellerup, one of the only known openly gay competitors going to Sochi, told The Independent that he planned to attend the Olympics and wear a rainbow Gay Pride pin while competing. He said that he would do this even if there was a threat of arrest for doing so. "Whatever country you are from and whomever you choose to love, you should be able to compete at the Olympics," he said.
As Russia's anti-gay laws have come under increasing attention in recent days, there have been calls from some gay rights groups in the US to boycott the Sochi Olympics, but the majority of Russian gay activists say this would be counterproductive.
Mr Skjellerup also said he felt a boycott was the worst idea possible, as it would only hurt competitors. Instead, he said, the Olympics should be used to "help bring about change in Russia".
Russian gay activists have called on spectators and competitors at the games to wear rainbow pins and hold rainbow flags in protest against the laws. Given Mr Mutko's words, this could lead to mass arrests, if the Russian authorities are really determined to implement the law.
Join our new commenting forum
Join thought-provoking conversations, follow other Independent readers and see their replies