Geert Wilders suspends Dutch election campaign appearances amid safety fears over security leak
Police arrest official accused of passing classified official to Dutch-Moroccan gang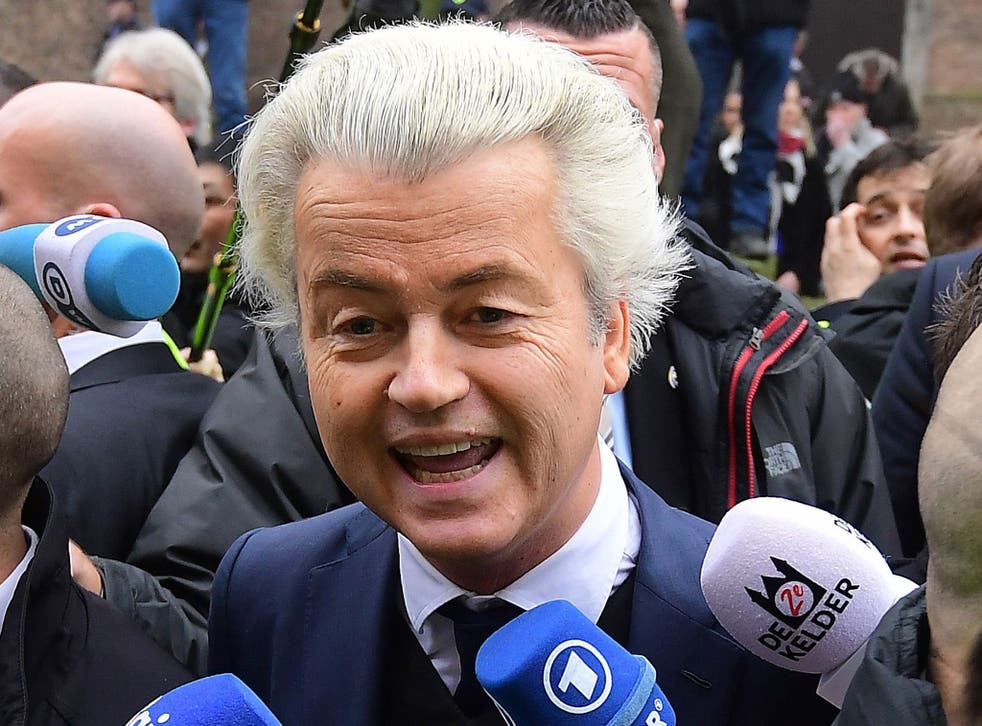 Far-right Dutch politician Geert Wilders has suspended all appearances on his election campaign amid a scandal over alleged security leaks that could compromise his safety.
The leader of the anti-Islam Party for Freedom (PVV) called allegations against an official "extremely disturbing" and launched a complaint to the Prime Minister.
"If I can't blindly trust the service (DBB) that has to protect me, I can no longer function. This is unacceptable," he wrote in a tweet directed at Mark Rutte's official account.
Geert Wilders: 'I will never be silent'
"News extremely disturbing. Until all the facts of the DBB corruption investigation are known, the PVV is suspending public activities."
Police have detained an official responsible for protecting Mr Wilders on suspicion of leaking classified information to a Dutch-Moroccan criminal gang.
Investigators said the suspect, who has not been named, is of Moroccan descent and serves on the DBB team responsible for security surrounding top politicians, royalty and diplomats in the Netherlands.
The revelations emerged after Mr Wilders labelled some Moroccans "scum" as he launched his election campaign, just months after he was convicted of inciting discrimination with a chant calling for "fewer, fewer" migrants from the country.
He has lived under 24-hour protection in anonymous safe houses for more than a decade following a series of death threats.
World news in pictures

Show all 50
National police chief Erik Akerboom told BNR Nieuwsradio an investigation was seeking to establish what information was leaked, but said that so far he did not believe that Mr Wilders' safety had been compromised.
He said the suspect was not part of the "inner circle" responsible for the politician's security, adding: "Our highest priority is, of course, his security. And we first of all have done everything to ensure that is and remains guaranteed."
It came three weeks before the Netherlands holds parliamentary election on 15 March, with polls showing Mr Wilders' party neck-a-neck with the liberal People's Party for Freedom and Democracy.
Mainstream parties have insisted they will not form a coalition with the PVV because of its anti-Islam stance and policies on immigration and religion.
The party's manifesto includes proposals to close Dutch borders to all migrants and refugees from Muslim nations, banning the Quran and shutting all mosques as part of the total "de-Islamification" of the Netherlands.
Founded in 2006, the PVV has enjoyed increasing success while capitalising on concerns about immigration during the refugee crisis and a wave of Isis-inspired terror attacks in Europe, holding seats in the Dutch House of Representatives, Senate, provincial parliament and the European Parliament.
Additional reporting by agencies
Join our new commenting forum
Join thought-provoking conversations, follow other Independent readers and see their replies