Israel defends Hungary's 'antisemitic' portrayal of George Soros in anti-immigrant poster campaign
Philanthropist billionaire is a longtime critic of Prime Minister Viktor Orban's right-wing government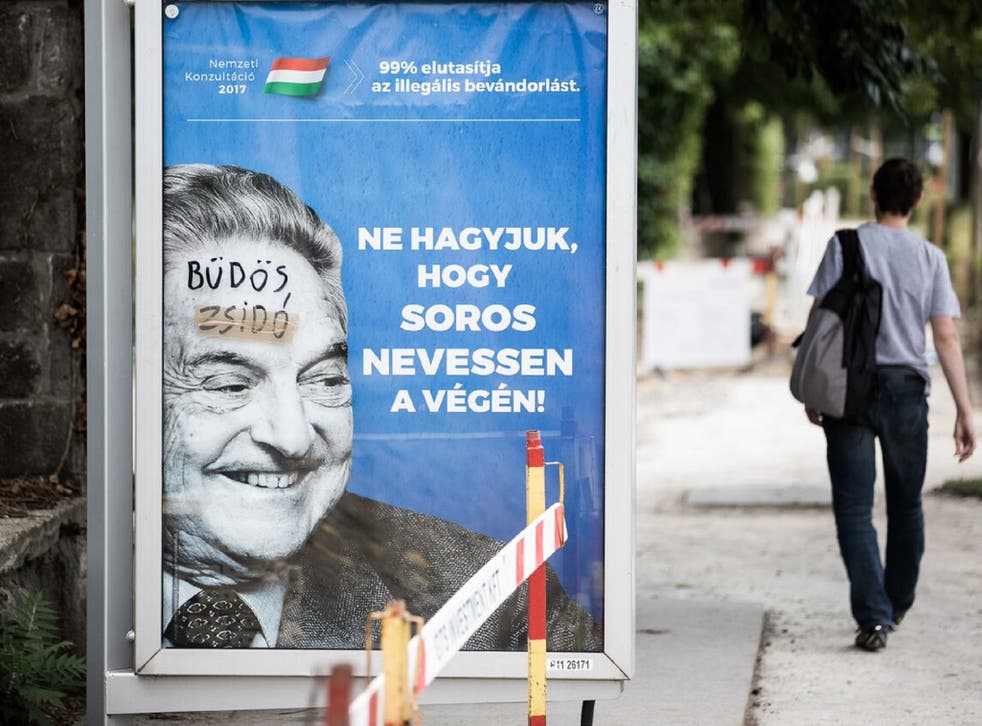 Hungary's Government has launched an anti-migrant advertising campaign using the image of US financier George Soros.
Billboards and full-page media adverts have sprung up across the country, with the caption: "Don't let Soros have the last laugh."
Some of the billboards have been defaced with graffiti that reads "stinking Jew".
Mr Soros emigrated from Hungary after World War Two to the US, where he made his fortune.
He has long supported groups promoting liberal, democratic and open-border values in eastern Europe and is a longtime critic of Hungarian Prime Minister Viktor Orban's right-wing government.
He said: "I am distressed by the current Hungarian regime's use of anti-Semitic imagery as part of its deliberate disinformation campaign. Equally, I am heartened that together with countless fellow citizens the leadership of the Hungarian Jewish community has spoken out against the campaign."
Michael Vachon, a spokesperson for the 86-year-old, said the image was "reminiscent of Europe's darkest hours".
"Last week the Fidesz-led government launched a nationwide billboard and television advertising campaign reminiscent of Europe's darkest hours," he said.
"The Hungarian regime's xenophobia and demonisation of refugees are anti-European."
World news in pictures

Show all 50
Israel's foreign ministry also attacked the billionaire, issuing a statement to denounce him in a move that appeared to align Israel more closely with Hungary ahead of a visit to Budapest next week by Prime Minister Benjamin Netanyahu.
Mr Soros has been repeatedly targeted by Hungary's government, in particular over his support for more open immigration.
The Federation of Hungarian Jewish Federations (Mazsihisz) urged Mr Orban to halt the campaign.
"This campaign, while not openly anti-Semitic, clearly has the potential to ignite uncontrolled emotions, including anti-Semitism," they said.
In a reply to Mazsihisz, Mr Orban said that it was his duty to protect Hungarians - including the country's 100,000-strong Jewish community -- from illegal migration.
"The person who uses his wealth, power, influence and a network of non-governmental organisations (NGOs) funded by him to settle millions of migrants in Hungary and the European Union puts our future in jeopardy," he said.
"The billionaire speculator George Soros has made it quite clear repeatedly that this is precisely what he wants to do."
But Mr Vachon said the claim was "fantasy."
"Soros's actual position on migration is that the international community should provide more support to the developing countries that today host 89 per cent of refugees and that Europe should accept several hundred thousand fully screened refugees through an orderly process of vetting and resettlement," he said.
Mr Orban's government fortified Hungary's southern border in 2015 against a large influx of migrants from the Middle East and Africa into the EU that year.
He also rejected a quota scheme agreed by EU leaders to distribute migrants among member states and has repeatedly depicted the mostly Muslim migrants and refugees as a threat to Europe's Christian identity and culture.
Around 100,000 Jews live in Hungary today, down from more than half a million before the Holocaust.
Additional reporting by agencies
Register for free to continue reading
Registration is a free and easy way to support our truly independent journalism
By registering, you will also enjoy limited access to Premium articles, exclusive newsletters, commenting, and virtual events with our leading journalists
Already have an account? sign in
Register for free to continue reading
Registration is a free and easy way to support our truly independent journalism
By registering, you will also enjoy limited access to Premium articles, exclusive newsletters, commenting, and virtual events with our leading journalists
Already have an account? sign in
Join our new commenting forum
Join thought-provoking conversations, follow other Independent readers and see their replies