German orchestra accuses Turkey of trying to censor 'Armenian genocide' performance
Armenia says 1.5 million people were massacred by Ottoman forces starting in 1915 - but Turkey disputes their claim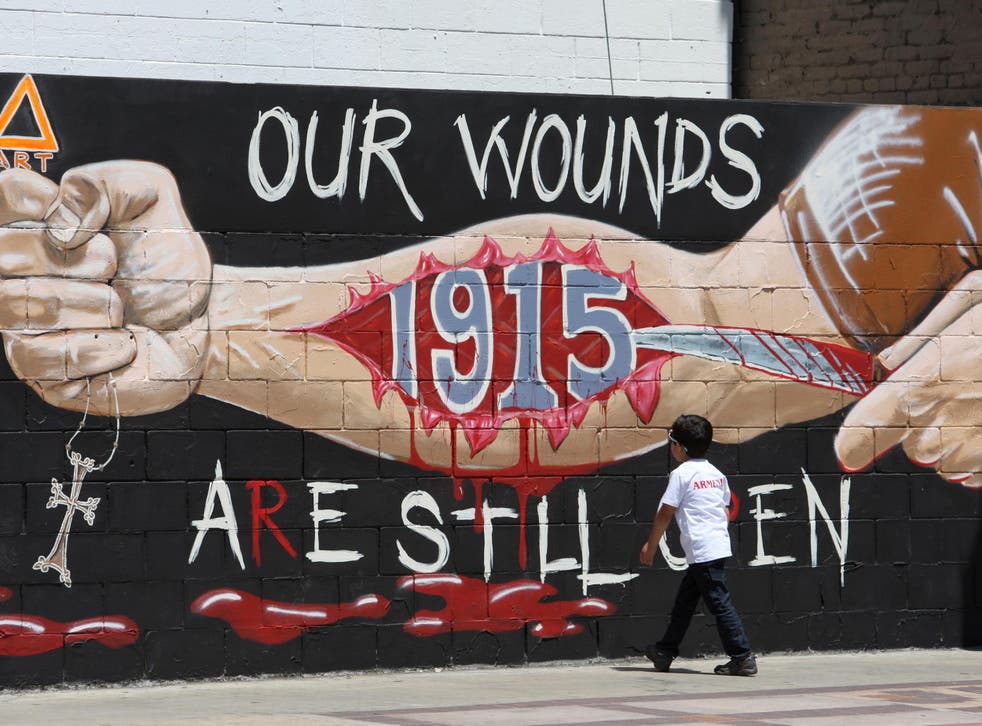 A German orchestra has claimed Turkey tried to make them take the word "genocide" out of a concert marking the massacre of Armenians by Ottoman forces during the First World War.
Markus Rindt, the director of the Dresdner Sinfoniker orchestra in Dresden, east Germany, claimed Turkey's delegation to the European Union demanded the European Commission withdraw 200,000 euros (£155,000) in funding for the concert which will use the term "genocide" in texts sung and spoken during a planned show on 30 April.
Monday marks the 101th anniversary of the beginning of what Armenia calls the genocide of 1.5 million people between 1915 and 1917 by the ruling Ottoman Empire.
Many international bodies, including the European Union, recognise the massacre - which saw able-bodied men being massacred and women, elderly and children being forced to march into the Syrian desert - as a genocide and many modern historians say the 1.5 million figure is roughly accurate.
But Turkey has repeatedly denied claims that the killings were a systematic genocide, saying many died on both sides as a result of ethnic clashes and a deportation programme. and put the number of dead at around 300,000.
It is currently illegal in Turkey to call the killings a genocide.
Mr Rindt said the Commission had decided to maintain its financial support but asked the orchestra to remove the mentions of "genocide".
He told Agence France Presse: "It's an infringement on freedom of expression.
"We find all of this very questionable".
The symphony was first performed last year to commemorate the centenary of the massacre and the orchestra contains both Turkish and Armenian performers.
World news in pictures

Show all 50
A Commission spokeswoman said: "Due to concerns raised regarding the wording used in the project description, the Commission temporarily withdrew it.
"A new project description will be republished in the coming days."
It comes after the Turkish embassy in Stockholm asked Swedish broadcaster TV4 to pull a documentary on the genocide because the film "will fail to serve the principle of objectivity".
In an email published on the TV4 website, Turkish embassy spokesman Arif Gülen said: "There is no historical, academic or legal consensus on how to define 'the 1915 events'. Genocide is a specific crime defined by international law.
"The UN 1948 Convention stipulates what genocide is and states that only a competent international court can determine whether particular events were a genocide".
The channel said they would "of course" show show the documentary.
Register for free to continue reading
Registration is a free and easy way to support our truly independent journalism
By registering, you will also enjoy limited access to Premium articles, exclusive newsletters, commenting, and virtual events with our leading journalists
Already have an account? sign in
Register for free to continue reading
Registration is a free and easy way to support our truly independent journalism
By registering, you will also enjoy limited access to Premium articles, exclusive newsletters, commenting, and virtual events with our leading journalists
Already have an account? sign in
Join our new commenting forum
Join thought-provoking conversations, follow other Independent readers and see their replies