German police arrest neo-Nazis over 'racist rock music' broadcasts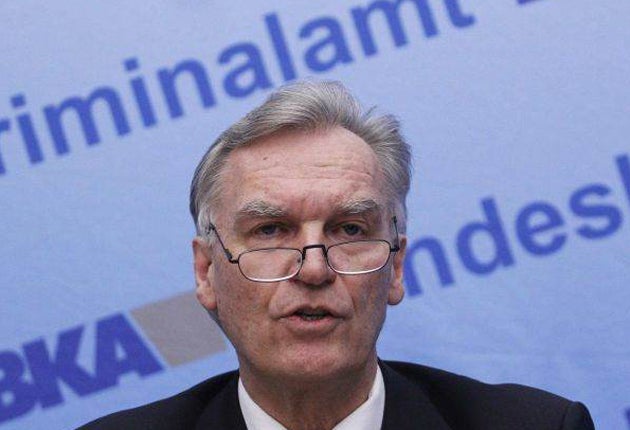 German police have arrested 23 activists suspected of running an online neo-Nazi radio station that broadcast skinhead rock music with overtly racist and violent lyrics designed to win over young people.
The neo-Nazis were arrested in raids involving about 270 police at more than 20 houses, flats and offices across Germany on Wednesday. Computers, mobile phones and weapons were among the items confiscated. The arrests were part of state prosecutors' efforts to clamp down on the far right's drive to broaden its support through increased online activity and regional media presence.
"Music is being deliberately used to recruit youths and young adults into the far-right scene," Jörg Zierke, the head of Germany's Federal Criminal Office, said. He added that there had been clear evidence in recent months that the far right was striving to increase its media profile.
The 23 people arrested included six women. All were aged between 20 and 37. They are suspected of working as administrators and DJs for an online neo-Nazi radio station called Resistance Radio. They face charges of spreading racist propaganda and incitement to violence.
The 24-hour station, which was accessible round the world, has since been taken offline. Listeners in the United States, where the station had used a computer server, registered under false names and addresses to hear the broadcasts.
Hanna Wittstadt, who works for an online youth protection network that monitors far-right internet activity, said there were 18 similar radio stations operating online in Germany. She complained the authorities lacked the resources to detect all of them.
Germany's main extreme-right party, the neo-Nazi National Democratic Party, regularly gets skinhead rock bands to play at political events and clandestine rock concerts for the far right which are held under the guise of being ordinary pop events. But the NPD, which has parliamentary seats in two eastern German states and 220 activists on local councils, recently launched a drive to recruit younger members by distributing youth newspapers, CDs and other propaganda outside schools and colleges.
The party is also trying to increase its support in eastern Germany's thinly populated rural regions, where local newspapers are dying because of falling readership and a decline in advertising. The NPD has distributed a wide selection of far-right newspapers with innocent-sounding titles such as, East Thuringian Voice, which concentrate on local issues and keeps propaganda to a minimum. "These newspapers have an enormous influence," Gunther Hoffmann, an expert on far-right media in the state of Mecklenburg-Vorpommern. "Fear-inducing subjects such as increases in immigrant populations are discussed alongside local issues."
Join our commenting forum
Join thought-provoking conversations, follow other Independent readers and see their replies