German police arrest second man after Syrian refugee detained over alleged Isis terror attack plan
Police launched dawn raids on the home of suspected Isis supporters accused of radicalising young men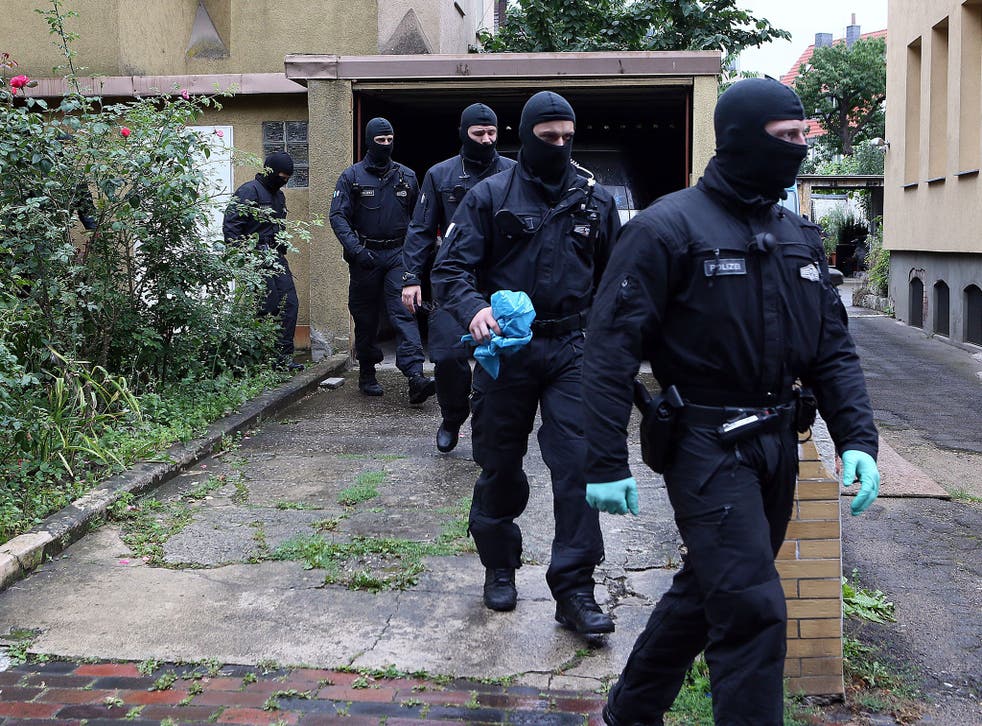 German police have arrested a second man as part of an investigation into a Syrian refugee accused of planning a terror attack.
Authorities said the new suspect, who was detained in the north-western town of Dinslaken on Wednesday, was suspected of fighting for Islamist groups in Syria.
The operation was linked to the arrest of a Syrian refugee on Friday after a witness reported overhearing him discussing an attack.
Ralf Jäger, the interior minister for North Rhine-Westphalia, contradicted local reports that the suspect was an Isis leader or was planning an atrocity at a Bundesliga football match.
He told a press conference that no evidence of a "concrete" plot had been found and that football authorities had been informed there was no direct threat to matches starting on 26 August.
"There was a vague tip-off from a person who believes they heard something," Mr Jäger added. "If that is found to be robust, there will be further investigations.
"There were no concrete plans for an attack in Rhineland-Palatinate or North Rhine-Westphalia, especially not against the Bundesliga."
The 24-year-old Syrian man detained, who was detained on Friday in Mutterstadt, Rhineland-Palatinate, remains in police custody.
A spokesman for the prosecutor's office declined to comment on German media reports that the suspect arrested in Dinslaken was also a Syrian refugee.
In a separate operation on Wednesday morning, German police raided the homes and workplaces of three people suspected of trying to recruit supporters for Isis.
No arrests were made but prosecutors said one of the suspects is believed to have provided financial and logistical support for the militant group.
The raids took place in the in the cities of Duisburg, Dortmund, Düsseldorf and Tönisvorst.
"The searches show that the NRW police will not stop targeting Islamist groups," Mr Jäger said.
In pictures: German train axe attack

Show all 8
"Anyone who thinks they can stir up hatred here and recruit young men for the conflicts in Syria and Iraq is next.
"Our security services are doing everything in their power to prevent Salafist recruiters brainwashing children and adolescents."
Germany is on high alert following an axe attack by an Isis supporter on a train in Wurzburg and a suicide bombing outside a music festival in Ansbach.
Interior Minister Thomas de Maiziere is due to propose new security measures on Thursday, including speedier deportations and waiving doctor-patient confidentiality in some cases.
"We live in difficult times - the terror threat is high the police are overstretched," he said.

Join our new commenting forum
Join thought-provoking conversations, follow other Independent readers and see their replies