German police forced to ask public to stop bringing donations for refugees arriving by train
Officers in Munich said they were 'overwhelmed' by the outpouring of help and support and had more than they needed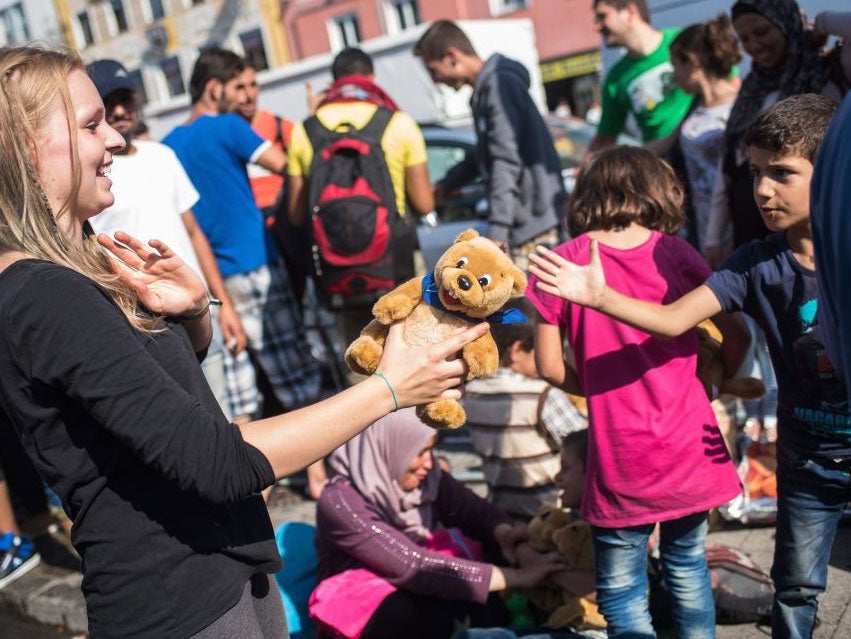 Police in a German city have been forced to ask the public to stop bringing donations for arriving refugees after being inundated with food, clothes and toys in an overwhelming show of support.
This morning, Polizei München's official account tweeted that around 590 refugees were at the city's main train station, adding: "Anyone who wants to help is welcome."
They could scarcely have predicted the huge response that followed within just minutes, as hundreds more migrants continued to disembark at the Hauptbahnhof.
Little over an hour after police announced the refugees' arrival, they wrote that they were being inundated by volunteers with food, drink and nappies for babies, adding: "We think it's great!"
Shortly before 11am, officers confirmed that the aid was continuing to flow in.
A Twitter post read: "More refugees are arriving at the Hauptbahnhof in Munich – help from the public isn't stopping. Class!"
By 1pm, police and local authorities transferring the refugees to reception centres had more than they needed and the Twitter account issued a polite request for people to "please bring no more items" as they were "overwhelmed".
To clarify, a second post read: "The existing donations for the refugees present and those still coming are sufficient. Thank you Munich."
It was followed by similar statements in English but as offers of help continued, police shared contact details for the city council for those still wishing to donate.
Munich has seen thousands of asylum seekers and migrants arrive at its main train station in recent days, including many Syrians and Iraqis who boarded trains from Hungary after reaching Europe through the Balkans.
Many more families were hoping to arrive in the city today but were prevented from catching a train from Budapest by Hungarian authorities.
Police temporarily stopped all westbound international departures from Keleti station and forced hundreds of migrants outside, where they protested by waving their tickets and chanting "Germany! Germany!".
In pictures: Hundreds of migrants stranded in Budapest
Show all 10
The stoppage came after scuffles broke out after police scuffled with passengers pushing towards platform gates where a train was scheduled to leave for Austria and Germany.
Mohammed, a 24-year-old economist from the Syrian city of Aleppo, told the Associated Press he spent €200 (£150) on a ticket to Munich and was told by police last night that he would be allowed to travel.
But despite showing a Syrian passport to officers guarding the platform, they denied him passage on Tuesday because he did not have a Schengen visa.
Germany is currently leading Europe for taking in asylum seekers, receiving more than 73,000 first-time claims in the first three months of this year alone, compared to just 7,300 in the UK.
The country's government has predicted that 800,000 refugees will arrive this year and Angela Merkel urged citizens to welcome them yesterday, instead of being swayed by the "hate" spread by far-right groups.
Join our commenting forum
Join thought-provoking conversations, follow other Independent readers and see their replies