German spy chief Heinz Fromm quits over neo-Nazi investigation scandal
Government agents destroyed files on far-right terrorist cell behind murderous attacks on immigrants
Tony Paterson
Wednesday 04 July 2012 01:17 Comments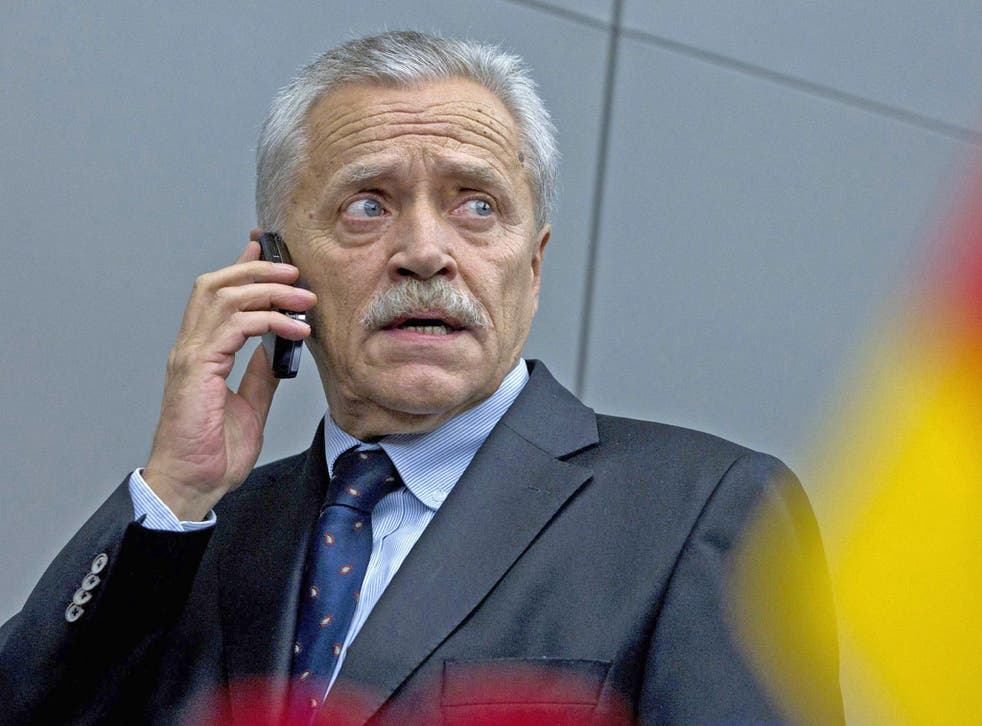 The head of German intelligence was forced to resign yesterday amid explosive revelations that his agents deliberately destroyed and manipulated files containing information about a neo-Nazi terror cell behind the country's worst far-right violence since the Second World War.
Heinz Fromm, 63, said he took responsibility for the actions of staff who shredded seven intelligence documents, left out key information from computer files and lied to their superiors at the height of an inquiry into neo-Nazi terrorists last November.
Mr Fromm, who resigned after 12 years at the helm of the Federal Office for the Protection of the Constitution, said the actions of the agents involved were unprecedented. "Nothing like this has ever occurred before during my tenure," he said. "It is a major breach of trust and hugely damaging to the reputation of the service."
One of the most serious post-war German intelligence scandals began to unfold last week. Reports about the shredded documents were leaked to the media and provoked outrage from MPs who called for an immediate investigation.
Politicians said the shredded files left the agency open to "every possible suspicion", including the notion that neo-Nazis were on its payroll or that agents themselves had neo-Nazi sympathies. The agency has made no secret of its use of paid "moles" to infiltrate the neo-Nazi scene.
The destroyed documents contained background information on members of the National Socialist Underground (NSU).Over a decade, the neo-Nazi terrorist cell murdered a female police officer, shot dead nine immigrants, injured more than 20 people in two bomb attacks and robbed 14 banks to finance its operations.
Police discovered the bodies of the gang's two ringleaders, Uwe Mundlos and Uwe Böhnhardt, in a burnt-out caravan in eastern Germany in November last year. Investigators established that they had committed suicide after robbing a bank. A third member of the gang, a woman called Beate Zschäpe, was caught and arrested and is still being questioned.
The gang would shoot immigrant Turkish and Greek street vendors at point-blank range and without warning with a Czech-made Ceska pistol. A nail bomb detonated by the group in a crowded Turkish district of Cologne in 2004 injured 22 people.
For more than a decade, police ruled out the possibility of neo-Nazi involvement and attributed the killings instead to immigrant "gang warfare". German police even set up two of their own Turkish doner kebab stalls to catch the presumed immigrant gang leaders. It only dawned on police that a far-right terrorist cell was behind the attacks after they followed up leads from the bank robbery last year and found the Ceska murder weapon.
It emerged at the weekend that the agent who shredded the seven files was a high-ranking officer who worked for a department specialising in surveillance of the extreme right at intelligence headquarters in Cologne. He is said to have destroyed the documents on 11 November last year – the same day that federal prosecutors took over the investigation of the case.
The officer is reported to have lied to superiors and claimed that the documents had been destroyed 10 months earlier. The Cologne agents were also said to have deliberately left out important surveillance information from computer files and claimed this was for "operative reasons".
Meanwhile, further information published yesterday revealed that Italy's intelligence services had supplied their German counterparts with information about a neo-Nazi terrorist network eight years before police discovered the bodies of the NSU ringleaders last November. The Italians first tipped off German intelligence about a meeting of European neo-Nazis in the Belgian town of Waasmunster in 2003, where Italian neo-Nazis had referred to a terrorist network. Italian intelligence also reported that militant German neo-Nazis met frequently with their Italian counterparts, who often supplied them with money.
In 2008, an Italian neo-Nazi skinhead group from South Tyrol was reported to have held a meeting with militant German neo-Nazis, where attacks on foreigners were planned to "make an example".
Several politicians yesterday applauded Mr Fromm's resignation saying it was "necessary and right". However, Hartfrid Wolff, a liberal Free Democrat MP, echoed the view of many in saying: "His resignation comes just after the disclosures about the destroyed documents and it suggests that there is more to this affair than is so far known."
Mr Fromm is scheduled to give evidence before a parliamentary committee investigating the scandal on Thursday.
Register for free to continue reading
Registration is a free and easy way to support our truly independent journalism
By registering, you will also enjoy limited access to Premium articles, exclusive newsletters, commenting, and virtual events with our leading journalists
Already have an account? sign in
Join our new commenting forum
Join thought-provoking conversations, follow other Independent readers and see their replies