Germanwings crash: Lufthansa reveals co-pilot Andreas Lubitz informed his flight school he had suffered a 'serious depressive episode' in 2009
Official report will also recommend new locking systems and procedures for cockpits in move to prevent a repeat of last week's presumed suicide and mass-murder by co-pilot Andreas Lubitz
John Lichfield
Tuesday 31 March 2015 22:00 Comments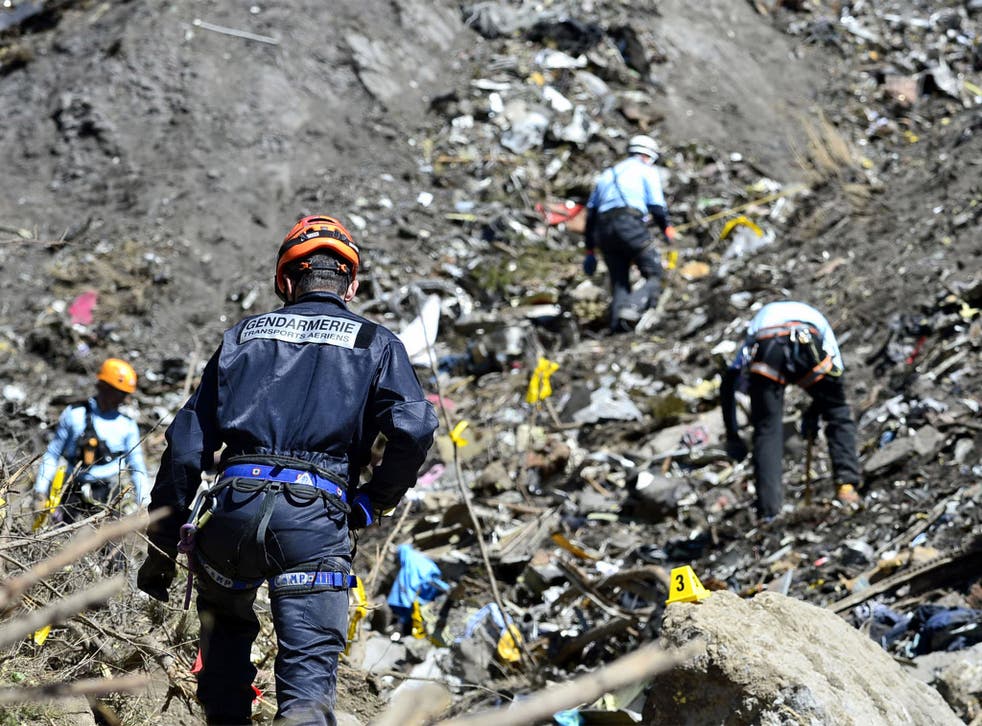 Germanwings' parent company Lufthansa has revealed that Andreas Lubitz, the co-pilot who apparently flew one of their Airbus A320 aircraft into a mountain last week, informed his flight school in 2009 that he had had a "serious depressive episode".
Lufthansa said the note was found in emails that Lubitz sent to their flight school when he resumed his training after an interruption. The airline said it has provided the documents to prosecutors.
The company had earlier said they were not aware of anything that could have driven Lubitz to deliberately crash the plane.
Meanwhile, French air accident investigators will recommend changes to psychological examinations for all airline pilots following last week's disaster in the Alps. To prevent a repeat of last Tuesday's presumed suicide and mass-murder, the official investigation report will suggest ways to screen pilots for potentially calamitous character flaws.
The report by the air accident investigation bureau, the BEA, will also recommend changes in security procedures to make it impossible for pilots to lock their colleagues out of the cockpit – as Lubitz did before the crash.
In pictures: Germanwings Airbus A320 plane crash

Show all 66
The BEA said that its report would cover "criteria and procedures to identify specific psychological profiles" among pilots. It will also look at "the logic of locking systems for cockpit doors and procedures for entering and leaving the cockpit."
The BEA has been criticised in the French media for saying nothing since it gave a press conference the day after the Barcelona to Düsseldorf plane crashed last week killing all 150 people aboard.
In an attempt to answer the criticism, the BEA put out a statement saying it had expanded its investigation to include "systematic weaknesses" in airline procedures. Not only would it produce an account of the Germanwings crash; it would look at ways of trying to prevent such a disaster happening again.
The European air safety agency has already recommended that all airlines, as a temporary measure, ensure no pilot is left alone in a cockpit.
German prosecutors said on Monday that Lubitz, 27, received psychotherapy before he became a pilot and that his medical records from that time spoke of "suicidal tendencies". Lufthansa, the parent company of Germanwings, said the young pilot had passed all medicals since he joined them in 2013.
Lufthansa also said that it has set aside $300m (£202m) to deal with possible claims from the relatives of victims and other costs. This reflects the maximum, "normal" compensation of $157,000 per passenger set by international law. If an airline is found to have been negligent, the compensation claims can be bigger.
President François Hollande said during a visit to Germany today that he thought the laborious process of identifying the remains of victims would be completed in a few days' time. "By the end of the week at the latest, it will be possible to identify all the victims," Mr Hollande said. Lawyers representing the victims' families also called for new rules on psychiatric tests for pilots.
Register for free to continue reading
Registration is a free and easy way to support our truly independent journalism
By registering, you will also enjoy limited access to Premium articles, exclusive newsletters, commenting, and virtual events with our leading journalists
Already have an account? sign in
Join our new commenting forum
Join thought-provoking conversations, follow other Independent readers and see their replies