Germanwings plane crash: Police guard site overnight to protect victims' bodies from wolves
Two wolf packs are believed to live nearby in the French Alps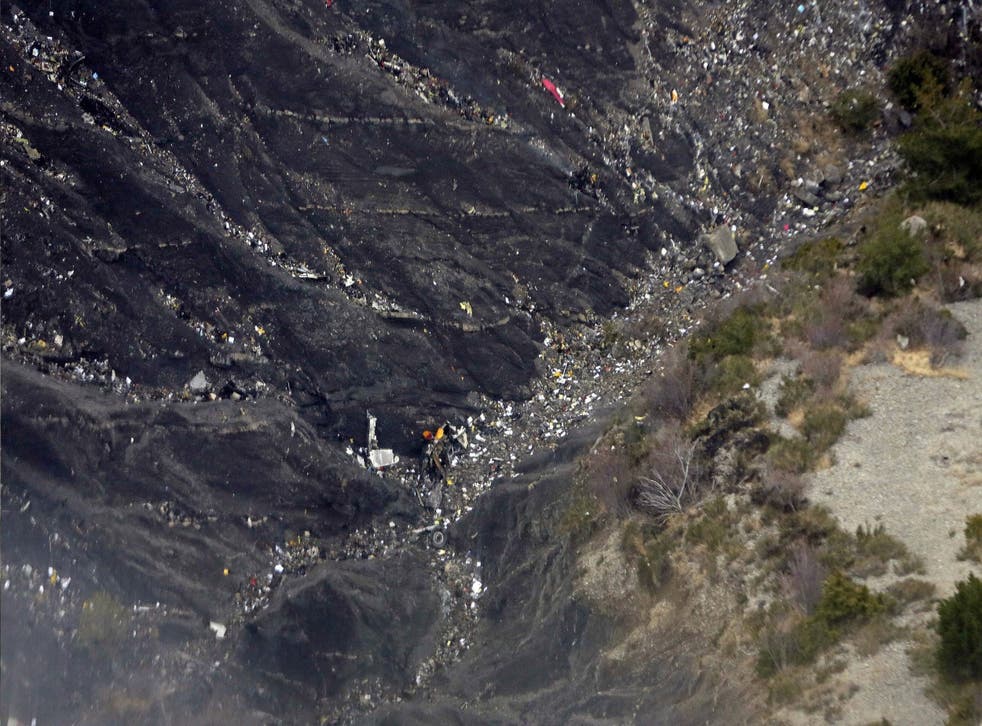 Five police officers stayed overnight amid the debris at the Germanwings crash site to protect it from souvenir hunters, journalists and wolves.
Authorities have strengthened the security cordon at the scene in the French Alps, which is near a popular ski resort and mountain roads, L'Express reported.
There are fears that curious members of the public and press may disturb the investigation and that two wolf packs known to live in the area could be attracted to victims' bodies.
"The aircraft was pulverised," one rescue worker said last night. "Even the bodies are unrecognisable."
Hundreds of police and dozens of helicopters descended on the mountains at first light today for a second day of work to recover passengers and debris.
The crucial cockpit voice recorder was recovered yesterday and is already being analysed, with officials saying it was damaged but "useable".
Investigators are particularly focusing on the two minutes around 10.30am, when the pilot stopped responding to air traffic controllers, for vital clues.
In pictures: Germanwings Airbus A320 plane crash

Show all 66
The voice recorder takes audio feeds from four microphones within the cockpit and records all the conversations between the pilots, air traffic controllers as well as any noises heard in the cockpit.
But it is only one of the aircraft's two black boxes. The flight data recorder, which was still missing this morning, captures 25 hours' worth of information on the position and condition of almost every major part in the plane.
Helicopters surveying the scattered debris lifted off at dawn, hours ahead of the expected arrival of bereaved families and the French, German and Spanish leaders.
Hundreds of police were making their way slowly to the remote crash site through fresh snow and rain, threading their way to the craggy ravine.
A father from Wolverhampton, a mother who had been visiting Manchester and 16 German teenagers from the same school were among the 150 passengers and crew killed in the disaster.
Flight 4U9525 was less than an hour from its destination of Dusseldorf on its journey from Barcelona when it unexpectedly went into a descent for up to 18 minutes yesterday morning.
The pilots did not send out a distress call and had lost radio contact with their control centre at around 10.50am local time (9.50am GMT), France's aviation authority said.
Additional reporting by agencies
Register for free to continue reading
Registration is a free and easy way to support our truly independent journalism
By registering, you will also enjoy limited access to Premium articles, exclusive newsletters, commenting, and virtual events with our leading journalists
Already have an account? sign in
Register for free to continue reading
Registration is a free and easy way to support our truly independent journalism
By registering, you will also enjoy limited access to Premium articles, exclusive newsletters, commenting, and virtual events with our leading journalists
Already have an account? sign in
Join our new commenting forum
Join thought-provoking conversations, follow other Independent readers and see their replies