Germany says EU 'will not be blackmailed' as Turkey threatens to ditch refugee deal over visa-free travel
President Erdogan says: 'You cannot demand the refugee agreement without fulfilling obligations'
Lizzie Dearden
Tuesday 02 August 2016 16:08 Comments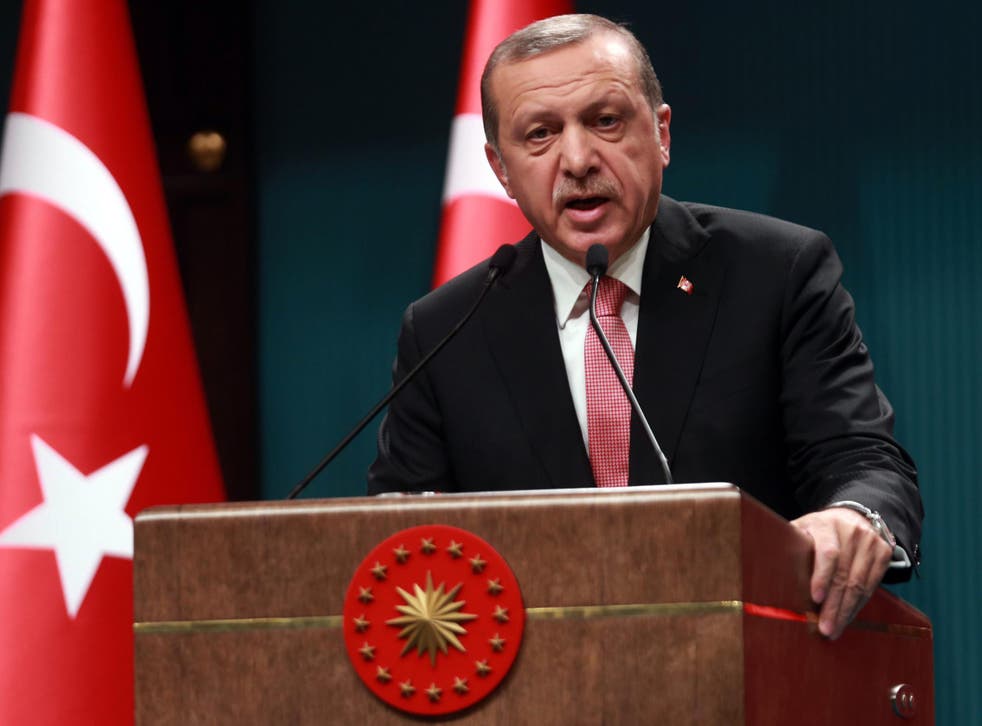 Europe "will not be blackmailed" into granting Turkey visa-free travel by the threat to back out of a deal on refugees, Germany's Vice Chancellor has said.
Talks on the issue and Turkey's possible accession to the EU have been strained amid a continuing crackdown following the failed attempt to oust President Recep Tayyip Erdogan.
Mevlut Cavusoglu, the Turkish foreign minister, said Ankara would back out of its agreement with the EU to reduce the flow of migrants if it does not receive visa-free travel for Turks in return.
Under the deal agreed in March, any asylum seekers arriving clandestinely in Greece are detained and returned to Turkey if their applications fail – a move that has seen crossings over the Aegean Sea drop dramatically.
Mr Cavusoglu's threat came after Germany joined other countries urging the Turkish government to show proportionality and restraint in response to last month's coup, which has seen more than 16,000 people arrested, media outlets shut down and thousands of public sector workers dismissed from their posts.
Germany: Thousands rally to denounce Turkish coup attempt
Sigmar Gabriel, the German Vice Chancellor, said: "It is up to Turkey if there is or there isn't visa liberalisation.
"Germany and Europe should under no circumstances be blackmailed."
He applauded a controversial decision to prevent Mr Erdogan from addressing a rally in Cologne via video link Sunday, after the ban prompted the Turkish foreign ministry to summon the German ambassador.
Frank-Walter Steinmeier, the German foreign minister, said it remained up to Turkey to fulfil the conditions required for visa liberalisation.
"Turkey still has work to finish off here. Whether they do this under the current conditions we will have to wait and see," he told the Rheinische Post.
The EU demands that Turkey fulfil a list of criteria including amending its anti-terrorism laws so they cannot be used to target academics, journalists and political dissenters.
But Mr Erdogan has accused the EU of reneging on promises made during the refugee deal.
Turkey's two million Syrian refugees

Show all 11
"We are the ones who are protecting the European Union by sheltering 3 million Syrians and Iraqis," he said on Tuesday.
"They still haven't brought about their promises. They promised 3 billion euros (£2.5 billion) this money still hasn't arrived.
"The visa issue still hasn't been brought about. But they expect us to meet (our) obligations. I am sorry but these steps will be taken simultaneously.
"You cannot demand the refugee return agreement without fulfilling your obligations. Sorry, but we are not a country that you can boss about."
Mr Erdogan has accused countries raising concern over the response to the coup of supporting the plotters and on Tuesday targeted Amnesty International for a report alleging that some people detained in connection with the attempt had been tortured.
He insisted that Turkey had a policy of "zero tolerance toward torture" and accused the human rights organisation of ignoring violence committed by plotters during the attempt on 15 July.
The President said injuries may have occurred during fights and battles as the operation was crushed, adding: "If they hadn't, they would have killed our police."
Register for free to continue reading
Registration is a free and easy way to support our truly independent journalism
By registering, you will also enjoy limited access to Premium articles, exclusive newsletters, commenting, and virtual events with our leading journalists
Already have an account? sign in
Join our new commenting forum
Join thought-provoking conversations, follow other Independent readers and see their replies