Germany and Italy storing Covid victims in shipping containers
Hospitals and cemeteries resort to temporary measure during 'enormous emergency'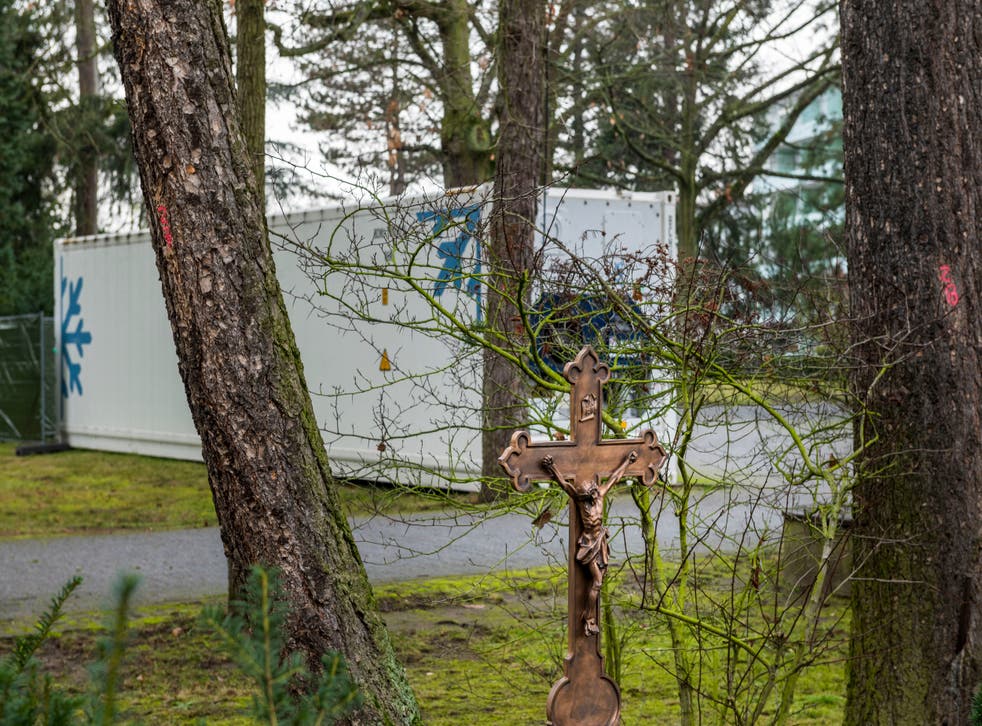 Hospitals and cemeteries in Germany and Italy have begun storing coronavirus victims in shipping containers as the two countries reckon with some of Europe's highest death tolls.
The hospital of Legnago, near the north-western Italian city of Verona, and the cemetery in the German city of Hanau, near Germany's financial hub Frankfurt, were among the facilities saying they were using containers to store bodies temporarily.
"We've arranged a temporary container to front a moment of enormous emergency," a spokesperson for the Mater Salutis Hospital of Legnago told The Independent in a phone interview, specifying that it was a dedicated refrigerated container.
"Other authorities [in Italy] use churches to store bodies," the spokesperson said. "Here, at a critical time, we prepared this. It's the most dignified way to give dignity and decency to their rest while waiting for a funeral."
The spokesperson said that the hospital had not needed one such container during the first wave of coronavirus infections in March, but began using one this week after the hospital morgue filled up, leaving health workers in need of extra space to store coffins.
The container had been used in the last few days but was empty on Friday, the hospital said, adding it would keep in place in the coming days in case of new emergencies.
It said no families had complained about the procedure.
The province of Verona, where Legnago sits, had 2,701 hospitalised coronavirus patients on Thursday, including 352 in ICUs. The area recorded an additional 810 cases in 24 hours yesterday.
In Hanau, Germany, two corpses were already being stored in a metal container with room for 25 bodies on Thursday 17 December.
"Unfortunately, the situation in Hanau has changed so much that we now need to make use of containers that we have had here since April, initially as a precaution," said Alexandra Kinski, head of cemeteries and crematoriums in Hanau.
She said that bodies were only kept there for a short time after their death.
"If a person passes away and there is no space in the clinic then they come here and stay for a short while until the deceased is taken to a final resting place, for example here in the cemetery," she said.
Italy and Germany were both initially praised for managing to keep the second wave of coronavirus in check this autumn.
But the two countries now bear some of the world's highest daily coronavirus death tolls.
On Wednesday, Italy took over the UK as the country with the highest confirmed coronavirus death toll in Europe – currently 67.220.
Deaths spiked on 3 December locally, when the country recorded 993 in one day. Italy recorded 683 deaths on Thursday.
Germany recorded its highest ever daily death toll on Wednesday, when the Robert Koch Institute, the country's federal agency responsible for disease control and prevention, reported 952 deaths.
Confirmed coronavirus cases have topped 1.9 million in Italy and 1.4 million in Germany.
In Italy, the staggering number of coronavirus deaths during the second wave of infections has raised questions among some researchers.
Matteo Villa, a research fellow at the Institute for International Political Studies, a Milan-based think tank, said Italy failed to reinforce its medical system sufficiently during the summertime lull and argued the government should have acted earlier to prevent the caseload from surging.
"If you can act sooner, even a bit lighter in the measures, they work better than acting harshly a bit later or too late," he said.
"If you look at France and the UK, you can see Italy did fare much worse. And if you look at a comparable population with similar demographics, which is Germany, Italy did a lot worse."
Additional reporting by AP
Join our new commenting forum
Join thought-provoking conversations, follow other Independent readers and see their replies