Ghost town may hold the key to Cyprus reunification talks
Once a Mediterranean playground for Hollywood stars, Varosha is now a no-go zone between Turkish and Greek communities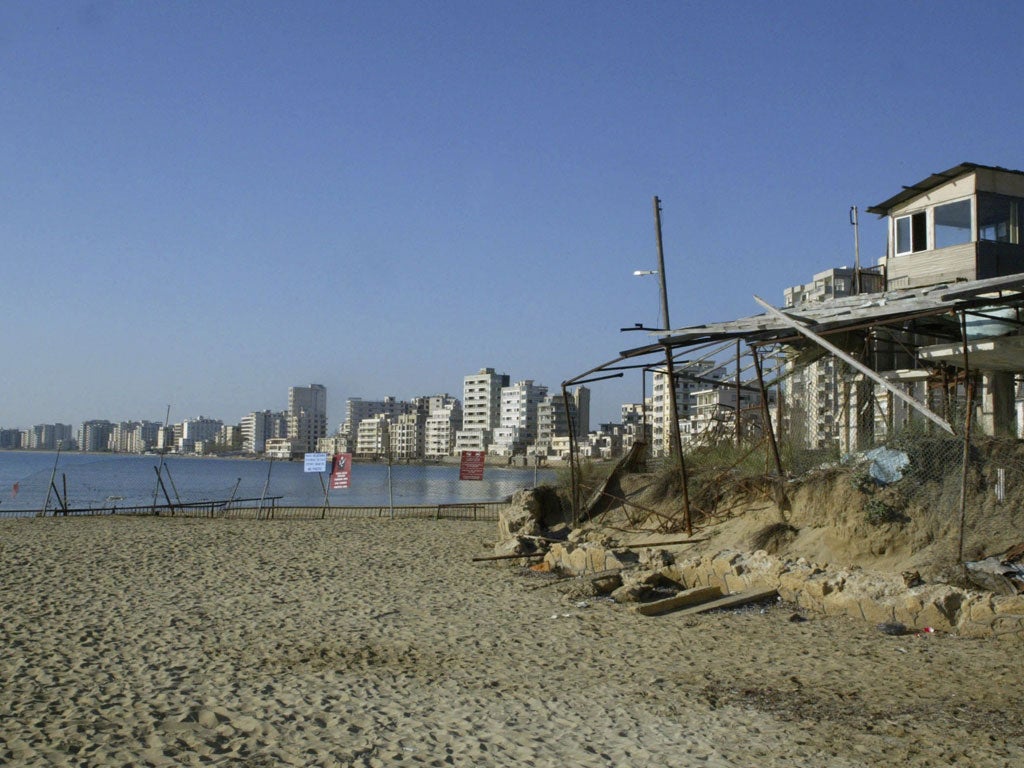 Varosha in Cyprus once drew Hollywood stars such as Paul Newman and Elizabeth Taylor to its beaches. There were more than 100 hotels, 5,000 houses and businesses, museums, churches and schools here, but today they stand rotting and empty behind barbed wire.
They have been deserted and fenced off since a July 1974 war that split the island and made Varosha, part of the ancient port town of Famagusta, a no-go zone. Mindful of UN resolutions barring resettlement, Turkey fenced off the 2.3 square mile area of Varosha and abandoned it.
But, recently, and with Cyprus this month taking on the EU's six-month rotating presidency, both sides have mooted reopening Varosha and its white-sand beaches, to help break a deadlock in UN-backed reunification talks.
Imprisoned behind rusting chain-link fences, Varosha is a snake- and rat-infested no man's land overrun by cacti. Large slabs of concrete walls from hotel blocks have crumbled away to reveal elevator shafts with snapped cables, the towers casting long shadows over the sparkling turquoise waters of the eastern Mediterranean.
Of Famagusta's 10-mile-long beach, just 200 yards is open to the public, while the rest is militarised or part of an underused sea port, according to Okan Dagli of the Famagusta Initiative, a Turkish-Cypriot group that supports the return of Varosha and the reopening of a seaport that handled about half of all Cypriot trade before 1974. The port is now a collection of dilapidated customs offices and unused depots outside Famagusta's 16th-century Venetian walls. "This is a melancholy place, the world's only divided city in which one half is alive and the other is a ghost town," said Mr Dagli. "Giving Varosha back means saving Famagusta."
On Facebook, Turkish soldiers and intrepid trespassers post photos of abandoned homes and businesses. In one, crates of empty KEO beer bottles are stacked in a blue-tiled restaurant kitchen next to tins of food scattered on a dusty work surface.
Estranged Greek and Turkish Cypriots had already lived apart in Famagusta for more than a decade before the 1974 Greek-Cypriot coup, followed by an invasion by Turkey, which said it was acting to prevent a return of intercommunal bloodshed that had plagued the island in the 1950s and 1960s.
Nicos Karoullas, whose father owned a pharmaceuticals company, was 15 when Turkish troops stormed Varosha. "Even though there was war, it never occurred to us we would not return," he said. Years of financial hardship awaited his family.
As Greek Cypriots wrangle with a banking crisis and await next February's presidential election, little progress can be expected on Varosha, or any aspect of the peace negotiations, said Erol Kaymak, a political scientist at Eastern Mediterranean University in northern Cyprus. Yet the incentive for Turkey to hold on to Varosha is fading after the European Court of Human Rights in January ordered Ankara to pay about €20m to 13 hotel and other business owners from Varosha for the loss of their property.
"Why pay for something when you can't keep it or use it?" Mr Kaymak said. "Varosha is a liability for Turkey." He said that if the Turkish side were to open Varosha, it would likely be under the north's administration and would be in exchange for a lifting of a ban on direct trade with Turkish Cypriots – something Greek Cypriots have always resisted.
The cold war between Turkey and Cyprus flared anew in 2011, when the latter announced offshore natural gas finds that could make it self-sufficient for 250 years. Fearing Turkish Cypriots would be deprived of their share, the Turkish Prime Minister, Tayyip Erdogan, accused Cyprus of "oil-exploration madness" and sent naval ships to the eastern Mediterranean. Despite the rhetoric, the promise of vast riches could spur the two sides to agree on a way to develop and transport the fuel, a stepping stone towards a broader settlement.
Rebuilding Varosha could cost up to €100bn, said Nicos Mesarites, head of the Greek Cypriot reconstruction board. The environment is likely to be toxic and the power grid, sewer system and roads have "been completely taken over by nature. You would need an army to rebuild it," he said.
Join our commenting forum
Join thought-provoking conversations, follow other Independent readers and see their replies