Giant hole appears at 'the end of the world' in Siberia
Scientists are being sent to Yamal to discover what caused the 80m crater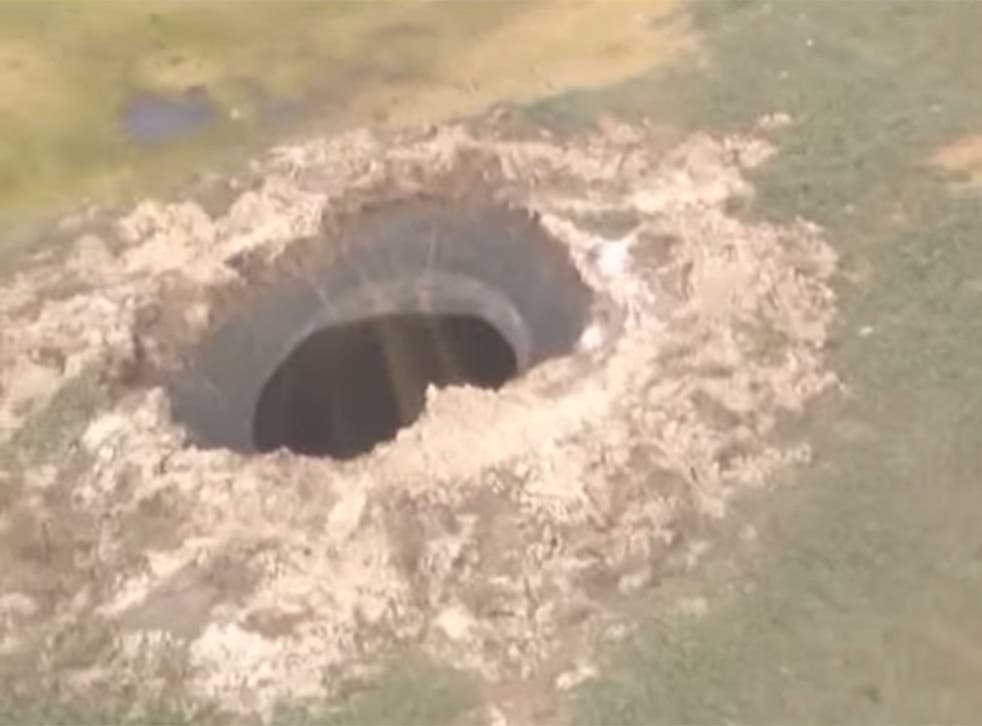 A mysterious crater has appeared at the "end of the world" in Siberia, leaving a pit 80m wide and so deep it has not yet been measured.
Researchers are being dispatched to investigate the hole, which has confounded scientists with its dramatic appearance.
Some have speculated it could have been made by a meteorite striking earth, an underground explosion, or is a sinkhole caused by collapsing rock, the Siberian Times reported.
One imaginative online commenter claimed it could even be evidence "of the arrival of a UFO craft" to the planet.
The area's name, Yamal, translates as the "end of the world" and the remote peninsula reaches into the Arctic Ocean.
It holds some of Russia's largest gas reserves and the crater appeared less than 20 miles from the biggest gas field, Bovanenkovo.
The dark colour of the crater's sides was said in a Zvezda TV report to indicate "temperature processes" or burning.
Experts from the Centre for the Study of the Arctic and the Cryosphere Institute of the Russian Academy of Sciences will take samples of soil, air and water.
A spokesman for the Russian Emergencies Ministry's Yamal branch ruled out a meteorite but said it was too early to say what cause the crater.
Initial reports about the phenomenon were dismissed as fakes but evidence has proved its existence for the last two years.
In pictures: 12 amazing archaeological discoveries

Show all 12
Anna Kurchatova, from the Sub-Arctic Scientific Research Centre, told the Siberian Times global warming could be a cause.
She believes the hole was formed by a mixture of water, salt and gas, igniting an underground explosion.
The gas had accumulated in ice mixed with sand beneath the surface of what was a sea 10,000 years ago, and ignited when the permafrost melted "like popping a champagne bottle", she claimed.
If her analysis is correct, another explosion could have worrying implications for the many underground gas pipelines running through the region.
The nearby Bovanenkovo field is of central importance to gas supplies from Siberia to the world.
Yamal is also known for its huge reindeer herds, which are managed by the indigenous Nenets.
Join our new commenting forum
Join thought-provoking conversations, follow other Independent readers and see their replies