Girls' football team ridiculed for entering boys' league silence critics by winning it
'It's hard to lose against girls, but these ones really are very good', says boy after defeat by AEM Lleida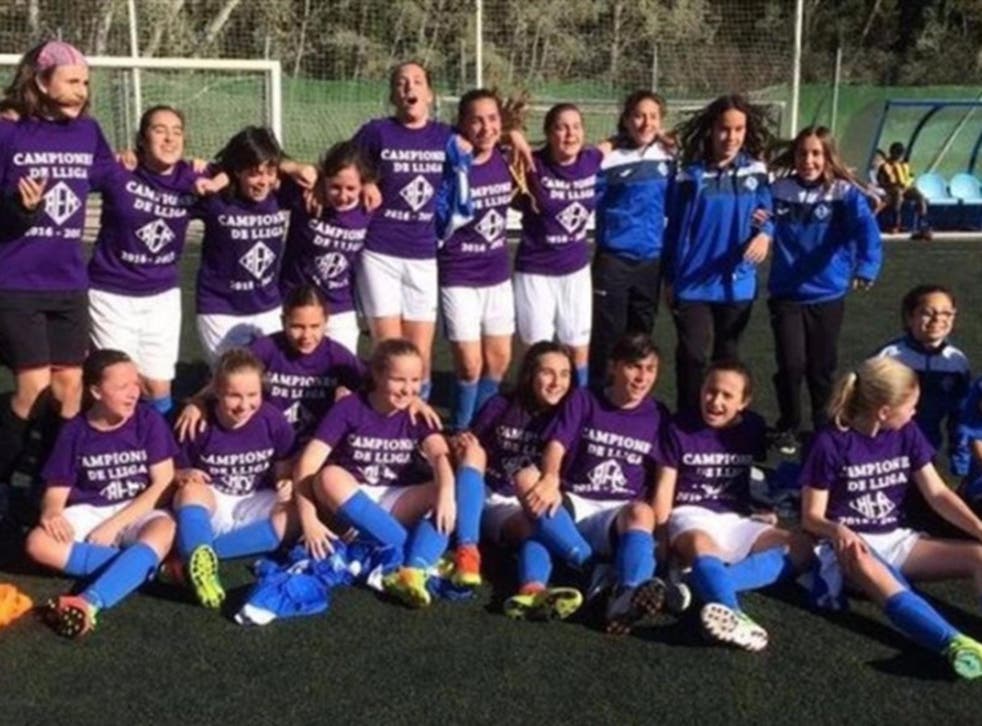 A girls' football team won a boys' league it joined despite parents calling the move "crazy" and one referee describing the players as "princesses" for an entire match.
The girls of AEM Lleida, in Spain, so dominated the girls' leagues in their area that team bosses signed them up for competition against boys.
Two seasons later they got their hands on the winners' trophy, with top scorer Andrea Gomez netting 38 times, the New York Times reported. The team lost just once in 22 games, AEM said on a fundraising website, and the girls were declared champions four games before the end of the season.
Sergio Gonzalez, the club's president, told the paper: "A few parents called us crazy when we registered the team. If this had gone very wrong, we would have been held responsible for humiliating the girls.
"It's strange, but most of the macho comments and insults have come from the mothers of some of the boys we play."
One referee asked coach Daniel Rodrigo whether his team had come to the wrong match and proceeded to refer to the players as "las princesas" throughout the game, the Times said.
In their first season, in 2014, AEM finished 12th out of 18 sides but slowly gained ground on their opponents before becoming champions this year.
One boy told the paper: "It's hard to lose against girls, but these ones really are very good."
AEM is now trying to raise €10,000 (£8,500) due to a lack of resources. "We have a total lack of resources and a lot of trouble finding help and sponsors," it said on a GoFundMe page.
It has carried on so far with volunteers and the players' fees, it said. It called the situation "a barrier to the entry and development of footballing talent, and we have to end it".
Register for free to continue reading
Registration is a free and easy way to support our truly independent journalism
By registering, you will also enjoy limited access to Premium articles, exclusive newsletters, commenting, and virtual events with our leading journalists
Already have an account? sign in
Register for free to continue reading
Registration is a free and easy way to support our truly independent journalism
By registering, you will also enjoy limited access to Premium articles, exclusive newsletters, commenting, and virtual events with our leading journalists
Already have an account? sign in
Join our new commenting forum
Join thought-provoking conversations, follow other Independent readers and see their replies