Godfather-style funeral music played at funeral of purported mafia boss
The lavish funeral included a helicopter which dropped rose petals on mourners and a band playing tunes from the Godfather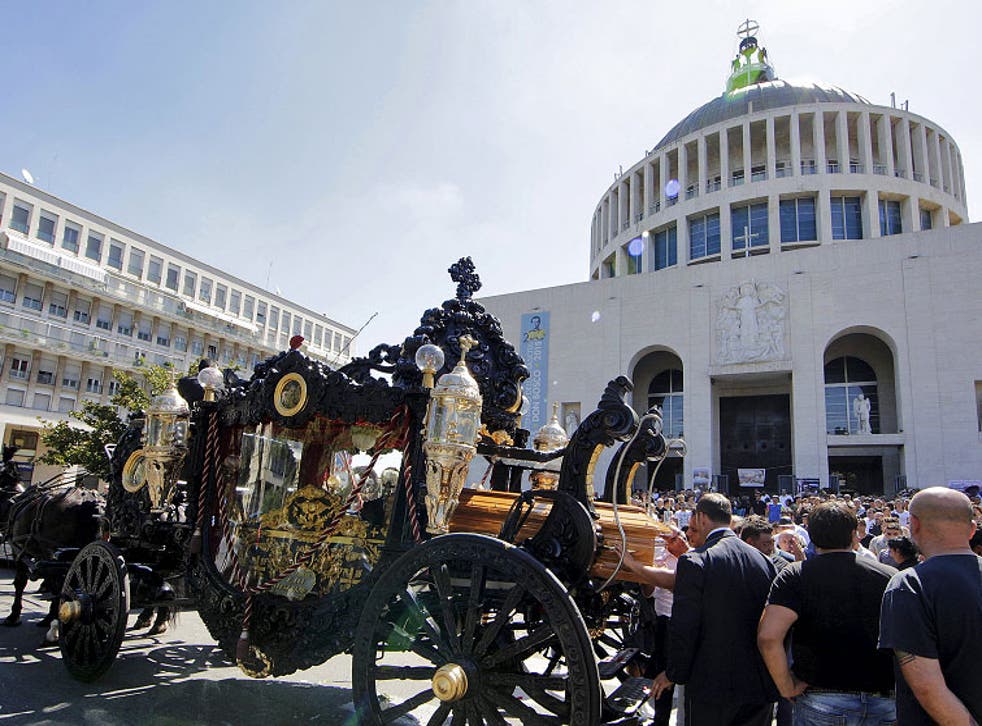 The lavish funeral held for the boss of a notorious Rome crime gang in which a brass band played the theme tune from the Godfather movie and a helicopter dropped red rose petals on mourners has been condemned.
Hundreds of mourners turned out to pay their respects to Vittorio Casamonica, 65, at the San Giovanni Bosco church on the outskirts of Rome yesterday.
Six ornamental horses pulling a black and gold embossed carriage carried Casamonica's coffin to front of the church while a band played tunes from the Godfather and bouquets of flowers were tossed at the casket as it was carried in to the church, according to reports from the Associated Press.
Posters hung up at the gates of the church named Casamonica the "King of Rome", while another read, "You have conquered Rome, now conquer paradise".
Rome City hall said on Thursday the Casmonica had been the subject of "many investigations into Roman criminality".
The Casamonica clan have also been accused of racketeering, extortion and usury, according to Reuters.
Italian politicians condemned the extravagant service calling on the Interior Minister Angelio Alfano to explain whether it had given special permits for the ceremony.
Matteo Orfini, president of the ruling Democratic Party, wrote on Twitter: "Never again. Rome cannot be defaced by those who want it to became the set of the Godfather."
Arturo Scotto and Celeste Costantino, members of the left wing SEL party, said in a statement that the funeral sent "a clear message of impunity on the part of the clans: we still exist and we are powerful. That is unacceptable in a democratic state."
Rosy Bindi, president of the parliamentary anti-mafia commission, told the Associated Press that it was "alarming" that a funeral for someone allegedly caught up in the mob to be "transformed into an ostentatious show of mafia power".
The parish priest, the Rev. Giancarlo Manieri, said that he had no control over what happened outside the church but that inside the funeral was celebrated in a normal fashion, the ANSA news agency reported.
The funeral came just a day after a date was confirmed for the trail 59 people charged in a mafia investigation in the capital, according to reports.
No comment has been received from the Interior Ministry regarding the funeral.
Join our new commenting forum
Join thought-provoking conversations, follow other Independent readers and see their replies