Greece could be forced to lock down savers' cash as debt crisis worsens
Athens could impose capital controls, limiting the amount that savers can withdraw from their accounts and curbing transfers of money overseas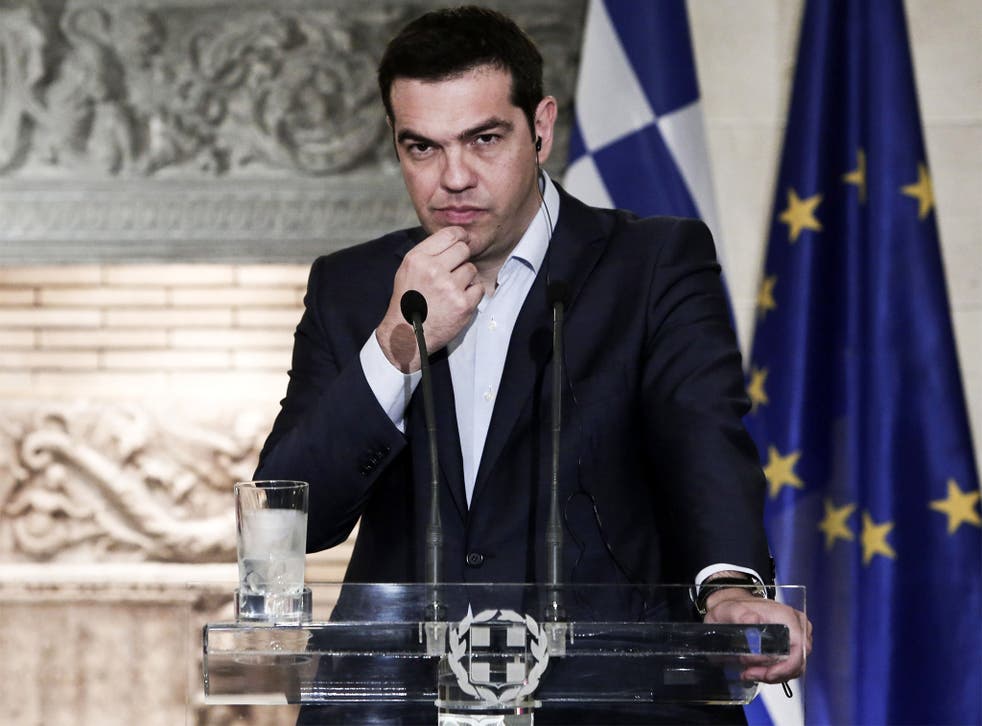 Greece's central bank has issued the clearest warning yet that the country is on course to default on its sovereign debt at the end of the month and crash out of the single currency, while finance ministers across Europe also confirmed they are making contingency plans for a messy ending to the crisis.
Athens is due to repay €1.6bn to the International Monetary Fund on 30 June but will be unable to do so unless its creditors release a €7.2bn bailout payment before then.
Talks between Greece and its eurozone and IMF creditors over a "cash-for-reforms" deal have stalled, with the country's Prime Minister, Alexis Tsipras, accusing the creditors of "pillaging" the country over the past five years.
"Failure to reach an agreement would …mark the beginning of a painful course that would lead initially to a Greek default and ultimately to the country's exit from the euro area and, most likely, from the European Union," the Bank of Greece said in a statement.
"Striking an agreement with our partners is a historical imperative that we cannot afford to ignore," it added.
The central bank said some €30bn in deposits have fled the Greek financial system since last October as Greek savers shift their money ahead of a possible exit from the euro.
The German Finance Minister, Wolfgang Schäuble, told a parliamentary hearing in Berlin that his government is making contingency plans in the event of Grexit.
"We are prepared for all eventualities" said the Dutch Finance Minister, Jeroen Dijsselbloem, in the Hague. The Chancellor, George Osborne, also confirmed that the UK has stepped up planning to deal with the economic fallout.
If Greek defaults, the European Central Bank could cut off its support to the Greek financial system, forcing Athens to impose capital controls, limiting the amount that savers can withdraw from their accounts and curbing transfers of money overseas. When imposed in other countries, such controls have prompted queues outside bank branches as people try to remove as much cash as possible, and wider turmoil in financial markets as foreign investors realise they cannot pull their money out.
It would be a short step from there to Greece imposing its own parallel currency and becoming the first country to exit the eurozone since it was established in 1999.
However, an EU official said that non-payment to the IMF on 30 June by Greece might not be deemed a technical default, suggesting creditors might be preparing to create more time for the two sides to reach a deal.
In a sign of how relations have collapsed, the President of the European Commission, Jean-Claude Juncker, accused Athens of effectively lying to its own people about reforms being pushed by Brussels. "I am blaming the Greeks [for telling] things to the Greek public which are not consistent with what I've told the Greek Prime Minister," he said.
However, The Austrian Chancellor, Werner Faymann, struck a more conciliatory tone in Athens. "For Europe to be stronger, it must show solidarity and support to any country which needs it" he said during a meeting with the Greek President Prokopis Pavlopoulos. For his part, Mr Tsipras said he was prepared to say "the great no" if that was what was necessary to prevent the continuation of their "catastrophic" austerity policies.
The Eurogroup of finance ministers is set to meet in Luxembourg in what had previously been billed as Greece's last chance to secure a deal. Now officials are reported to be preparing for an emergency summit of eurozone heads on 21 June.
The Bank of Greece spelled out how economically disastrous it would be domestically if the country left the euro. "All this would imply deep recession, a dramatic decline in income levels, an exponential rise in unemployment and a collapse of all that the Greek economy has achieved over the years of its EU, and especially its euro area, membership," it said.
"From its position as a core member of Europe, Greece would see itself relegated to the rank of a poor country in the European South."
Register for free to continue reading
Registration is a free and easy way to support our truly independent journalism
By registering, you will also enjoy limited access to Premium articles, exclusive newsletters, commenting, and virtual events with our leading journalists
Already have an account? sign in
Join our new commenting forum
Join thought-provoking conversations, follow other Independent readers and see their replies