Greece debt crisis: Greek future in the euro slips into deeper uncertainty as Alexis Tsipras arrives at emergency talks without a written plan
Eurozone leaders and ministers struggled to contain their incredulity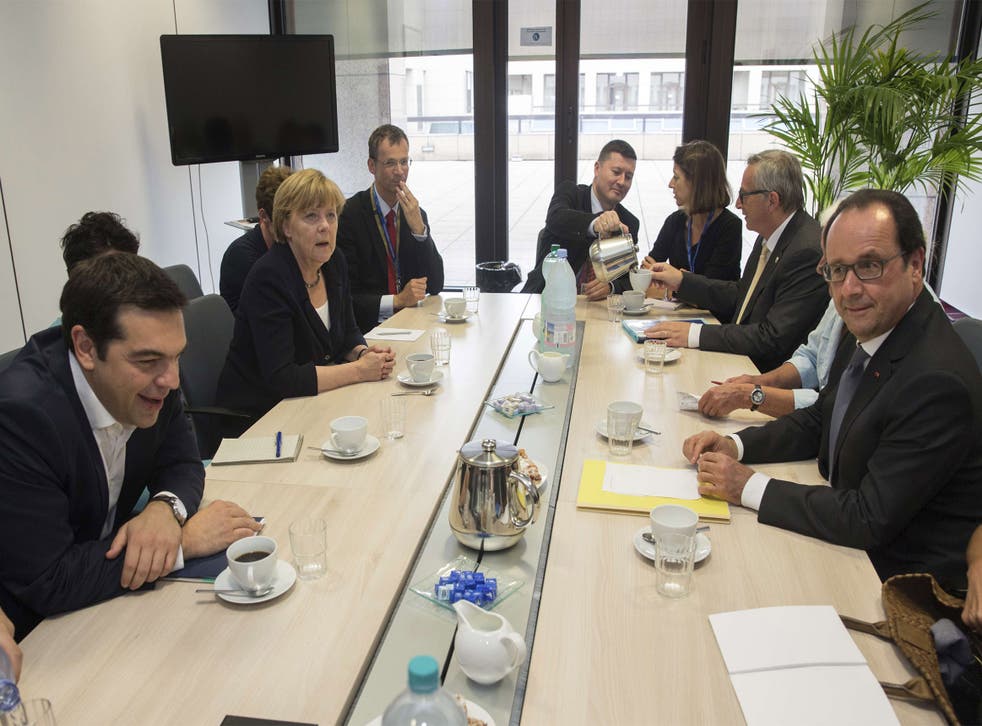 Greece's prospects of staying in the eurozone have dwindled further after the Prime Minister Alexis Tsipras arrived at an emergency summit of his fellow eurozone leaders in Brussels without a concrete plan to resolve his country's debt crisis.
Eurozone leaders and ministers struggled to contain their incredulity as Mr Tsipras and his new Finance Minister, Euclid Tsakalotos, could only offer oral outlines of their request for another bailout, despite the EU's demand for fresh proposals after last Sunday's referendum rejected the previous bailout terms.
"We were under the impression proposals would come today," said the Eurogroup president Jeroen Dijsselbloem after a short meeting of finance ministers in which Mr Tsakalotos spoke about the proposals. Mr Dijsselbloem said the Eurogroup would reconvene on Wednesday for a conference call to discuss Greece's new bailout request through the European Stability Mechanism, assuming a written proposal is submitted.
Arriving at the summit, the German Chancellor Angela Merkel said Greece had to commit to reforms to secure new loans. "Without solidarity and reforms it's not possible to go where we want to go," she said. "It's not a matter of weeks but of a few days."
The French President François Hollande also said it was Greece's responsibility to come up with "serious, credible, proposals". However, Mr Tsipras faces an increasingly hostile eurozone, with 15 of the 19 members thought to be ready to accept Greece's exit from the single currency: only France and Cyprus have openly pleaded for Greece to stay, while Italy is wavering.
In pictures: Greek referendum

Show all 28
Most of the leaders in Brussels paid lip service to Sunday's referendum, but underlined that the economic conditions in Greece had not changed. Indeed, officials noted that time was running out. "The Greek economy is in free fall. The banking system is also pretty much in free fall," said the Belgian Finance Minister Johan van Overtveldt.
Speaking at the European Parliament in Strasbourg, Jean-Claude Juncker, the President of the European Commission, said he accepted the referendum but now was the time to start talking seriously. "We're told we must respect the people's vote and I'll certainly do that," he said.
A key issue will be whether the rest of the eurozone is ready to start negotiations on writing down Greece's debt. The Finnish Finance Minister Alexander Stubb was emphatic that this was not on the agenda. "We're not willing to ease Greece's debt load," he said. "We did that already in 2011 and 2012."
There is also fierce resistance to this among the eurozone's poorer former Communist nations. Some, such as Slovakia, Estonia, Latvia and Lithuania, are also concerned about the costs, saying they too poor to bail out wealthier Greece. "For my country debt relief is impossible," said the Slovakian Finance Minister Peter Kazimir.
However, there was a glimmer of sympathy from an unlikely source: Germany's Vice Chancellor, Sigmar Gabriel, appeared to have changed his position on a debt writedown, saying it was possible but only after Greece reforms. "If we simply emphasise debt, without that much will change in Greece, nothing is won," he said.
Meanwhile, in a sign that Washington was worrying about the potential unravelling, Mr Tsipras's office said that the Prime Minister had briefed the US President Barack Obama about his proposal. The White House also revealed Mr Obama had spoken to Mr Hollande, with the two leaders agreeing on "the importance of finding a path forward that will allow Greece to resume reforms and return to growth and debt sustainability within the eurozone".
Join our new commenting forum
Join thought-provoking conversations, follow other Independent readers and see their replies