Greece debt crisis: Greeks divided over whether dramatic eleventh-hour deal will rescue the nation – or simply extend its agony
Many of the millions of Greeks who voted 'no' predict unrest on the streets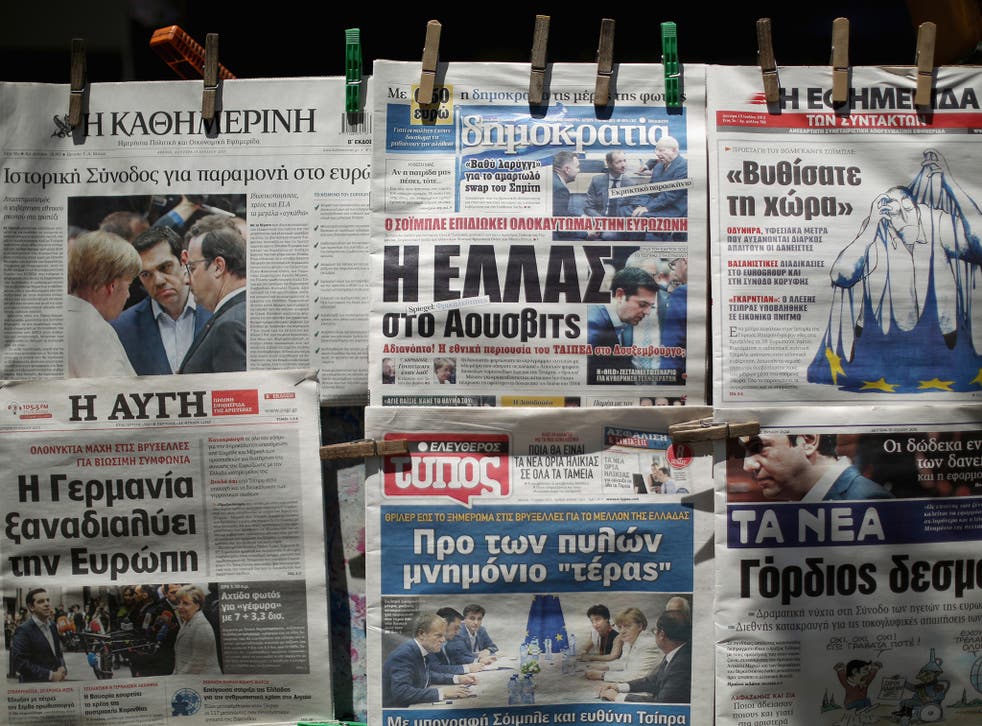 After four years of crushing economic pain, Greece was today split over whether it had witnessed another eleventh hour rescue or a plan that will simply continue - or exacerbate - its agony.
A promise of €500 million in emergency cash to keep its banks alive meant the markets breathed a sigh of relieve. But many of the millions of Greeks who voted "no" to fresh austerity in the recent referendum, were predicting unrest on the streets, in a country, which in economic turns, was already going back in time.
As Prime Minister Alexis Tsipras flew back to Athens, the race was on in the Greek Parliament to ensure that the package of tax hikes, privatisations and pension and labour market reforms could be passed by Wednesday night, amid signs that fresh austerity measures signal the end of the far-left's grip on the ruling coalition.
In pictures: Greek referendum

Show all 28
The eleventh hour agreement, which will save Greece €13 billion over three years in exchange for another €50 billion loan, is already hastening the splits in the left-wing Syriza party, the dominant party in the ruling coalition.
According to anonymous government sources, a cabinet reshuffle is expected that will result in a smaller cabinet for easier monitoring of progress and overall control for implementing reforms, and less dissent.
Mr Tsipras said he had the "belief and the hope that... the possibility of 'Grexit' is in the past". He added: "We averted the plan for a financial strangulation and for the collapse of the banking system."
He said: "The deal is difficult but we averted the attempt to move state assets abroad," in reference to calls from some of Greece's more hawkish creditors for the €50 billion bail-out to be kept in a Brussel's piggy bank.
Far-left elements in Mr Tsipra's Syriza party had already been furious last week after its leader proposed a new austerity package in a desperate bit to win a bailout and avoid expulsion from the Euro.
Mr Tsipras's former far-left finance minister, Yannis Varoufakis who quit or was pushed last week, said he would not have accepted today's deal which was "absolutely impossible, totally non-viable and toxic".
The latest make-or-break agreement has sharply divided public opinion between those ordinary Greeks. Some see it as a harsh but unavoidable price for avoiding expulsion from the single currency into economic oblivion. Others say they feel betrayed and even "invaded" by European powers and the bureaucrats.
Restaurant manager Irini Limtsiouli, 34, said: "I think it's good, there is a deal now. Or not good, but it could have been worse. People wanted to stay I the euro. The country wasn't ready to leave. It would have been a disaster. It will pass in parliament. I think it [the austerity] has to be done."
But 49-year-old Michael Lagoumitzis, a community worker in the working class Piraeus area of the city, said: "Everything is collapsing already. And now there will be more austerity. We are experiencing an occupation. You might not see tanks and soldiers, but this is an occupation."
Join our new commenting forum
Join thought-provoking conversations, follow other Independent readers and see their replies