Greece crisis: Athens poised on the verge of catastrophic debt default as bailout talks collapse
The country could become the first to crash out of the Euro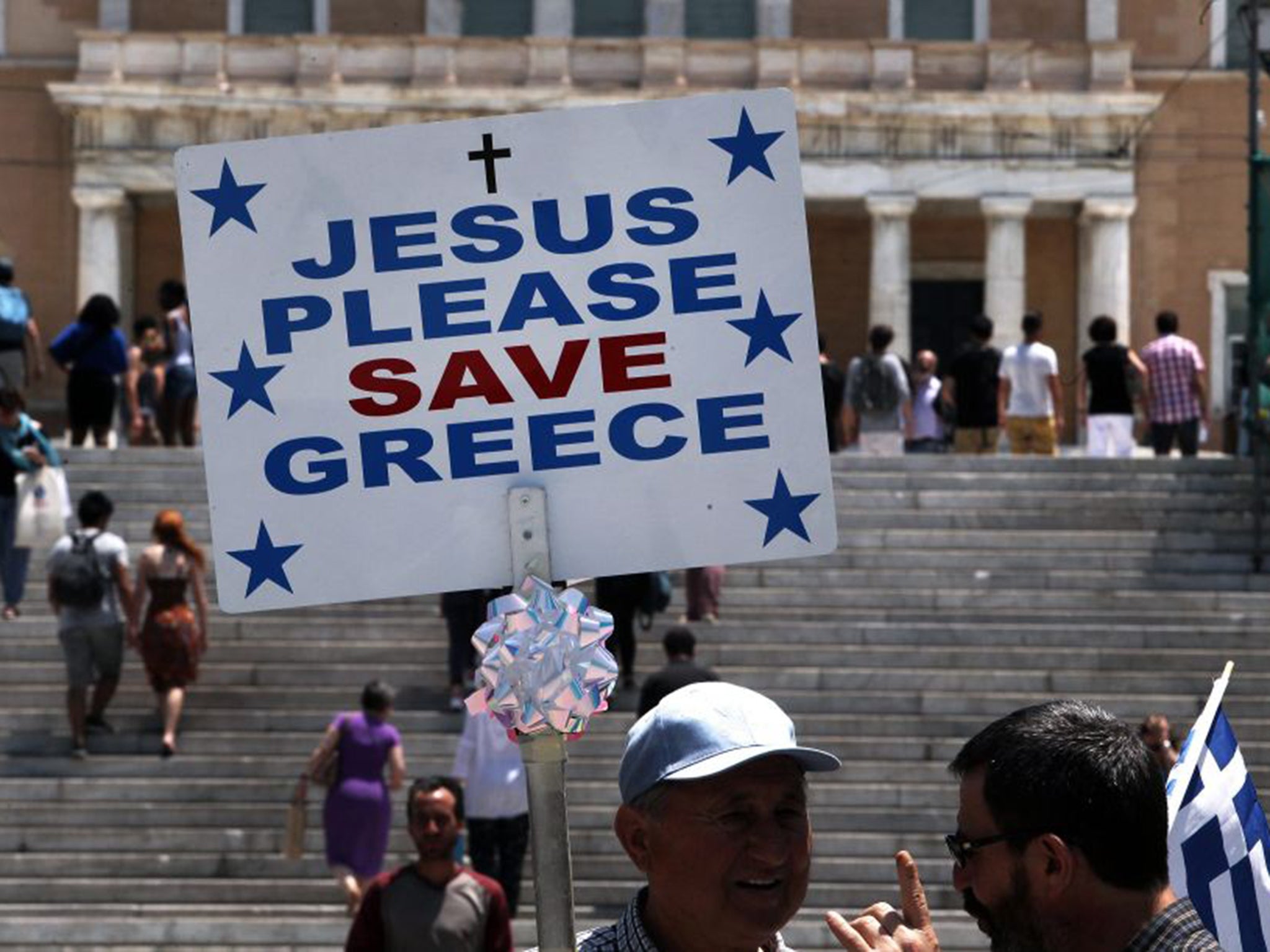 The world's financial markets are facing up to the possibility that Greece could soon become the first country to crash out of Europe's single currency. Talks between Athens and its eurozone creditors have collapsed in acrimony just days before a final deadline for Greece to unlock the €7.2bn (£5.2bn) in bailout funds it needs to avoid a catastrophic debt default.
The Greek Prime Minister, Alexis Tsipras, accused the creditor powers of hidden "political motives" in their demands that Greece make further cuts to public pension payments in return for the financial aid. "We are shouldering the dignity of our people, as well as the hopes of the people of Europe," Mr Tsipras said in a defiant statement. "We cannot ignore this responsibility. This is not a matter of ideological stubbornness. This is about democracy."
Günther Oettinger, a European Commissioner and member of the German Chancellor's ruling Christian Demorcrat party, hit back –suggesting Greece could soon be designated an "emergency area" if it fails to pay its debts later this month.
Greek government interest rates – which reflect the likelihood that investors attach to a future sovereign default – soared as soon as markets opened on Monday. There were also ominous signs of financial contagion across the single currency, as the interest rates of Greece's potentially vulnerable eurozone neighbours such as Italy, Spain and Portugal also shot up.
Stock markets across Europe also fell, with almost 5 per cent wiped off Greek shares by increasingly worried investors.
"Traders are fixated on Greece at the moment and that won't change until a deal has been reached," said David Madden of the City of London spread-betting firm IG. "Something drastic needs to happen, and a default seems just around the corner."
The Greek negotiating delegation met representatives of creditors for just 45 minutes in Brussels on Sunday night before storming out. The negotiating team of the International Monetary Fund, which is also a creditor of Greece, flew out of Brussels last week, saying it was pointless to stay while the two sides remained so far apart.
Greece must repay €1.6bn to the IMF on 30 June or find itself in a technical sovereign default. That could prompt the European Central Bank to cut off an emergency lifeline to Greece's banks, which would cause an instant financial meltdown and very probably force Athens to impose capital controls.
In pictures: Solidarity protest for Greece in London
Show all 7
Many analysts expect that such controls would inevitably lead to Greece exiting the eurozone.
The European Central Bank's president Mario Draghi described the prospect of a Greek default as "uncharted waters".
European finance ministers are due to meet in Luxembourg on Thursday to decide whether Greece is offering enough reform for them to approve the release of funds. "This could well prove to be the last realistic chance of reaching a deal," said Adam Chester of Lloyds Bank.
Greece and its eurozone creditors struck an interim deal in February to pay Greece the money it needs to see the recession-hit state through to the summer. But the creditors are demanding promises of far-reaching structural economic reform and further austerity before they will release the funds, keeping Athens on the cusp of default.
Athens is being told by creditors to raise the national retirement age, curb pension payouts and commit to running a significant budget surplus for the foreseeable future. But the Greek government is refusing to sign up to this package of demands, insisting that to do so would be to break the key promises upon which it was elected in January.
Greek economic output slumped by a quarter in the years after its first bailout in 2010 and the unemployment rate exploded to 28 per cent – an economic disaster on a similar scale to America's Great Depression in the 1930s. There was a brief rebound early last year but the country is now back in recession, which is crushing tax revenues and making it impossible for Athens to pay both domestic public-sector workers and its international creditors.
The response of the European Central Bank will be of paramount importance if Greece does default on 30 June. Mr Draghi, speaking at the European Parliament in Brussels, said: "The ball lies squarely in the camp of the Greek government".
Join our commenting forum
Join thought-provoking conversations, follow other Independent readers and see their replies