Greek anti-fascist rapper murdered by 'neo-Nazi' Golden Dawn supporter
Man admits to killing leftist hip-hop artist in the name of far-right party Golden Dawn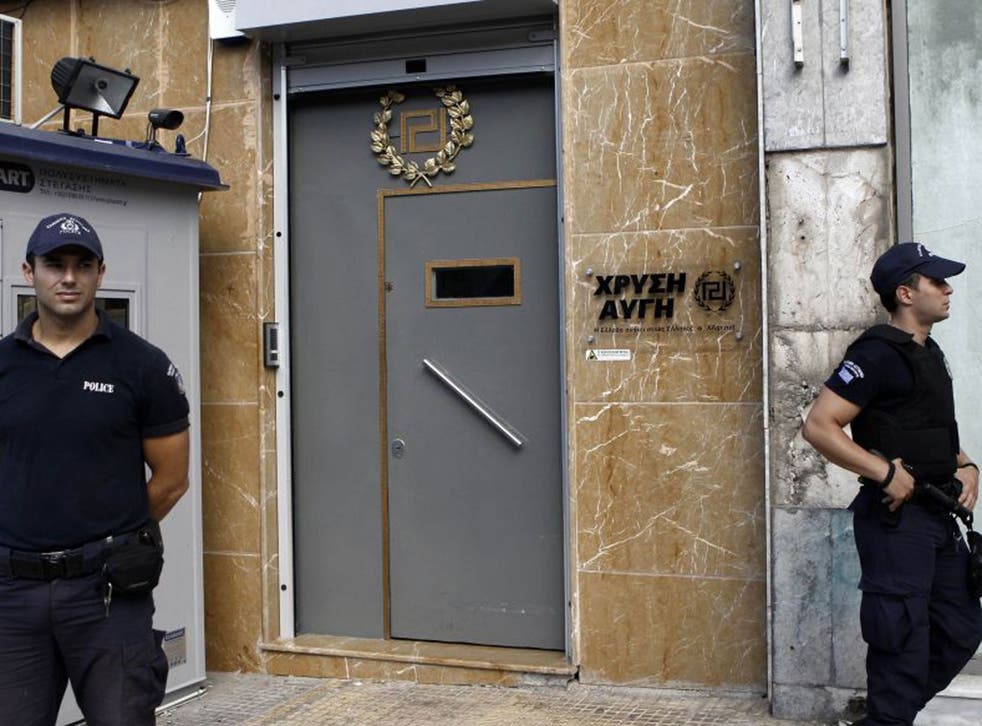 Greek police raided the Athens offices of the Golden Dawn party after Pavlos Fyssas, a left-wing rapper otherwise known as MC Killah P, was killed by a 45-year-old man claiming his allegiance to the far-right group.
34-year-old Pavlos Fysass died in hospital having suffered at least two stab wounds to the heart and ribs, police officials said.
Local reports say Fysass had been watching a game of football at a café in the Athens suburb of Keratsini when he was surrounded by a group of 30 men in Golden Dawn shirts and military style trousers.
The 45-year-old man arrested in conjunction with Fysass's death has admitted to the murder and also stated his support for Golden Dawn, police say.
Golden Dawn, who are the fastest growing party in Greece and currently poll at around 15 per cent, have denied any involvement.
"[The accusers] are miserable and wretched not only because of their brazen lies and slander but because they are exploiting a tragic event for politicking, to win votes and to divide Greek society," the party said in a statement.
The killing immediately stimulated strong responses from other politicians as well as non-government groups.
Minister of Public Order Nikos Dendias cancelled a trip to Rome, citing the severity of the situation.

He said: "The abominable murder in Keratsini by an attacker sympathizing with Golden Dawn, according to his own statement, illustrates, in the clearest way, the intentions of neo-Nazism".
Keerfa, a Greek anti-racist and fascist group, said in a statement: "Golden Dawn is intensifying its attacks [because it is] enjoying complete asylum from the police".
The far-right party have been known to openly espouse Nazism and Hitler's ideology, while its logo, the "meander", an ancient Greek symbol, bears a strong resemblance to the swastika in colour and design.
Founded in 1985 as a tiny fringe party, Golden Dawn's popularity has soared during Greece's last six consecutive years of recession.

In Greece's 2012 elections the party garnered nearly seven per cent of the vote. It currently holds 18 of the 300 seats in Hellenic parliament.
Register for free to continue reading
Registration is a free and easy way to support our truly independent journalism
By registering, you will also enjoy limited access to Premium articles, exclusive newsletters, commenting, and virtual events with our leading journalists
Already have an account? sign in
Register for free to continue reading
Registration is a free and easy way to support our truly independent journalism
By registering, you will also enjoy limited access to Premium articles, exclusive newsletters, commenting, and virtual events with our leading journalists
Already have an account? sign in
Join our new commenting forum
Join thought-provoking conversations, follow other Independent readers and see their replies