Greek debt crisis: The photograph that conveys the despair of Greece's elderly
Country will go to the polls on Sunday to decide whether to accept a deal from creditors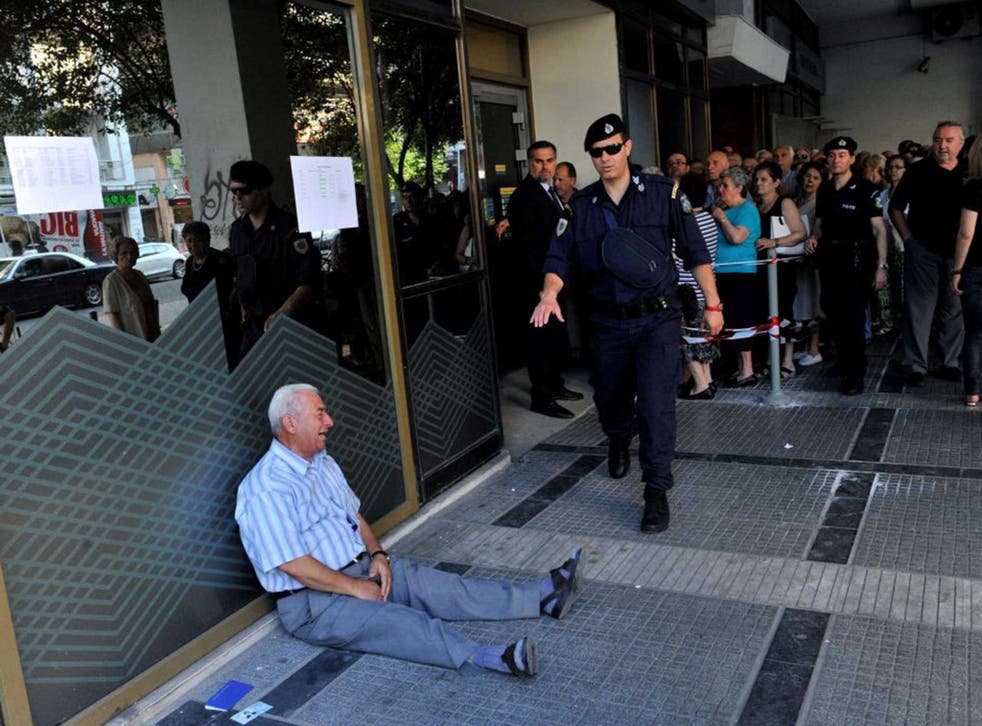 A photograph of an elderly Greek man weeping on the ground outside a national bank has emerged as the country's financial crisis deepens.
The unidentified man appears to have been attempting to collect his pension at the branch in Thessaloniki, northern Greece.
On the floor next to him lie a small book of accounts and identification.
Subsequent images show the man being lifted from the ground, before he gesticulates desperately at the camera.
Greece's leaders have been wrestling with European leaders and the IMF in order to extend desperately needed loans to prevent the country going bust.
The nation's pensions have become one of the sticking points of discussions, with creditors asking for a reform of a creaking system.
The elderly and young people have been among the hardest hit by Greece's wrecked economy, with older voters swinging to the left in support of Syriza in the last election.
Although Greek banks have been closed in the past week, exceptions have been made to allow pensioners and retirees to claim an €120 down-payment on their July pension.
In pictures: Solidarity protest for Greece in London

Show all 7
Overshadowing this, Greek Prime Minister Alexis Tsipras has called a referendum to on a proposed deal from creditors. The referendum has been perceived by some as an attempt by the PM to force the Greek people to choose whether they wish to remain in the Eurozone.
He has urged the country to vote 'No', with finance minister Yanis Varoufakis claiming he will resign should the country vote 'Yes'.
Mr Varoufakis said today his country was on a "war footing" as there was so little money in the banks, were they to open on Tuesday – as planned – they would immediately collapse.
Join our new commenting forum
Join thought-provoking conversations, follow other Independent readers and see their replies