Greek politician compares German government to Nazis as bitter bailout dispute continues
Greece is set to request a six month extension of its loan but a German politician said the terms of the bailout could not be changed
Lizzie Dearden
Wednesday 18 February 2015 16:30 Comments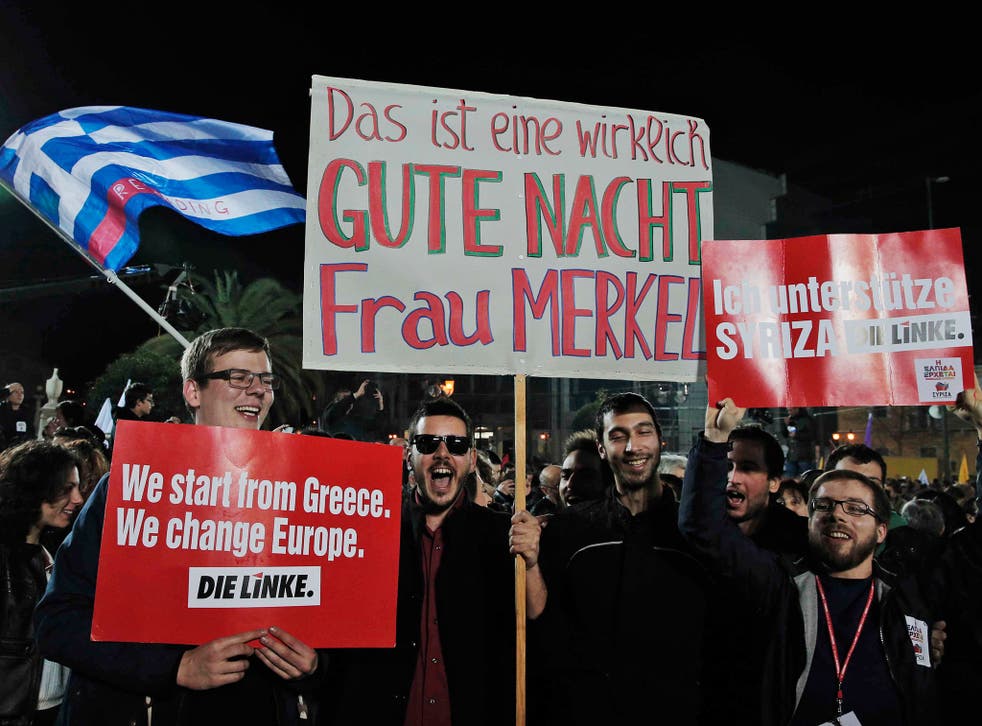 A Greek politician has accused Germany of being "overtaken by arrogance" and compared the government to the Nazis in its approach to debt negotiations.
Greece's new government, headed by the left-wing Syriza party, is attempting to extend its loan agreement with the Eurozone for six months but Germany has said no such option is on the table and the existing international bailout deal cannot be changed.
"Germany has been overtaken by arrogance," a Greek government source told Sky News.
"It's like being back in the 1940s, being asked to surrender."
The Axis occupation of Greece during the Second World War has become a political issue once more in recent months.
Syriza made good on its election pledge to demand $11 billion (£7 billion) of reparations from Germany but Angela Merkel's government refused, causing further discord between the two countres.
Athens has threatened to call for an emergency EU leaders' summit if the Eurogroup failed to convene on Friday to discuss its application for a loan extension.
The €240 billion (£180 billion) bailout came with more than 400 conditions, including reducing the public sector, cutting pensions and slashing the minimum wage.
Greece elections 2015: In pictures

Show all 25
It expires in 10 days and there are fears that if a deal is not agreed in outline this week, Greece will run out of money.
The country could start to have difficulty servicing its debts, causing money to be pulled out of banks and a default leading to the possible return of the drachma.
An EU source said whether finance ministers of the 19-nation Eurogroup accept the latest request as a basis to resume negotiations will depend on how it is formulated.
The German Finance Minister, Wolfgang Schaeuble, rejected the idea on Tuesday, telling broadcaster ZDF: "It's not about extending a credit programme but about whether this bailout programme will be fulfilled, yes or no."
Government spokesman Gabriel Sakellaridis initially said Athens would send a formal application today but a government official later said it would be submitted on Thursday morning.
EU officials said intensive consultations were under way between Athens, the Eurogroup and the European Commission, with Italy and France also involved in the search for a compromise.
The anti-austerity Syriza party won a landslide victory on 25 January, largely on the promise to scrap the bailout deal and end co-operation with the hated "troika" of inspectors from the Commission, the European Central Bank and the IMF.
A government spokesman, Gabriel Sakellaridis, told Antenna TV it was striving to find common ground to work towards a solution but some points were non-negotiable.
"We will not back down on certain points that we consider red lines. The (bailout) memorandum died on January 25," he added.
Additional reporting by Reuters
Register for free to continue reading
Registration is a free and easy way to support our truly independent journalism
By registering, you will also enjoy limited access to Premium articles, exclusive newsletters, commenting, and virtual events with our leading journalists
Already have an account? sign in
Join our new commenting forum
Join thought-provoking conversations, follow other Independent readers and see their replies