Greek reporter cleared over leaked Swiss bank accounts
Journalist who faced three years in jail for exposing tax avoidance praises judge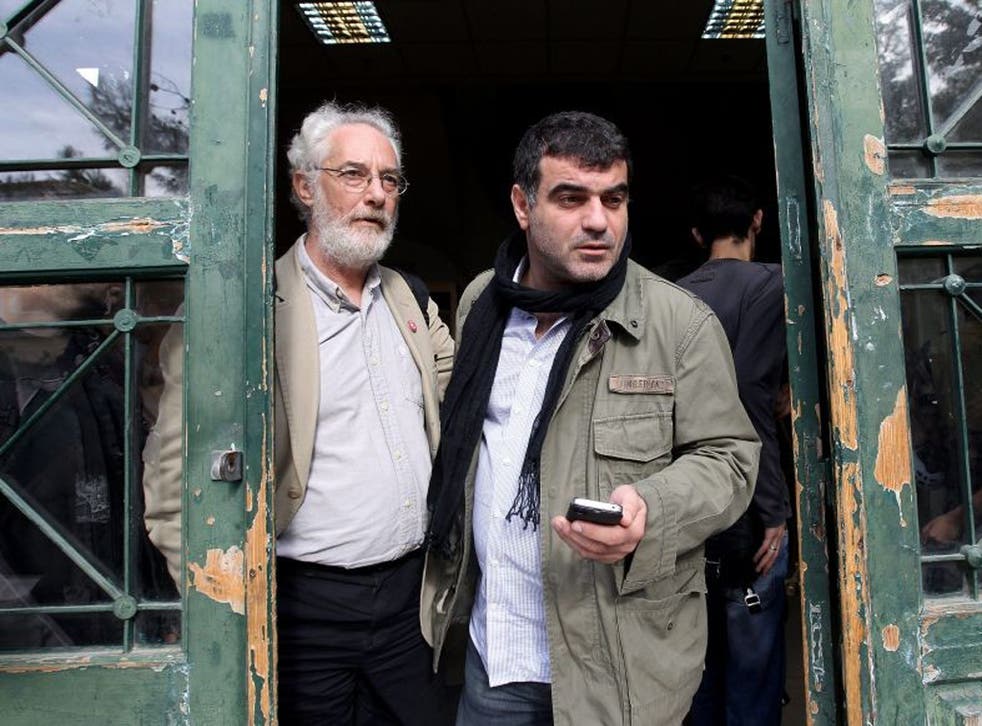 An investigative journalist who faced jail for publishing a list alleged to contain the names of more than 2,000 Greeks with bank accounts in Switzerland has been acquitted.
"My innocence was ruled by a judge who stood up to the political system," Kostas Vaxevanis told The Independent. He said the trial ordeal would not deter him from continuing his investigations into the list.
The story had created a stir in a country that has appeared unable or unwilling to go after wealthy tax evaders, while pensioners and employees have shouldered the brunt of austerity measures demanded in exchange for international loans.
Kostas Vaxevanis had faced up to three years in jail if convicted in Athens of violating privacy laws.
The journalist's weekly magazine, Hot Doc, had published the names of potential tax evaders that were included in a list that Christine Lagarde, the former French finance minister and now head of the International Monetary Fund, handed to Greek authorities in 2010. Two finance ministers have come under fire for failing to follow up on the matter. The list included politicians, ship owners, lawyers, housewives and students.
According to the EU's statistics agency, about €50bn of Greek taxes go unpaid each year.
Mr Vaxevanis, 46, was arrested on Sunday and appeared in court flanked by supporters and fellow journalists. Another newspaper, Ta Nea, also published the list and claimed that the account-holders held up to €2bn combined until 2007. It stressed that there was no proof any of them had evaded tax. A woman of 70 whose name appears on the list described the two-year saga as "ridiculous". "He is a journalist. He had the list and gave the names: he simply did his job," the anonymous woman told The Independent.
A Greek from Egypt, the woman had opened the account to transfer savings from one account to another – a move that never happened.
"This story gave me a good laugh," she said. "I have nothing to fear because not only don't I have one cent in that account, but the money in Switzerland was sent from my parents who lived in Egypt."
Mr Vaxevanis admitted that many of the people named did not necessarily have money in their Swiss accounts. "We decided to publish the list… because Greece is hostage to people who have been holding this list… and who have discredited the political system," he said in a video recorded before his arrest. A professor of constitutional law said European law stipulated that, in certain instances, the public interest overrides data privacy laws. "It's a balancing act of opposing interests: information in favour of public interest on the one hand and protecting privacy on the other," said Giorgos Katrougalos. "In this case there was too much weight placed on the side of privacy."
Mr Vaxevanis's trial outraged media freedom campaigners. In a press freedom index for 2011-2012 published by Reporters without Borders, Greece is second to worst in the European Union, trailing behind countries like Botswana and Haiti.
Earlier this week, the head of news of Greece's state-run TV suspended two journalists for questioning the actions of the Minister of Citizen Protection.
Register for free to continue reading
Registration is a free and easy way to support our truly independent journalism
By registering, you will also enjoy limited access to Premium articles, exclusive newsletters, commenting, and virtual events with our leading journalists
Already have an account? sign in
Register for free to continue reading
Registration is a free and easy way to support our truly independent journalism
By registering, you will also enjoy limited access to Premium articles, exclusive newsletters, commenting, and virtual events with our leading journalists
Already have an account? sign in
Join our new commenting forum
Join thought-provoking conversations, follow other Independent readers and see their replies