Hamburg G20 protest: Thousands took to the streets as Donald Trump expected to visit Germany for summit
Speakers take aim at President Trump and demand respect for the environment
Maya Oppenheim
Monday 03 July 2017 13:04 Comments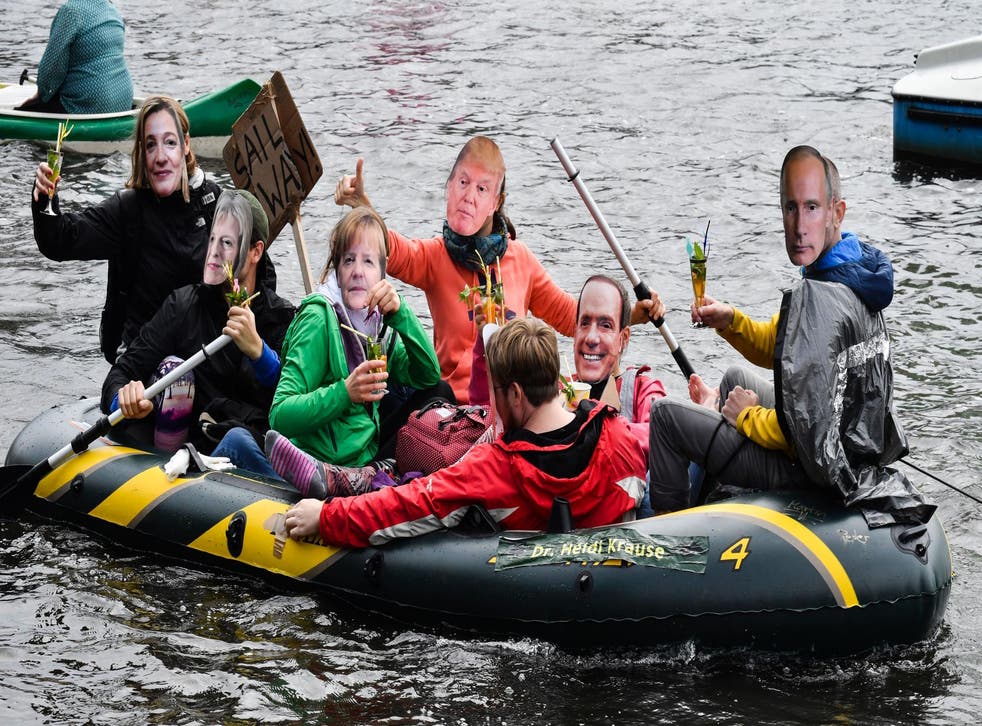 Thousands took to the streets of Hamburg on Sunday to air their grievances about the forthcoming G20 summit which will be attended by the likes of Donald Trump, Vladimir Putin and Recep Tayyip Erdogan.
The Group of 20 Summit, where President Trump will make a debut appearance, takes place this Friday and Saturday and brings together leaders of the world's major industrialised and emerging economies.
While a police spokesperson told AFP around 8,000 people were present at the German protest, organisers insisted the turnout was far higher, saying there were "more than 18,000 people". The police spokesperson said the protest was "completely peaceful".
The demonstrations spanned land and water, with the mass gathering outside city hall taking place alongside protests by canoeists on the neighbouring river Alster and a climate demonstration staged by Greenpeace taking place in the port of Hamburg near a ship loaded with coal.
Addressing crowds from their podium, speakers took aim at President Trump and called for a "different approach" and demanded respect for the environment.
Thousands march against Donald Trump in LGBT rights parade

Show all 8
The demo is the first of around 30 authorised protests in the city. Events range from everything from the "G20 welcome to hell" demonstration to the Green party's alternative harbour tour.
Up to 100,000 demonstrators are expected to descend on the city and around 20,000 police will be safeguarding the summit.
Some protesters are reportedly planning to take advantage of the decision to hold the summit in a busy inner-city area and emulate police crowd control strategies to "kettle Trump, Putin and Erdogan".
Hamburg, the second largest German city and the birthplace of Chancellor Angela Merkel, is a hub for counter cultural movements and is home to many radical left-wing and anarchist groups. Officials aid they are preparing for potential clashes between protesters and riot police and property damage.
Mr Trump will meet with Russian President Putin at the G20 summit. National security adviser HR McMaster said that the high-stakes meeting with Mr Putin is just one of several planned for when Mr Trump is in the city.
Register for free to continue reading
Registration is a free and easy way to support our truly independent journalism
By registering, you will also enjoy limited access to Premium articles, exclusive newsletters, commenting, and virtual events with our leading journalists
Already have an account? sign in
Join our new commenting forum
Join thought-provoking conversations, follow other Independent readers and see their replies