Have the Danes really found the secret formula to contentment?
It's dark, cold and expensive but Denmark regularly tops polls as the happiest place on earth to live. Two Brits who've lived there give their verdicts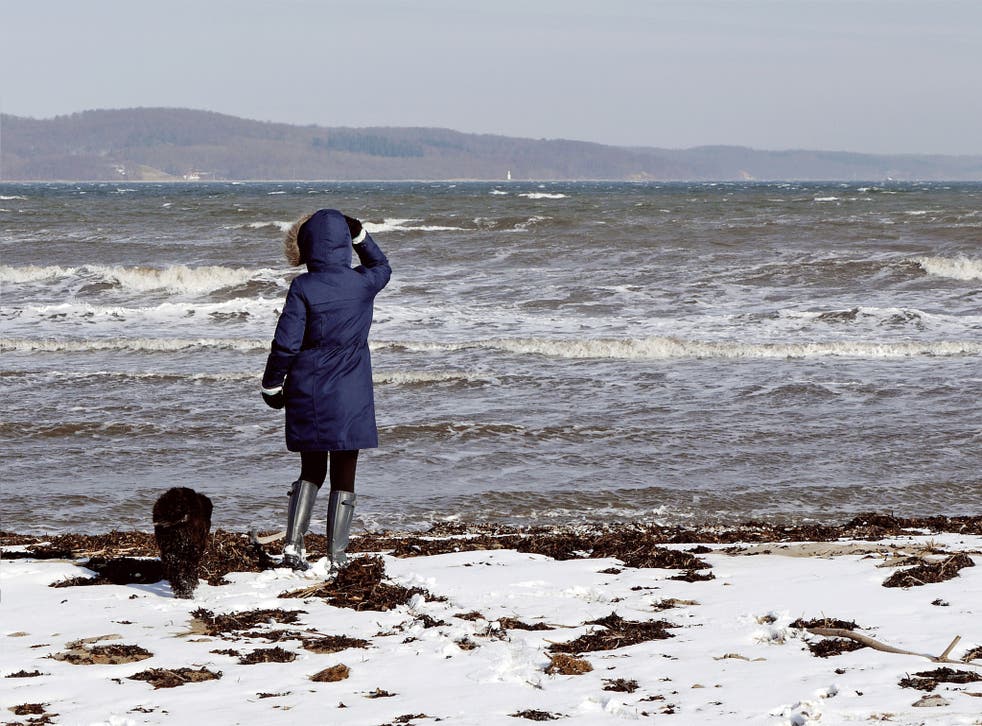 Writer Helen Russell, 34, has lived in Jutland for two years
Something cold and soft fell on us as we stood in darkness on a silent runway. Snow. Before we'd boarded the flight, it had been muggy, bright and noisy. But now we were on our own, standing on a frosty tarmac in the middle of nowhere. There were a few people around but they were speaking a language we didn't understand. The whole place glistened like it was made from soda crystals and the air was so cold that it caught in the back of my throat. My husband squeezed my near-frozen hand and I tried to smile, but because my teeth were chattering so much, it came out as more of a grimace. It was then that we passed a giant sign advertising Denmark's most famous beer that read: "Welcome to the world's happiest nation!" Huh?
Before my husband was offered his dream job in Jutland in 2013, I had lived and worked in London for 12 years. While I was sleep deprived, over-caffeinated and working such long hours that I perpetually looked as if I needed a lie down in a darkened room, I imagined that life would continue in much the same way, with us moving out of London in a few years, working, seeing friends, going on holidays and then retiring. My husband, it turned out, wanted to move out of London, too. To another country. And then he got the job he'd always wanted, which happened to be in Denmark.
When we went there on a recce one weekend, we laughed at how slowly everyone drove and spluttered at how much a simple sandwich cost. But there were some clear attractions: the place was clean, the Danish pastries surpassed expectations and the scenery was soul-lifting. Back home, I couldn't remember the last time I'd been relaxed. Then I found out that our potential new home was officially the happiest country on earth, according to the UN World Happiness Report. It topped the UK Office for National Statistics' list of the world's happiest nations and the European Commission's wellbeing and happiness index. I found myself saying: "Um, OK, yes... I think... let's move."
Two years later and I'm writing this while feasting on swirls of cinnamon-dusted Danish pastries by the light of a Scandi-cool Poul Henningsen lamp. Later, I will be interviewing a razor-cheekboned Dane about home-grown TV show Borgen, and after that, I'll catch up with a chef from Noma, the world's best restaurant. Life's not too shabby. But I've come to understand that Danish happiness is about far more than great pastries, design, TV drama and new Nordic cuisine.
For one thing, the Danes have the whole work-life balance thing pretty much sorted, with office hours strictly falling between 8am and 4pm and staying late frowned on. As a result, Denmark has the happiest workforce in the EU (according to the latest Eurobarometer survey). Workers are 12 per cent more productive when they're in positive state of mind (so says research from the University of Warwick), which means that Denmark ranks third in the OECD's study into worker productivity. After 4pm, our time is our own. The philosopher Bertrand Russell believed that leisure was essential for living the good life and claimed that we could only think big thoughts and come up with new ideas when given time off to rejuvenate. So it's no surprise that Denmark punches above its weight creatively and commercially with world-class exports including Lego, Lurpak, Bang & Olufsen and Carlsberg.
For anyone not working, life can still be happy. With unemployment benefit at 80 per cent of claimants' previous salary for two years, the country's famous welfare state provides a safety net ensuring that no one's left out in the cold. Pensions are generous, healthcare and education are free and Danes over the age of 18 are paid to study. Because everyone's looked after, there's little corruption, the lowest levels of violent crime in Europe, and the highest levels of trust in the world – I saw babies left to sleep in their prams outside cafés and restaurants while parents were inside.
The Nordic dream doesn't come cheap. Denmark is ranked as the EU's most expensive country to live in, and its inhabitants pay cripplingly high taxes. The tax rate is 50 per cent, while goods and services cost 20 per cent more than in the UK. Most Danes, though, feel that their money's going to a good place. And I don't mind paying £5 for a sandwich if I know the person making it has a decent standard of living and doesn't secretly hate me.

When we arrived, apart from being told off by our new neighbours about our shoddy recycling (the bins had been more full than usual, and they'd sifted through the rubbish to find the culprits – us, according to a tea-stained envelope), no one spoke to us. Danes haven't always welcomed outsiders but plans are afoot to change this. Schools run citizenship classes to educate Danes about other cultures and improve Denmark's insular reputation. Danes may appear muffled up and closed off during winter months, but come spring, I discovered to my relief, they unfurl like new leaves.
By summer, it feels as though the entire country is outside, all of the time, often with a beer in hand. Danes drink 11l litres of pure alcohol a year, according to the World Health Organisation, as well as being some of the most committed smokers in Europe. Although Danes don't take brilliant care of their health (my Jutland neighbours seem to subsist entirely on pork, potatoes and ice cream), they're libertarians – they're enjoying themselves. And if they're not, they do something about it. Doctors prescribe antidepressants and time off work more frequently in Denmark but when Danes return to work, they're more productive than ever.
The treatment that I received from my first scan on, and having my son start his 75 per cent state-subsidised daycare, forced me to discard any doubts and conclude that living Danishly is as good as it gets for mothers. Family comes first, so it's normal for parents of both sexes to announce they're leaving a meeting because they have to pick up their kids. Men are just as likely as women to be responsible for housework and new parents get 52 weeks leave to share between them. My husband took 10 weeks of paternity leave, fully paid, to look after our son while I wrote a book.
Of course, we can't all move to Denmark. But you don't have to cross the North Sea to try living a little more Danishly. There are Danish life-hacks you can use wherever you are by prioritising leisure and pleasure. Leave work on time. Eat that pastry. Remember the simple things that make you happy – seeing friends, lighting a few candles, brewing coffee or having a bacon sandwich. Value your family. Remember that there isn't "women's work" and "men's work", there's just work. And try being more sharing.
Kevin Bayliss is married to a Dane and spends several months of the year in Denmark
Growing up in Northumberland, I was always reminded that it was here the Vikings first invaded Britain and that somewhere due east across the sea, in mysterious Scandinavia, Denmark is our nearest foreign land. Fishermen from the North-east of England and from the west of Denmark are said to be able to understand each other when speaking in their own respective dialects. The Danish phrase for "go home" is ga hjem, pronounced in almost the same way as Geordies say "gan hyem". And the schoolboy in me still giggles at the Danish economy of language: that a nipple is a breast-wart, polse means both sausage and poo, a penis is a wee man.
But Danes the happiest people in the world? They must be having a laugh. Denmark may have led international happiness surveys for years, and with a beautiful country and a welfare state that would make George Osborne come out in a hot flush it's hard to believe that the natives could in any way be discontent. However, scratch beneath the surface and many are.
Because many of the "happiest", most equal nations of the world also tend to have the highest suicide rates. It's a paradox that has been debated for years, and in Scandinavia the long, dark winters are often cited as the cause; 12 per cent of the population suffers from SAD, or seasonal affective disorder. Indeed, researchers investigating the phenomenon of Danish happiness found that feelings of contentment are exactly that – seasonally affected. Ask a Dane the happiness question in winter and you'll get a totally different answer from summer. Traditionally, the antidote has been the ancient concept of hygge, the cosy, candlelit ambience, designed to soothe the darkest moods the winter may bring. But recently, the trend has been to seek pharmaceutical solutions, with the OECD finding that Denmark has the second-highest use of antidepressants in Europe after Iceland, usage having almost tripled in 10 years.
Regrettably, the other league table that Denmark tops is that of violence against women; 52 per cent of the Danish women surveyed said that they had been victims of physical or sexual violence – the EU average is 33 per cent. Domestic violence is particularly common in countries with heavy drinking cultures, but intriguingly, and just like neighbours Finland and Sweden (who were second and third), Denmark is a country at the forefront of gender equality. So with equality, where traditional roles are challenged, sadly tensions and confrontation seem to follow. (Results will be skewed; it is easier for Scandinavians to speak up and report the issue, while other cultures will find it harder to admit and report assaults.)
Being the EU's most expensive country to live in, it's perhaps not surprising that Danes have the highest amount of personal debt in the world. With good pensions and other state safety nets, there's obviously less incentive to plan for the future. Younger people are turning to interest-only mortgages with no plans to pay off the balance, and many of the older generations are what's called "eating bricks" – cashing in on equity to fund their lifestyles.
It's no surprise – with the country's USP being that it's some kind of haven of social welfare, immigration is an issue and the political debate rages. Immigrants are often relocated to rural small towns and unsurprisingly they find it difficult to integrate. Local councils have, illegally, drawn up lists of nationalities they do not want in their communities. However, other municipalities are more grateful for the benefits that immigrants and refugees bring. They have reversed a long trend of population decline in rural areas and reinvigorated local economies. In some areas, one in four home buyers are from Eastern Europe and are credited with turning around housing markets.
The Happiness Research Institute confirms Denmark holds the highest level of trust in the world. But in recent years absolute faith in their peers may be diminishing. I've noticed money boxes in the help-yourself road-side stands of farm produce are now screwed down, the boats on the beach chained up. And even in a city where there are more bicycles than people, friends in Copenhagen have chosen to ride old bikes now as theft has become a problem.
Many theories have been offered as to why Danes may claim to be happier than they really are: I think what they really mean is "satisfied". (The Danish people I know tend to be proud and taught that to complain is selfish, so instinctively profess to be more content. Or it could be that their expectations are quite modest, so they rarely experience disappointment.
Denmark is a beautiful nation with warm, welcoming and friendly people but it's not all cake and candles, Borgen and Bo Concept. Danes face the same challenges as other Europeans, and as compassionate people it doesn't make them anymore detached from the consequences.
'The Year of Living Danishly, Uncovering the Secrets of the World's Happiest Country' by Helen Russell (Icon, £12.99) is out now
Register for free to continue reading
Registration is a free and easy way to support our truly independent journalism
By registering, you will also enjoy limited access to Premium articles, exclusive newsletters, commenting, and virtual events with our leading journalists
Already have an account? sign in
Register for free to continue reading
Registration is a free and easy way to support our truly independent journalism
By registering, you will also enjoy limited access to Premium articles, exclusive newsletters, commenting, and virtual events with our leading journalists
Already have an account? sign in
Join our new commenting forum
Join thought-provoking conversations, follow other Independent readers and see their replies