He's back: Nicolas Sarkozy promises return to French politics
Former president will announce his return this weekend
John Lichfield
Friday 19 September 2014 23:49 Comments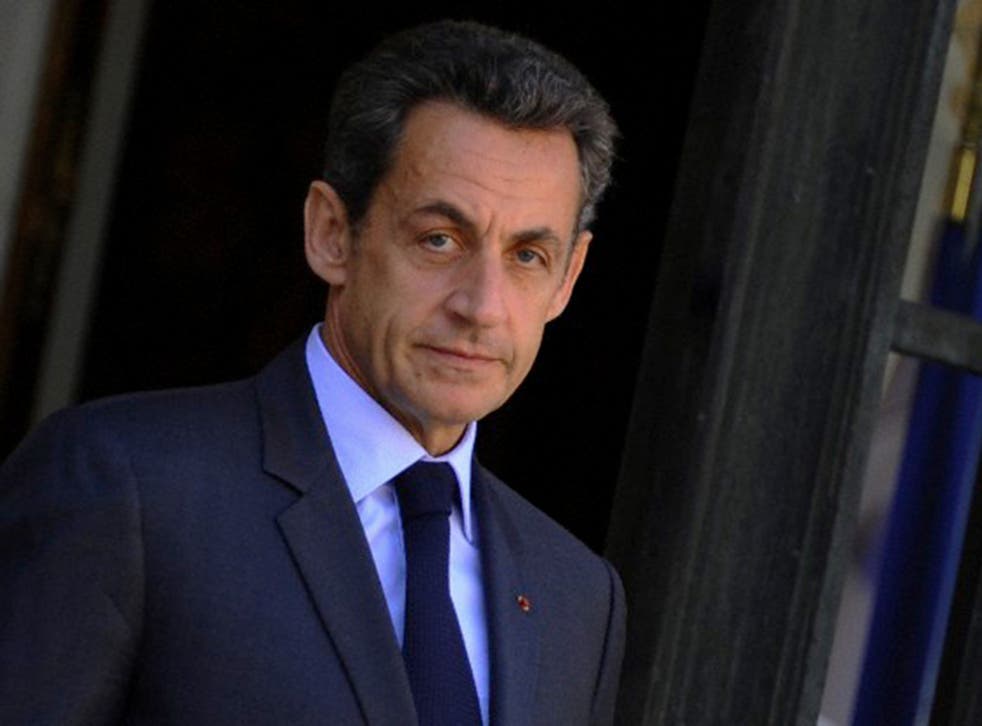 He is back. Or rather, some say, he never went away. Nicolas Sarkozy announced on his Facebook page yesterday that he was returning to politics to create a "new" and "vast" 21st-century political movement which will "transcend traditional political divisions", and he proposed a "new project" for France.
More prosaically, he is running for the vacant presidency of his old centre-right party, the Union pour un Mouvement Populaire (UMP). He intends to "transform" the UMP into a new Sarkocentric movement in three months to freeze out rival candidates for France's presidency in 2017.
Despite a tangle of a half-dozen legal investigations into his activities, Mr Sarkozy's comeback was long expected. He will make his plans clearer in a television interview tomorrow night and a speech in Lille next week.
Friends compare Mr Sarkozy to General Charles de Gaulle, who returned from self-imposed exile in Colombey-les-Deux-Églises in 1958, or to Napoleon who escaped from enforced exile on Elba to restore the Empire in 1815.
Critics say Mr Sarkozy, 59, is more like the Count of Monte Cristo, determined to get revenge on those who have belittled and thwarted him.
In private, he is especially vicious about President François Hollande, the man who turned him out of the Elysée Palace in 2012. The former President says Mr Hollande should not be defeated but hounded out of office and "tarred and feathered".
At the same time, Mr Sarkozy's friends have let it be known that the born-again Sarko plans to be a gentler, more inclusive leader, less impetuous, less self-regarding and more focused on the reforms France needs. He is returning, they say, not from personal ambition or from a spirit of revenge but because he is the only man who can rescue France from the menacing rise of Marine Le Pen's cosmetically laundered, far-right Front National.
Either way, Mr Sarkozy has been forced to declare his hand early and to take an enormous risk (against, it is reported, the wishes of his wife, Carla Bruni-Sarkozy). He will run in November in an internal party election for the vacant presidency of the UMP – a job that he mocked as beneath his ex-presidential dignity a year ago.
In pictures: Nicolas Sarkozy through the decades

Show all 12
He will do so partly to try to rescue a party which has been torn apart by financial scandals, largely of his own making. He will do so in an attempt to re-establish himself as the de facto leader of the opposition before his credibility is destroyed by one or more of the cat's cradle of criminal investigations in which his name has appeared.
He will do so mostly to try to derail dangerous rival Alain Juppé, the popular but ageing former centre-right Prime Minister. Mr Juppé, 69, announced last month he will run in an "open primary" planned by the UMP in 2016 to select the centre-right candidate for the presidential election the following year.
Mr Sarkozy remains heartily disliked by more than 60 per cent of French people. He is hero-worshipped by grass-roots members of the UMP, especially the younger ones.
He would struggle to beat Mr Juppé in a primary open to all French electors. He will easily win the internal election for party president in November.
Mr Sarkozy then plans to, in effect, abolish the UMP and start a new party with a new name. In his brief statement on his Facebook page, he said this would be a "new and vast political gathering [he used the Gaullist word rassemblement], which will go beyond the traditional [left-right] divisions, which no longer have any connection with reality".
Since the new party will be built in Mr Sarkozy's image, there will be no need – he will argue – for a primary election in 2016. Mr Juppé will be, as Mr Sarkozy curtly says in private, "no longer an issue".
The strategy could work. Mr Sarkozy could become the first defeated president of the Fifth Republic (post 1958) to run again. Despite the long list of legal investigations involving his activities before, during and after his 2007-12 presidency, he could return to the Elysée Palace.
Mr Hollande, and the entire left, is desperately unpopular. A large majority of French people – faced with a second-round choice in 2017 between Mr Sarkozy and Ms Le Pen – would almost certainly vote for the former President.
All the same, Mr Sarkozy is taking an enormous risk, both for himself and for France.
He has already been placed under investigation for trafficking his influence to shape a decision in France's highest court. Investigations continue into, among other things, his alleged political funding by the late Libyan dictator Muammar Gaddafi and the misuse of UMP party funds to breach the limit on spending on his 2012 presidential campaign.
By returning to politics, Mr Sarkozy hopes to strengthen his argument that all such investigations are politically driven. He could, however, saddle France with a de facto leader of the opposition who is in profound legal trouble.
Imagine a 2017 election in which the three principal candidates are as follows: a desperately unpopular candidate of the left (who may or may not be Mr Hollande), a legally compromised Mr Sarkozy, and Ms Le Pen.
Register for free to continue reading
Registration is a free and easy way to support our truly independent journalism
By registering, you will also enjoy limited access to Premium articles, exclusive newsletters, commenting, and virtual events with our leading journalists
Already have an account? sign in
Join our new commenting forum
Join thought-provoking conversations, follow other Independent readers and see their replies