'Humanitarian crisis' brought on by austerity must be eased, Greek PM Alexis Tsipras warns eurozone
Eurozone finance ministers are due to meet on Wednesday to discuss Greece's demands for an overhaul of the terms of its bailout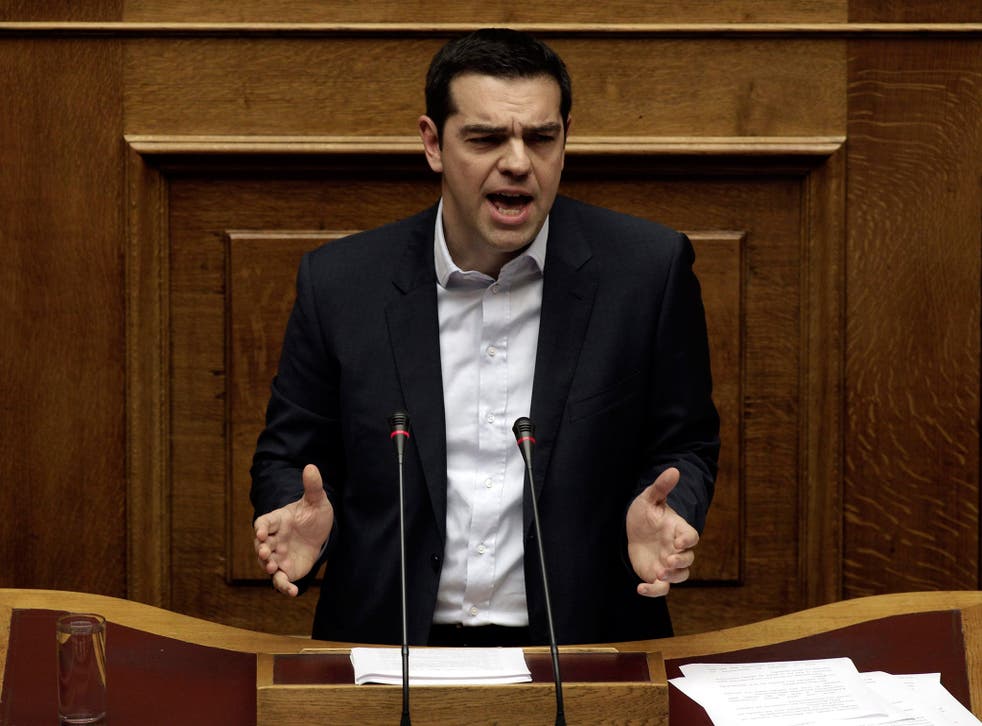 Greece's new Prime Minister sent a defiant message to his country's eurozone creditors tonight, ahead of a crucial week of meetings with the rest of the single currency bloc.
Alexis Tsipras told parliament in Athens that his coalition's priority was to ease the country's "humanitarian crisis" resulting from four years of austerity policies demanded by the eurozone. "It is our duty and commitment to fulfil all our pre-election pledges" he said.
However, he also signalled that some anti-austerity measures would be phased in over four years, in what could be interpreted as a signal to other European governments that his administration will not reverse all of the economic reforms implemented in recent years.
But that proposal was met with scepticism from other eurozone finance ministers last week, suggesting that Greece could be left without the means to pay its liabilities after 28 February. And unless Greece reaches a deal with its creditors, its banks could be cut off from access to funding from the European Central Bank, which analysts say could effectively force Athens out of the eurozone.
On the subject of the country's debt, equal to 170 per cent of GDP, Mr Tsipras told MPs: "Greece is willing to service its debt. If our partners are willing we will find a way to make the debt sustainable".
Alan Greenspan, the former chairman of the US Federal Reserve, predicted in a BBC interview yesterday that Greece would ultimately be forced to leave the eurozone regardless of the outcome of the negotiations over the coming weeks. "I don't see that it helps them to be in the euro, and I certainly don't see that it helps the rest of the eurozone, and I think it is just a matter of time before everyone recognises that parting is the best strategy" he said.
Meanwhile, Chancellor, George Osborne said Britain was stepping up its "contingency planning" for a possible Greek euro exit.
The Greek Finance minister, Yanis Varoufakis, said today that if Greece was forced out of the eurozone, other struggling European countries would soon follow.
"I would warn anyone who is considering strategically amputating Greece from Europe because this is very dangerous" he told an Italian TV programme. "Who will be next after us? Portugal? What will happen when Italy discovers it is impossible to remain inside the straitjacket of austerity?"
Register for free to continue reading
Registration is a free and easy way to support our truly independent journalism
By registering, you will also enjoy limited access to Premium articles, exclusive newsletters, commenting, and virtual events with our leading journalists
Already have an account? sign in
Join our new commenting forum
Join thought-provoking conversations, follow other Independent readers and see their replies