'Worse than the Jungle': Refugees face 'acute' lack of sanitation and 'alarming' police brutality on Italian border
Exclusive: Hundreds of displaced people, including scores of unaccompanied minors, subject to 'terrifying' conditions in Italian city of Ventimiglia amid intensified border controls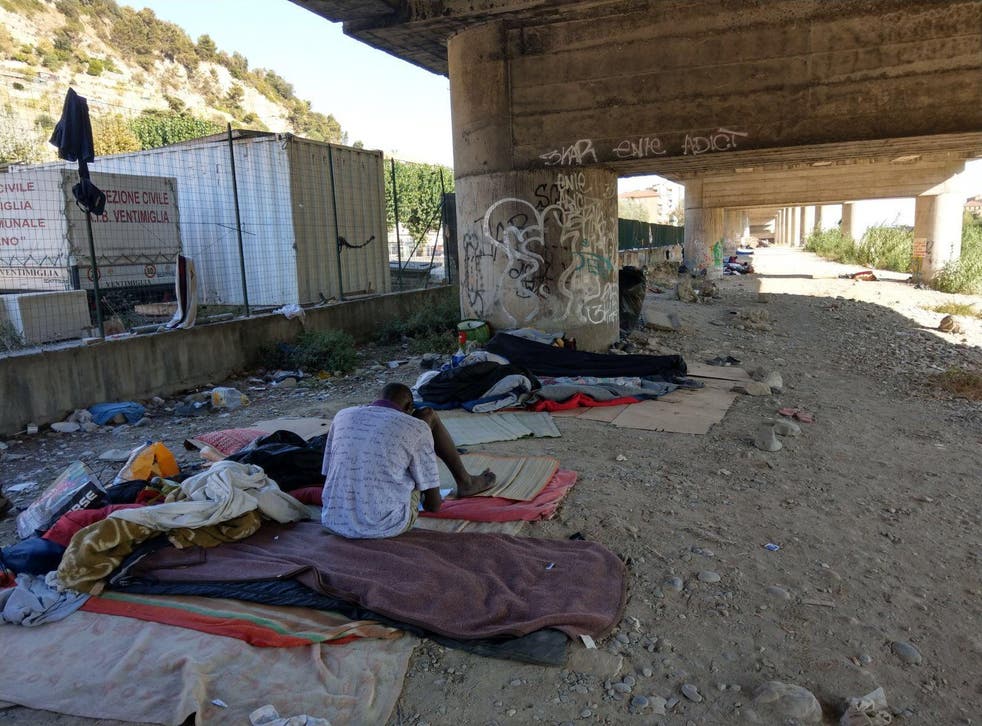 Hundreds of refugees are facing a severe lack of sanitation and police brutality on the border between Italy and France, in what experts say is a situation "worse than the Jungle", The Independent can reveal.
An estimated 700 displaced people, including scores of unaccompanied children, are currently in the Italian city of Ventimiglia. Many of them are living in conditions that are "wholly inadequate", with an "acute" lack of clean drinking water or sanitation facilities.
New research seen exclusively by The Independent reveals that intensified brutality from Italian and French police and a lack of accessible healthcare means young refugees also face an "alarming" level of danger coupled with dwindling levels of physical and mental health, with the majority of people unable to access medical care.
Researchers from the Refugee Rights Data Project (RRDP), who carried out the study, said Ventimiglia was one of the worst refugee locations they had been to, describing the situation as "terrifying" and urging that more must be done to improve the inhumane situation.
The in-depth study surveyed 150 male refugees in the area, one-in-five respondents of whom was under the age of 18, and 90 per cent were there alone without friends or family members.
The majority (73 per cent) had been in Ventimiglia for between one and three months at the time of the study, after arriving in Libya and travelling through Italy. The largest country group were from Sudan, followed by individuals from Chad, Ethiopia and Eritrea.
The absence of women and girls reflects the very small number of female refugees, which researchers said could be attributed to the extent of sex trafficking in southern Italy and North Africa.
Sometimes dubbed the "Italian Calais", Ventimiglia is a well-known transit point for refugees and displaced people trying to enter France. A bottleneck has developed there in recent years since France declared a state of emergency and closed its borders in 2015, making passage more difficult.
The closed border means displaced people are making fewer attempts to reach France by train, instead taking their chances with the so called "Pass of Death" through the mountains, or walking through motorway tunnels.
While 400 to 500 displaced people were hosted in a refugee camp run by the Red Cross camp, an estimated 200 to 300 individuals were destitute at the time of the study, sleeping rough under bridges and by the riverbank, researchers said.
When questioned about the sanitation in Ventimiglia, the majority of respondents – 85 per cent – said they would use the water in the river, where many go to the toilet, to wash themselves, as well as to drink when desperate.
Six-in-10 respondents said they had experienced health problems since arriving in Italy, with 44 per cent of those believing the health problem had started due to the unhealthy living conditions. Local health care professionals reported a large number of dermatological conditions, including scabies, were widespread due to the unhealthy living conditions.
Despite the scale of both physical and mental health problems among refugees in Venitimiglia, researchers found that only 15 per cent of those with health problems had been able to access medical care – despite efforts by groups such as Médecins Sans Frontières.
Refugees welcome here: Protesters demand UK resettle more migrants in response to refugee crisis

Show all 7
Nearly one-in-five (17 per cent) respondents described their health problem as a mental health issue rather than a physical ailment. The vast majority of sufferers had travelled through Libya, and many recounted highly alarming experiences, while others were left with physical injuries that they could not get treated.
One Sudanese man explained that he had lost his brother at sea when their vessel sank, and that he witnessed an infant being shot by Libyans while in his mother's arms in the boat.
Another man said he was feeling unwell because he had bad memories seeing hundreds of fellow refugees shot dead in Libya. There had been some 450 of them to begin with but only himself and 70 others managed to survive.
While all of the Red Cross camp residents interviewed said they had access to food every day, just 41 per cent of the destitute refugees said they had food every day. Seventy per cent of those with access to food said they could only have one meal per day.
In terms of safety, the study found that seven-in-10 respondents said they "didn't feel safe at all" in the region. Researchers put this sense of being in danger down to the absence of security measures, as well as "detrimental" living conditions on the border.
Others said they feared being robbed or attacked by other displaced people due to the precarious context, while almost one in 10 cited the risk of violence or sexual abuse by police or Europeans.
When asked about the biggest risks faced by people passing through Ventimiglia, the vast majority cited dangers related to border crossings (75 per cent), followed by the risk of not having access to sufficient food and water (63 per cent) or medical help (51 per cent).
Alarmingly, 43 per cent of respondents knew of at least one refugee who had died in Italy or at the French border.
The researchers state that while it should be acknowledged that many of these respondents were referring to the same incidents, it is worrying that seven in 10 of these respondents said the persons in question had died by falling down a cliff or mountain when trying to cross the border.
Thirty-seven per cent cited road accidents as the reason for death, while some 10 per cent of respondents cited health problems as the cause, eight per cent said the death had occurred as a result of violence by the police and three per cent said the death was caused by suicide.
The report found that as well as the physical dangers of crossing the border, police brutality was a major danger to refugees, with more than half (53 per cent) of respondents having experienced violence by French police at the border.
Most of this was in the form of verbal abuse but 40 per cent of people had also been subjected to physical violence, 36 per cent tear gas, and eight individuals said they had been subject to some form of sexual abuse.
Many respondents recalled being exposed to tear gas at the border. One 18-year-old from Sudan told researchers: "When I was crossing the border they caught me and they beat me and they sprayed tear gas. It was the worst thing in the border."
Another Sudanese 18-year-old said: "My right shoulder was broken and my neck was injured by French police at the border. There was French army deporting people as well. In Ventimiglia my nose was broken by Italian police at the train station. I was sent back many times to Taranto, I don't feel safe in Italy at all."
Many respondents also said they were subject to regular racial verbal abuse from local people, were facing discrimination for being black and were told they were not welcome.
Several refugees reported, on separate occasions, that citizens had thrown buckets of water onto them from their balconies as they walked past on the pavement, while others recounted being denied drinking water in the city centre because they were refugees.
The report stated that French CRS riot police are present at Ventimiglia train station on a daily basis, searching trains and carrying out detentions. Recently imposed anti-terror protocols give French police the power to conduct searches up to 20km inside Italy, and to deport individuals across the border.
Marta Welander, executive director of the RRDP, who has carried out a large number of refugee research projects, told The Independent the accumulation of issues facing refugees in Ventimiglia was "terrifying", and said it was "one of the worst" research locations she had been to.
"Of course the Greek islands are also horrendous and at breaking point but what's so alarming about this situation is the lack of available services," she said.
"It's really trapping people in this bottleneck scenario but without any access to the services they need. There are charities there, and they are doing what they can, but there's such a lack of resources and they're being restrained by the authorities."
Ms Welander accused the authorities of "resisting" providing help for refugees, and said the French police had been acting illegally by sending children out of the country, despite it being a legal obligation for the state to care for them.
"The French authorities are breaking European directives and are sending kids back from French soil. Once they've already arrived, they should become the responsibility of the French state. This is illegal as far as all of us understand," she said.
"We overheard the French police giving children false information. They told them absolute nonsense. They asked if they were European and when they said no they said, 'Well then you can't stay in France, don't you know the rules'.
"The French are a huge part of this problem. They are abusing state-of-emergency powers laws by sending back these kids. No one wants to take responsibility for minors."
She also said the Italian authorities had put many refugee families in danger by closing down a church in the city that could host women and children, which she said led to many women and children simply disappearing.
"This is infuriating. That was a safe space for women and children. The local authorities wanted to move them to the Red Cross camp, where there are about 400 men and no security and known for its precarity," she said.
"So a lot of them fled and no one knows where they went. The authorities really don't have the best interests of these people at heart."
Ms Welander went on to say that the dangers and health risks for refugees on the Italian border was more severe than they were in the Jungle camp before it was demolished by the authorities in October last year
"It's worse than the Jungle. All the positive elements that people could draw from that camp, such as support networks, makeshift health services and a sense of community, simply aren't there," she said.
"It's much like the way the French authorities are now dealing with the situation in Calais. They're constantly trying to make sure that people don't set up camp and stabilise themselves there.
"People are arriving straight from Libya and a lot of them have experiences of horrendous things there, and then they find themselves in destitution. I got the sense that people are not entirely informed as to why the border is closed and why they can't choose where they apply for asylum.
"It seems quite clear that the current policies are not doing anything to address the situation in a meaningful or long-term way. They're just shifting people around.
"These are people who are highly likely to be developing post-traumatic stress disorder because of what they lived through in Libya. It's in everyone's interest to provide support or medical care. Whether they're staying in Italy or not, there need to be better services."
World news in pictures

Show all 50
In light of the findings, Livio Amigoni, of refugee charity Eufemia Infopoint Ventimiglia, said: "After the French declaration of a state of emergency and the tightening of the border in 2015, passage to France has become more difficult but has not discouraged people to try to cross.
"Instead, it has driven individuals to try dangerous mountain passes and lethal motorways routes, and the situation also puts many people at the mercy of smugglers and traffickers. Moreover, France holds responsibility for the minors who arrive on French soil.
"Despite this, French police have been sending minors back on trains from France to Ventimiglia, denying them their right to protection."
The Italian authorities have been contacted for comment but had not responded at the time of publication.
Register for free to continue reading
Registration is a free and easy way to support our truly independent journalism
By registering, you will also enjoy limited access to Premium articles, exclusive newsletters, commenting, and virtual events with our leading journalists
Already have an account? sign in
Register for free to continue reading
Registration is a free and easy way to support our truly independent journalism
By registering, you will also enjoy limited access to Premium articles, exclusive newsletters, commenting, and virtual events with our leading journalists
Already have an account? sign in
Join our new commenting forum
Join thought-provoking conversations, follow other Independent readers and see their replies