Hungarians protest against Vladimir Putin's visit to Budapest
The Russian president's meeting with Hungary's prime minister is his first state visit to an EU leader since the beginning of the Ukraine crisis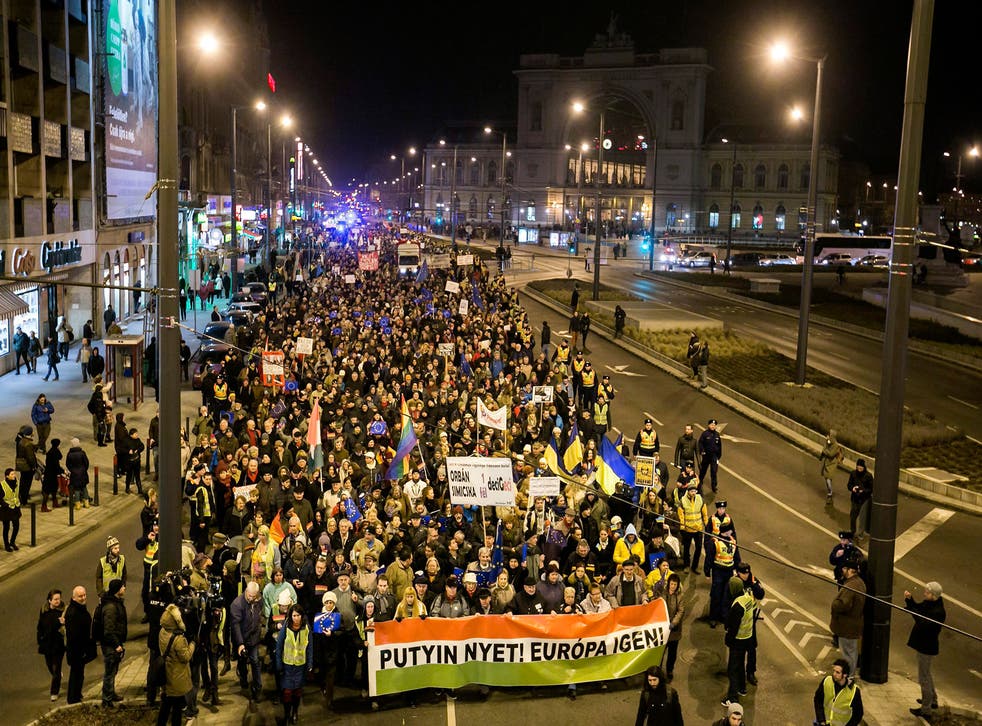 Around 2,000 Hungarians marched in protest against Vladimir Putin's visit to Budapest on Monday.
The Russian president's meeting with Hungary's prime minister Viktor Orbán – described by some as Putin's alter ego 'Little Putin' – is his first state visit to an EU leader since the beginning of the Ukraine crisis in June 2014.
Protesters rallied in Budapest carrying banners that read "Putin No! Europe Yes!". Much of the city centre was closed to traffic on 17 February as security was stepped up ahead of the visit
"The pestering of civic groups, corruption and the fattening of oligarchs show that we are getting ever closer to the Russian model and farther from the European one," said protest organizer Gabor Vago.
Hungary is seeking to negotiate a new agreement for Russian gas supplies, and has become one of Russia's few remaining allies in Europe.
In 2014, Orbán said he wanted to turn Hungary into an "illiberal democracy" modelled on "strong states" like Russia and Turkey, a goal that appeared at odds with his former opposition to authoritarian practises.
Two weeks ahead of his meeting with Putin, Orbán hosted German Chancellor Angela Merkel in Budapest and flew to Kiev to meet with Ukraine's president Petro Poroshenko to express his support for Ukraine's sovereignty.
Critics fear that Putin's visit will be used by Russia to demonstrate the apparent weakness of Western unity.
"It is important for Moscow to show that there still are states whose governments are ready to host Russia," said historian and Russia expert Zoltan Sz. Biro. "Symbolically, the meeting is much more important for Russia."
Many of those demonstrating on the eve of Putin's visit said they were "wary" of increasingly close ties with Russia.
Additional reporting by AP
Register for free to continue reading
Registration is a free and easy way to support our truly independent journalism
By registering, you will also enjoy limited access to Premium articles, exclusive newsletters, commenting, and virtual events with our leading journalists
Already have an account? sign in
Register for free to continue reading
Registration is a free and easy way to support our truly independent journalism
By registering, you will also enjoy limited access to Premium articles, exclusive newsletters, commenting, and virtual events with our leading journalists
Already have an account? sign in
Join our new commenting forum
Join thought-provoking conversations, follow other Independent readers and see their replies