Hungary claims London is overrun by migrants and a 'no-go zone'
'We do not know how many of them are disguised as terrorists', government maintains
Jacob Furedi
Wednesday 21 September 2016 13:17 Comments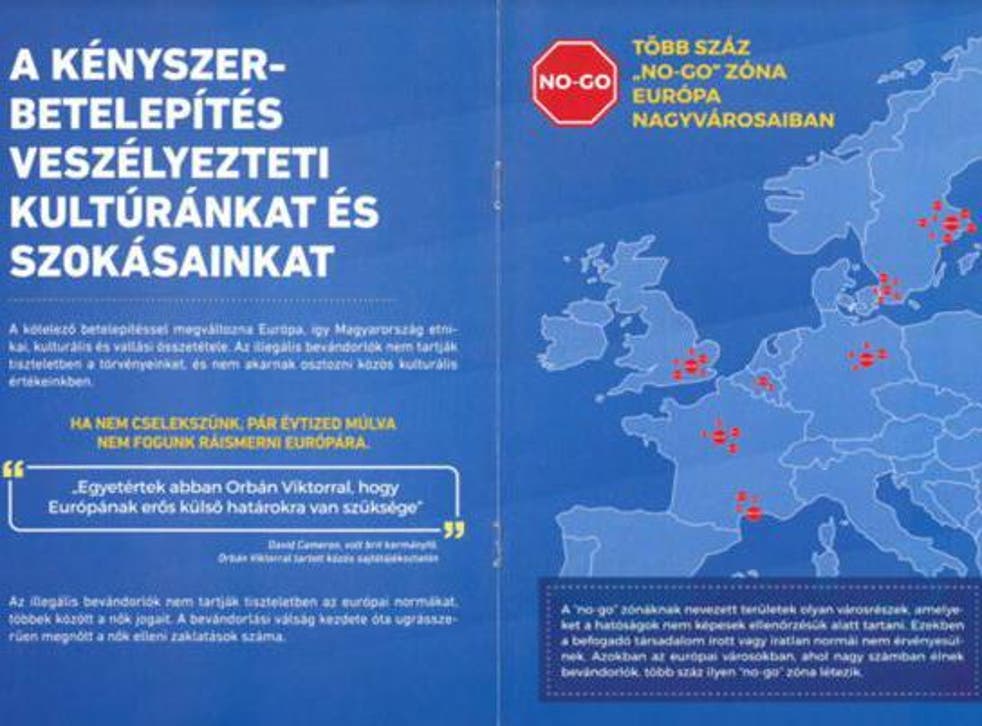 The Hungarian government has issued a leaflet that labels London a "no-go zone" because it contains too many migrants.
It suggests there are more than 900 areas in Europe which are overrun by migrants whom "the authorities cannot keep under control". In these neighbourhoods, it warns: "the norms of the host society… barely prevail".
The pamphlet was released as part of a government campaign to reject the European Union's plans to impose migrant quotas on its member states.
On 2 October, Hungary will hold a referendum on whether to accept the European Union's quota system. If the refugee resettlement is accepted, Hungary can expect to receive 1,294 migrants.
Appearing on Newsnight on Tuesday, Péter Szijjártó, Hungary's foreign minister, maintained: "There are no-go zones in Europe and we don't want no-go zones in Hungary".
The government leaflet suggests there are a dozen "no-go zones" in England, including London, Southampton and Peterborough.
751 of the alleged "no-go zones" are in France.
Mr Szijjártó did, however, maintain: "I like London a lot, no problem". He also admitted the British ambassador to Hungary protested about the leaflet.
A government website explains its anti-migrant stance stems from its fear of a terrorist attack. A ticking clock warns "an immigrant arrives every 12 seconds" and "we do not know how many of them are disguised as terrorists".
As part of its campaign, the government recently plastered Budapest with a number of anti-migrant posters. One read: "Did you know? More than three hundred people died in terrorist attacks across Europe since the start of the migration crisis."
Refugees welcome here: Protesters demand UK resettle more migrants in response to refugee crisis

Show all 7
The claims in the leaflet follow those of Republican presidential candidate Donald Trump, who claimed London and Paris contain "Muslim no-go areas".
In 2015, Hungarian Prime Minister Viktor Orbán warned: "If we let the Muslims into the continent to compete with us, they will outnumber us. It's mathematics."
His comments seem to resonate with Hungary's population, too, as Hungary's far-right Jobbik party is currently polling at 10 per cent.
Aylan Kurdi - A year on, has anything changed
In August, Mr Orbán also announced plans to construct a second razor-wire fence to stop migrants from entering Hungary.
Just last week, Luxembourg's foreign minister called for Hungary to be expelled from the European Union for treating asylum seekers "worse than wild animals".
A recent poll showed 73 per cent of the Hungarian population intend to reject the EU's migrant quotas.
Register for free to continue reading
Registration is a free and easy way to support our truly independent journalism
By registering, you will also enjoy limited access to Premium articles, exclusive newsletters, commenting, and virtual events with our leading journalists
Already have an account? sign in
Join our new commenting forum
Join thought-provoking conversations, follow other Independent readers and see their replies