Hungary opens fire on refugees with tear gas as it steps up border operation
Riot police presence on the border has increased markedly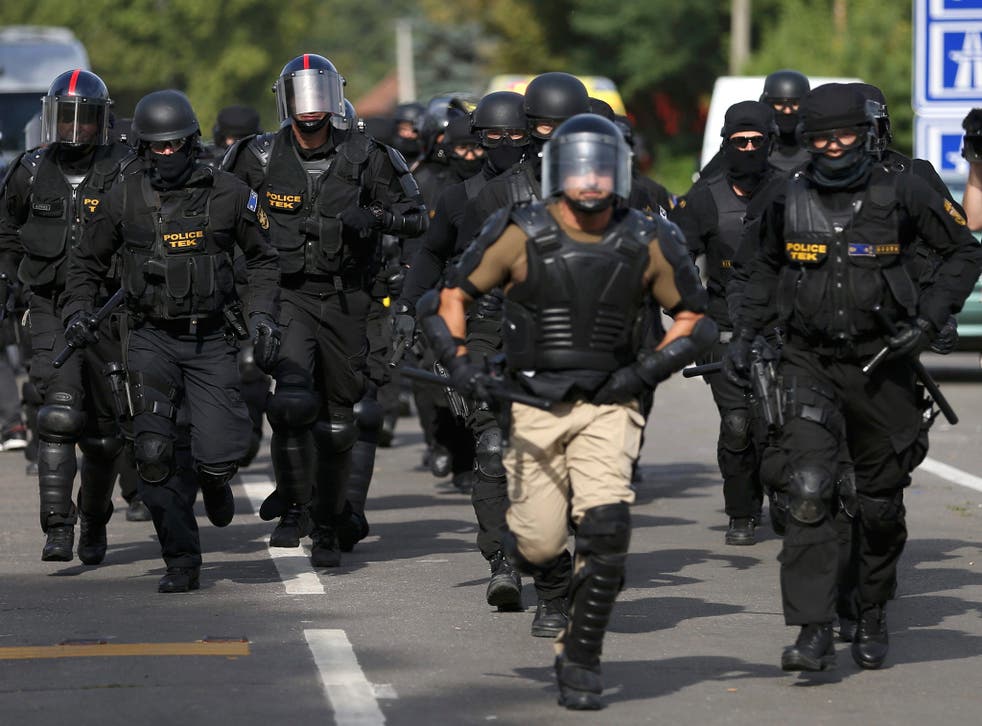 Hungary has dramatically escalated its anti-refugee border controls, firing upon asylum-seekers with tear gas and water cannon and bringing in more personnel with armoured vehicles.
Images from the Hungary-Serbia border showed the extent to which the police presence had increased in number and force, amid reports hundreds of refugees had breached its border fence.
Defending its use of force on the border, Hungarian police said in a statement that a group of "aggressive" refugees had broken through a gate and said riot officers were "taking lawful and proportionate measures to protect the Hungarian state border and the external frontier of the European Union".
Hungary's foreign minister, Peter Szijjarto, told The Associated Press on Wednesday that the razor wire fence it was building along its 175km border with Serbia was necessary because "only a physical border" could stop refugees entering the EU.
While the rest of Europe has largely criticised the Hungarian response to the growing crisis, Szijjarto claimed that even if they had come from war-torn countries originally, the majority of the people at its border were economic migrants.
He said: "Someone who escapes from Syria, for example, and then arrives in Greece, why does he or she leave Greece for Macedonia, why does he or she leave Macedonia for Serbia, then for Hungary, then for Austria, then for Germany? There is an economic motivation."
Szijjarto said Hungary "cannot bear the burden of accepting economic migrants", and actually called on the rest of the EU to provide more manpower, instead of criticism.
How Hungary welcomes its refugees - in pictures

Show all 15
"We should put together a European force ... to defend the external border of (the) EU in Greece," he said. "It is obvious that Greece is not able to do so."
Meanwhile, a Hungarian court found an Iraqi man guilty of "illegally crossing the border" in the first conviction of its kind since new laws were introduced in a bid to deter people from entering the country.
Hungarian media reported the judge ordered the man expelled from Hungary and banned him from returning for one year. He was expected to return to Syria.
According to reports, the judge rejected the man's claim that he didn't know it was a crime to cross the border, telling him that the razor wire fence "should have given him a clue".
Germany has seen a decline in the number of new migrants arriving since it introduced border checks on the Austrian frontier, though the influx is still significant.
Germany imposed the checks on Sunday, saying it wanted to ensure that refugee arrivals were more orderly and that newcomers were registered.
Interior Ministry spokesman Tobias Plate said he does not yet have firm figures for migrant arrivals since then.
He says the numbers "have decreased very significantly" but are still in the thousands every day.
Additional reporting by agencies
Join our new commenting forum
Join thought-provoking conversations, follow other Independent readers and see their replies