Pirate Party set to form government in Iceland, poll suggests
The populist party, which wants to decriminalise drugs, is ahead in opinion polls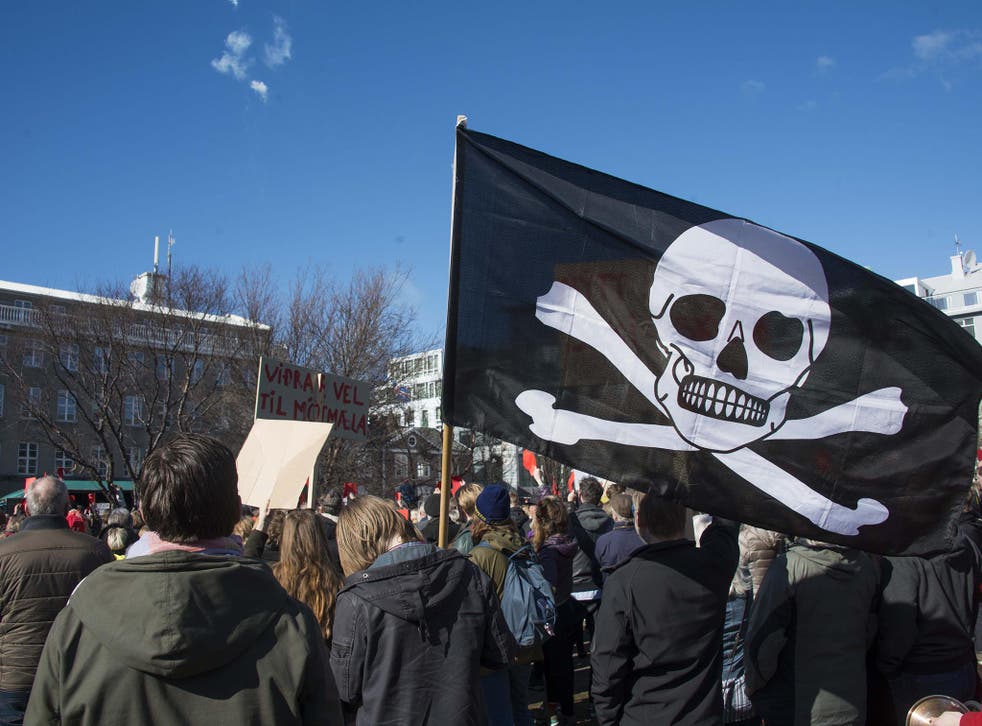 A protest party that campaigns against copyright laws and hangs a skull-and-crossbones flag at its headquarters is on course to form Iceland's next government.
The Pirate Party, which was formed four years ago by activists, poets and hackers, is currently ahead in the polls in advance of the general election on 29 October.
It has the support of 21.6 per cent of voters, slightly ahead of the Independence Party, which is part of the current coalition government, on 20.6 per cent.
It is a rapid rise to prominence for the Pirate Party, which gained just 5 per cent of votes and three of 63 seats in Iceland's 2013 general election and whose election campaign is partly crowd-funded.
The party has promised to grant asylum to US whistleblower Edward Snowden and accept the bitcoin currency.
Looser copyright rules; giving voters a direct say over policy; and the decriminalisation of drugs are among other policy pledges.
The Pirate Party has also tried to secure the youth vote by asking the developers of Pokemon Go to turn polling stations into Pokestops – locations where players can collect the items needed to catch Pokemon.
But it is the party's anti-corruption campaign that has propelled it to unexpected popularity
It follows widespread anger in Iceland at perceived corruption amongst the country's political and financial elite.
Iceland was badly hit by the 2008 financial crisis, which led to a huge banking collapse that cost saw many Icelanders lose money, and prominent politicians were caught up in the offshore tax scandal following the release of the Panama Papers earlier this year.
Prime Minister Sigmundur David Gunnlaugsson was forced to resign in April when it was revealed that he and his family had sheltered money in offshore accounts.
The scandal saw support for the Pirate Party rocket to 43 per cent, while Mr Gunnlaugsson's Progressive Party slumped to single digits.
Ahead of its forecast electoral success, Pirate Party leaders have moved to reassure the public and business leaders that the party will help foster economic stability.
Pirate Party leader Birgitta Jonsdottir, a published poet and former Wikileaks spokesperson, said: "Across Europe ... increasingly many people think that the system that is supposed to look after them is not doing it anymore.
"We know that we are new to this and it is important that we are extra careful and extra critical on ourselves to not take too much on. I really don't think that we are going to make a lot of ripples in the economy in the first term.
"We are not going to make any dramatic changes in the financial sector."
Ms Jonsdottir has previously said her party's success was "strange and very exciting", adding it was "driven not by fear but by courage and hope".
Iceland's political system means the Pirate Party would have to form a coalition in order to govern. Ms Jonsdottir has suggested that rather than becoming prime minister she would prefer to take the position of speaker of the Icelandic parliament.
There are now over 40 pirate parties around the world, after the first was founded in Sweden ten years ago to fight against international copyright laws.
The UK Pirate Party received 1,130 votes at the 2015 general election, while branches in other countries have – until now - been equally unsuccessful at the polls.
Join our new commenting forum
Join thought-provoking conversations, follow other Independent readers and see their replies