Iceland's Pirate Party secures more election funding than all its rivals as it continues to top polls
'We don't care. Democracy doesn't revolve around getting loads of money from the government. We funded our campaign at a flea market before the last elections and that was fine.'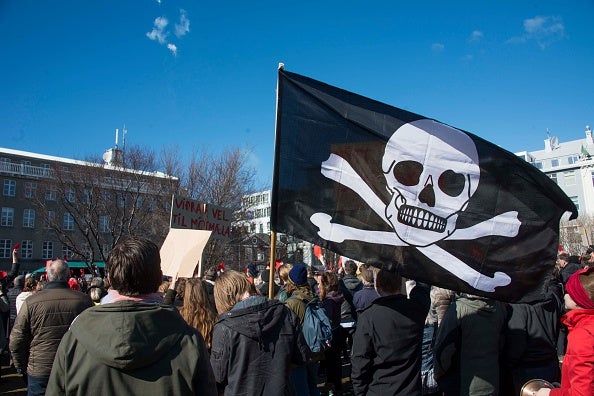 The anti-establishment Pirate Party of Iceland has been awarded more funding for the upcoming general election than any of its rival parties as it continues to top nationwide polls.
The anti-establishment party, which calls for a 35-hour working week, direct democracy and total drug decriminalisation, has the lead in eight out of the last ten polls. They look set to form a crucial part of a coalition government in this autumn's general election.
There is a pool of 290 million ISK (£1.6 million) available to fund political campaigning in the run-up to the election, divided based on February poll results. The Pirates were comfortably leading the polls at that time, and should scoop 35% of the funding pot, more than any of their rival parties.
Iceland Protesters Throw Eggs at Parliament After Panama Papers Leak
The Pirates do not have a formal leader, but poet and activist Birgitta Jónsdóttir MP is the chair of the Pirate parliamentary group and their de facto spokesperson.
She said: "We did not expect this. We don't care. Democracy doesn't revolve around getting loads of money from the government.
"We funded our campaign at a flea market before the last elections and that was fine. We feel we need to be able to pay the salary of our employees. Anything more than that is too much."
Prime Minister Sigmundur David Gunnlaugsson was stepped down following the revelation in the Panama Papers leak that he owned an offshore company in the British Virgin Islands.
Wintris Inc. owned bonds in three of the major banks which collapsed during Iceland's financial crisis, and Mr Gunnlaugsson was forced to step aside as tens of thousands of protestors took to the streets of downtown Rejkavik.
World leaders linked to 'Panama Papers'
Show all 15
The Pirate Party were polling at up to 43% in the days following the leak, while Mr Gunnlaugsson's Progressives, the dominant party in the current coalition, slumped to single digits. In the most recent poll, conducted by Fréttablaðið, the Progressives had just 6.5% of the electorate on board.
The same poll placed the Pirates almost level with the centre-right Independence Party, at 30.3% and 31.1% respectively. If the election were to be held tomorrow, the most likely outcome would be an alliance between the Pirates and the Independence Party or the Pirates and the Left-Greens.
Either result would mark a dramatic change in the political landscape. The Pirates currently have just three seats in the Icelandic parliament, the Alþingi, but could well hold the balance of power this autumn.
Mr Gunnlaugsson, who is still the chair of the Progressive Party and a sitting MP, rose to power on a promise to defend ordinary Icelanders against "vulture" businessmen.
Join our commenting forum
Join thought-provoking conversations, follow other Independent readers and see their replies