Interview: Croatia President Ivo Josipovic insists 'we don't expect just to be handed cash' as country joins EU
The musician turned leader of Croatia tells Kim Sengupta why he thinks the country is better off in the EU at a time when other states are thinking of quitting it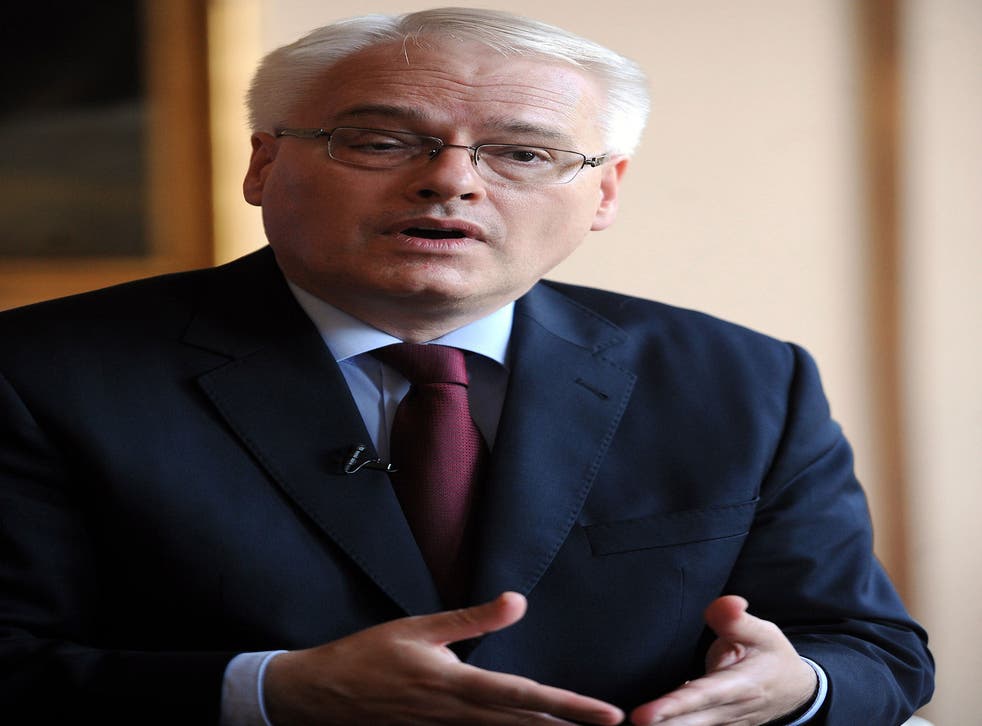 Ivo Josipovic has not yet managed to realise his long-held dream – to write an opera based on the murder of John Lennon. The President of Croatia has rather had his hands full ensuring that his country's struggle to join the European Union did not suffer its own premature demise.
A decade of negotiations involving thousands of pages of demands from Brussels, sweeping anti-corruption measures, changes to the legal system, the handing over of war-crimes suspects and the privatisation of commerce and industry finally resulted in a ceremony in Zagreb last night celebrating Croatia's accession.
There was little of the wild jubilation that marked the arrival in the EU of the 10 former Communist states whose membership precedes Croatia's. After waiting so long to join, many in this, the 28th member state, are uncertain of the balance of pain and profit the future will bring. They wonder why they are joining a club while established members, such as Britain, are debating whether to renegotiate terms or leave altogether.
The celebrations were originally meant to go on for three days, but were reduced to little over four hours in the face of lukewarm public support. One poll revealed that just 7 per cent said they wanted fireworks; 42 per cent thought nothing special was necessary. Nick Clegg will attend on behalf of Britain; the decision by Angela Merkel, the Chancellor of Germany – Croatia's historic sponsor on international affairs – not to come at the last minute has been portrayed as a snub by the opposition and media.
It is still a landmark, not just for Croatia but for the EU and its future direction. Mr Josipovic, while talking to The Independent, insists that, while further belt-tightening will be necessary, the only future for Croatia exists inside the tent.
It is, he points out, of particular poignancy to a country that experienced the Continent's last bout of blood-letting, the Balkan war which left 100,000 dead and two and half million homeless. "Don't forget Europe got together after the Second World War to stop more such destructive violence," he says. "Of course there was a commercial basis, but that was also to build relationships, to build peace. Coming out of a recent war as we have done we can understand the value of that.
"If we go back, the First World War started not far from here, in Sarajevo. The Second World War was very fierce here. It is in the interests of Europe to ensure that there are conditions for peace. We would like all our neighbours who took part in the last conflict to join the EU as well, when the time is right."
The 55-year-old President is very different from previous leaders in the region, politicians and bureaucrats turned military strongmen who strutted through the pages of that dark period of history when villages and towns emptied and prison camps filled, when homes burnt and soldiers raped and desperate refugees formed lines in search of safety. Silver-haired, bespectacled, slightly stooped and with a soft voice, he looks like what he used to be: a lecturer in music as well as a professor of law.
The venue for the interview, however, is redolent of Yugoslavia before it splintered. The presidential palace in Pantovcak in the hills above Zagreb is the former Villa Zagorje, where Tito once lived. Built in the mid 1960s, it is set in rolling gardens where peacocks wander among Modernist sculptures. The villa looks down over the heart of the capital, which is dominated by the twin spires of the cathedral, one of them masked by scaffolding after its renovation was delayed by lack of funds in a country whose economy has suffered five years of negative growth.
Mr Josipovic's popularity upon being elected in 2010 as the candidate of the centre-left SDP stood at 81 per cent and then rose to an unpredented 84 per cent, before dipping to 74 per cent. "It does not mean they will all vote for me, of course, it just means they approve of how I am doing," he says. The broad view among a selection of Croatians on the streets is that he is a "nice man", an "honest" man. Others simply reply: "Ah, the musician."
Mr Josipovic is helped by his clean past in a country where one recent Prime Minister, Ivo Sanader, is serving a 10-year jail term for embezzlement. Yet some doubt whether Mr Josipovic is the ruthless leader Croatia needs to deal with the fraught politics of the EU, while others simply grumble that he is dull. In Zagreb's main square, where a podium has been set up for the accession party, a student, Ante Matic, says: "We want a president with charisma, like Tony Blair." His friends break into jeers of "Iraq", and "liar". "OK. Maybe not," he shrugs.
Mr Josipovic has won an award from the European Broadcasting Union for one of his 50 musical compositions, "Samba da Camera". But there will be far harsher judges in Brussels if Croatia's faltering economy requires a bailout like those given to Greece, Spain and Cyprus. Since 2008 GDP is down 11 per cent, foreign investment has fallen by 80 per cent, its credit rating has been cut to junk and unemployment among the young stands at between 22 and 50 per cent. The German magazine Bild held that it would be the taxpayers of northern Europe who would again pick up the bill. "Is the Bloc [EU] doing itself any favours by admitting this Balkan country of debt, corruption and unemployment? It will be the new graveyard for taxpayers' money, the next billion-euro grave," it read.
Mr Josipovic insists that his country will not need any emergency aid. "We don't expect to be just handed money, we need to earn it, fight for it; we have to carry out more reforms," he says. "With that we can make our economic situation better. Being in the EU will, of course, help us. But we can offer something to Europe as well, commercially and strategically."
He is also aware how Europe has become a cross to bear for a number of leaders, not least David Cameron, with whom he discussed the travails of the EU during a recent visit to London. "I got the impression from him and other British leaders in politics and business that they want to stay in the EU, not get out. Europe has, in fact, been good for Britain: Britain outside the EU is unimaginable. As Mario Draghi [the president of the European Central Bank] said: 'It will be good to have more Europe, but it'll also be good to have more Britain in Europe.'"
Yet Mr Josipovic is in agreement with Mr Cameron on some aspects of the EU. "Europe, like everything else, has to reform when necessary. We have to accept that not everything in Europe is perfect. It is good to have more Europe in certain things like a common market and a common foreign and security policy, but there should be more flexibility in other, more local, issues. Europe should not govern every aspect of a citizen's life. Differences must be taken into account; you can't just have shared laws across everything; you must have shared values as well."
Syria, whose civil war has so far claimed more than 90,000 lives, is the dominant foreign policy issue facing the West. Croatia, says Mr Josipovic, supports the early stance taken by Mr Cameron and the French President, François Hollande, and latterly by Barack Obama, to start supplying arms to the rebels.
"In our experience [during the Balkan war] embargoes only help one side: the one in power. The oppressors continue to get their supplies. We think the other side must be given a chance as well."
EU human rights legislation has become an increasingly unpopular issue among some member states. Among the most emotive examples often cited in the UK is the claim that it hampers efforts to extradite terrorist suspects.
The terrible abuse of civilians in the Balkan conflict has reinforced Mr Josipovic's view that the law has a fundamental role in protecting human rights. He helped get 180 Croatian prisoners of war out of Serbian jails and acted as a Council of Europe expert in the evaluation of prisoners in a number of states with dubious judicial records, such as Ukraine and Azerbaijan.
Mr Josipovic, whose legal research has taken him to Yale and Hamburg universities, says he understands the concerns raised by invoking European laws in extradition cases such as those of Abu Qatada and Abu Hamza. But, he says: "Human rights laws are essential if you want to promote democracy, to have respect for fellow human beings, to want equality before the law. We think it is essential that these safeguards are in place. We in Croatia have no problem with human rights laws."
He adds, however: "There is also a fundamental principle in law – that justice must be served. If someone can't be extradited then he must be tried where he is being detained: people must not be allowed to use human rights laws to escape this process, especially if that person has abused the human rights of others."
It is, however, Zagreb's failure to extradite Josip Perkovic, an intelligence agent from the Yugoslav era accused of killing a dissident émigré 20 years ago in Bavaria which is said to have contributed to Ms Merkel's decision to stay away. "She has given the reason [that] she is busy with elections inside Germany. These are just deliberate misrepresentations you get from some people in politics. It is one of the problems we face – there are a lot of things said that are not supported by facts."
So does he ever wish he had returned to music rather than being a politician at such a turbulent time? "No, to do that full time you have to be totally absorbed, do nothing else."
And the Lennon opera he was going to compose before leaving office? "That is one political promise which will remain unfulfilled. Anyway, it wasn't going to be so much about John Lennon as about his killer Mark Chapman. He grew up loving, worshipping Lennon, but that turned to hate. It's interesting – it shows you can't always predict what happens in the future."
EU's newest member
14bn euros of EU money earmarked for Croatia between 2014 and 2020
374m euro increase in the EU's budget needed for 2013 to meet Croatia's entry
12 MEPs from Croatia will take up seats in the European Parliament
20% of Croatia's population is currently unemployed
50% of Croatians support their country's entry into the EU
Join our new commenting forum
Join thought-provoking conversations, follow other Independent readers and see their replies