Intercepted chats tie Iranian diplomat to alleged Paris terror plot, official says
Exclusive: Alleged plots on European soil are straining support for the nuclear deal which Trump quit last year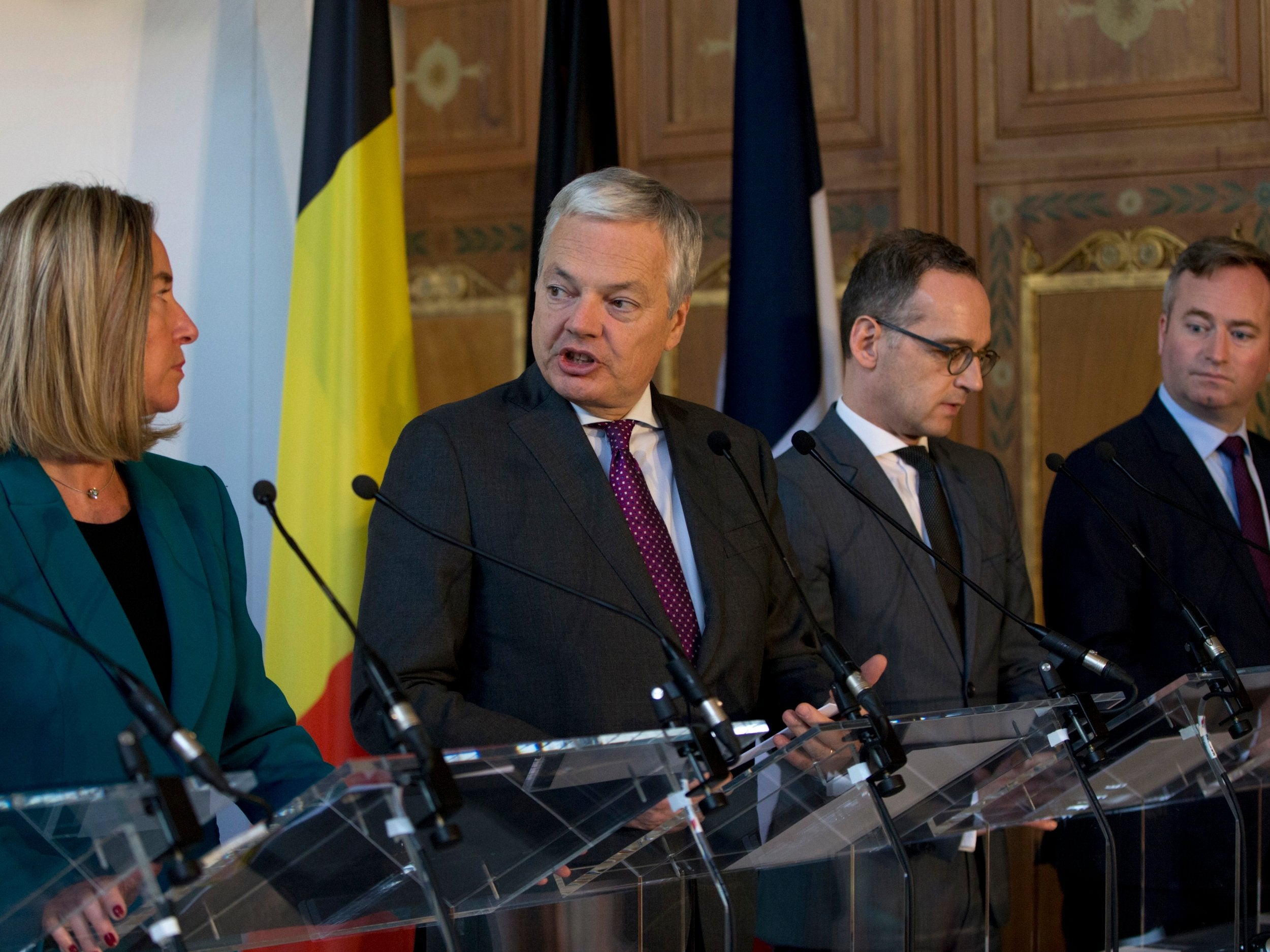 European security officials have intercepted communications that suggest an Iranian diplomat was not only involved in an alleged plot last year to bomb a meeting of Tehran opponents outside Paris, but coordinated efforts with colleagues back in Iran, a well-placed western official told The Independent.
The communications between Iranian diplomat Asadollah Asadi and counterparts in Iran were described as text messages, or chats, that have been collected by European intelligence services.
"Evidence of his contacts with the regime are recorded chats," said the official, who spoke on condition of anonymity while disclosing sensitive information.
An Iranian official dismissed the claims of evidence, insisting that the alleged Paris plot and others in Europe were fabricated to put pressure on Tehran as it faces off against the US and regional adversaries Israel and Saudi Arabia.
The French case is among several alleged plots carried out by Iranians on European soil that have strained relations between Tehran and European nations, and potentially jeopardised a commitment to uphold the nuclear deal penned in 2015 but abandoned last year by the administration of Donald Trump.
Iran parliament reacts after Trump's withdrawal from nuclear deal
Show all 10
Over the weekend, UK, French and German officials unveiled a bartering system called Instex, which is meant to allow trade between Iran and Europe that bypasses US controls on the global financial system. A European official called Instex "a small but concrete step to respond to US unilateralism".
But Iran's judiciary chief Sadeq Amoli Larijani quickly rejected the conditions for the exchange that include complying with global anti-money-laundering rules and curtailing its missile programme.
Taken together, Iran's dissatisfaction with Europe's attempts to resume business with the Islamic republic and European anger over alleged Iranian clandestine operations targeting dissidents and its missile programme threaten to diminish support for the nuclear deal, which promises Iran normalised trade ties in exchange for putting limits on its atomic programme.
Iranian media described a tense 8 January meeting in Tehran between European and Iranian diplomats. Europeans sought to deliver a complaint about Iranian missiles, while Iranians demanded an apology for a lack of progress on upholding the deal and for harbouring terrorist groups.
The next day the EU placed Iranian deputy minister of intelligence Saeid Hashemi-Moqaddam as well as Mr Asadi on a list of sanctioned individuals.
Mr Asadi, who served as diplomat in the Iranian embassy in Vienna, is currently in detention in Belgium, facing terrorism charges. He allegedly handed powerful plastic explosives to a Belgian-Iranian couple to use against a 30 June gathering of the Mujahedin-e-Khalq organisation, or MEK, a bizarre but influential Iranian political cult dedicated to overthrowing the government in Tehran.
The group has cultivated strong ties to the Trump administration and others in Washington, as well as to Saudi Arabia, Iran's arch-nemesis. Several leading Trump administration figures including John Bolton and Rudy Giuliani spoke at the 30 June event, though neither had yet been named to Mr Trump's team.
According to the unnamed western official, the intercepts provide strong evidence of Mr Asadi's involvement in the foiled plot to bomb the Paris gathering but don't confirm whether the top echelons of the regime knew about the scheme.
Support free-thinking journalism and attend Independent events
In an interview published last month by the semi-official Iranian ISNA news organisation, Iran's former ambassador to Germany, Ali Majedi, said the evidence that the Europeans had collected against Mr Asadi would be difficult to ignore, though he declined to specify the evidence, and how he knew about it.
"European countries have tabled evidence that cannot easily be dismissed, although they cannot easily prove it either," he was quoted as saying.
The Iranian official suggested Mr Majedi had an axe to grind because he was withdrawn from his job in Germany in November. "Claims by Mr Majedi are criticised inside Iran as political, as he was recently removed from his post as ambassador," the official said.
The alleged Paris operation, along with alleged plots by regime operatives against Iranian Arab exiles in the Netherlands and Denmark, prompted EU sanctions against Iran's ministry of intelligence and security last year. Another alleged foiled plot against the the MEK compound in Albania prompted the Nato member to expel two senior diplomats last month.
Last week, German authorities reported that a 47-year-old Iranian dissident in Berlin had claimed he was beaten by unnamed masked men speaking Persian in what he told police he believed was an attack related to his political activities.
Iran has challenged Europe to produce evidence of the plots, and has demanded the release of Mr Asadi, whom it insists enjoys diplomatic immunity. "Europeans detained this person and after several months they are still struggling to introduce evidence," said the Iranian official. "His arrest in itself is against international law. If he was a normal citizen, his continued arrest without trial would be illegal, too."
Join our commenting forum
Join thought-provoking conversations, follow other Independent readers and see their replies