Ireland offers £25,000 to woman forced to have abortion in the UK
In June, the UN Human Rights Committee ruled Ireland's abortion laws subjected Amanda Mellet to cruel, inhuman and degrading treatment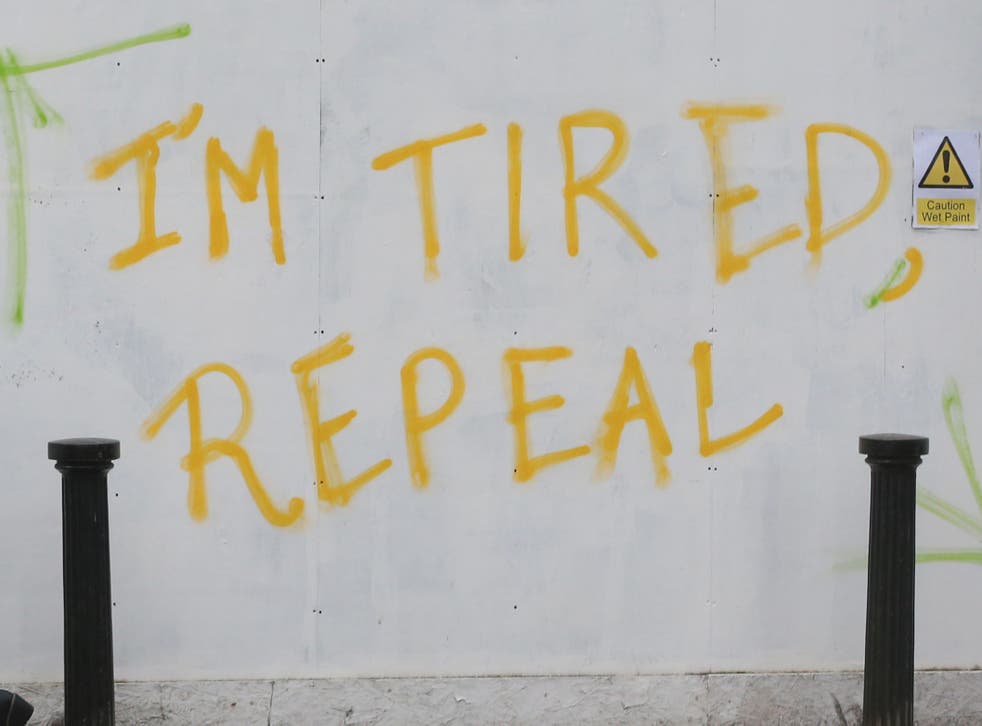 Ireland has for the first time compensated a woman who was forced to travel to Britain to have an abortion.
The government agreed on Wednesday to offer Amanda Mellet €30,000 (£25,000 ) in compensation after she was forced to fly to England to terminate her pregnancy in 2011 when she was told at 21-weeks pregnant her baby carried a fatal foetal impairment and would not survive outside the womb.
Abortion is illegal in the Republic of Ireland unless the pregnancy endangers the life of the woman, and it carries a sentence of up to life in prison.
Because the Eighth Amendment in the constitution gives a foetus equal rights to the woman carrying it, there is no exception for a woman who has been raped or who is carrying a foetus so severely disabled that it has no chance of surviving outside the womb.
As a result of the law, thousands of Irish women travel to Britain for abortions every year.
In 2013, Ms Mellet called on the UN Human Rights Committee asking them to condemn the country's abortion ban.
In June, the UN Committee ruled that Ireland's abortion laws subjected Ms Mellet to cruel, inhuman and degrading treatment, and discrimination, in violation of Articles 7 and 26 of the International Covenant on Civil and Political Rights.
It also said the law had subjected Ms Mellet to "intense physical and mental suffering."
Minister for Health Simon Harris met with Ms Mellet and her husband on Tuesday to outline Ireland's response to the UN ruling.
Thousands march in Dublin for Irish abortion rights

Show all 5
He said he found Ms Mellet's case "deeply upsetting" and confirmed in a statement that the government had offered her "an ex gratia sum of €30,000" and access to "all appropriate psychological services".
Mr Harris said: "In their conclusion of Ms Mellet's case, the UNHR Committee requested the State to amend its law on termination of pregnancy, to ensure that health-care providers are in a position to supply full information on safe abortion services, and to provide Ms Mellet with adequate compensation and to make available to her any psychological treatment she requires."
Ireland has until next Tuesday to respond to the UN committee ruling with regard to amending its abortion laws.
The Irish government would not be able to commit to changing Ireland's abortion laws as it would require a constitutional amendment passed in a referendum before a legal change could take place, the Irish Times reports.
"I informed Ms Mellet that our response to the UN Committee sets out the current legislative position in Ireland for termination of pregnancy where the unborn is protected by Article 40.3.3 of the Constitution," Mr Harris said.
In a statement reported by The Journal, Ms Mellet said the compensation and Mr Harris' apology "goes a long way towards closure for what was the most painful chapter of my life".
"I am hopeful that ensuring the legal change outlined by the UN Committee will now be the government's next step," she added.
Amnesty International Ireland welcomed the decision. Executive Director Colm O'Gorman said: "We are heartened that the government has accepted the UN Committee's findings, by offering compensation and counselling for the harm Ms Mellet suffered. This response acknowledges the harm caused to women by the current law. The government must now comply with the Committee's ruling that Ireland reform its laws to ensure that no woman or girl will ever face similar human rights violations."
Join our new commenting forum
Join thought-provoking conversations, follow other Independent readers and see their replies