'Civil War politics ends today': Micheal Martin becomes Ireland's Taoiseach as new coalition is formed
Historic deal between Fianna Fail, Fine Gael and Greens ratified in Dublin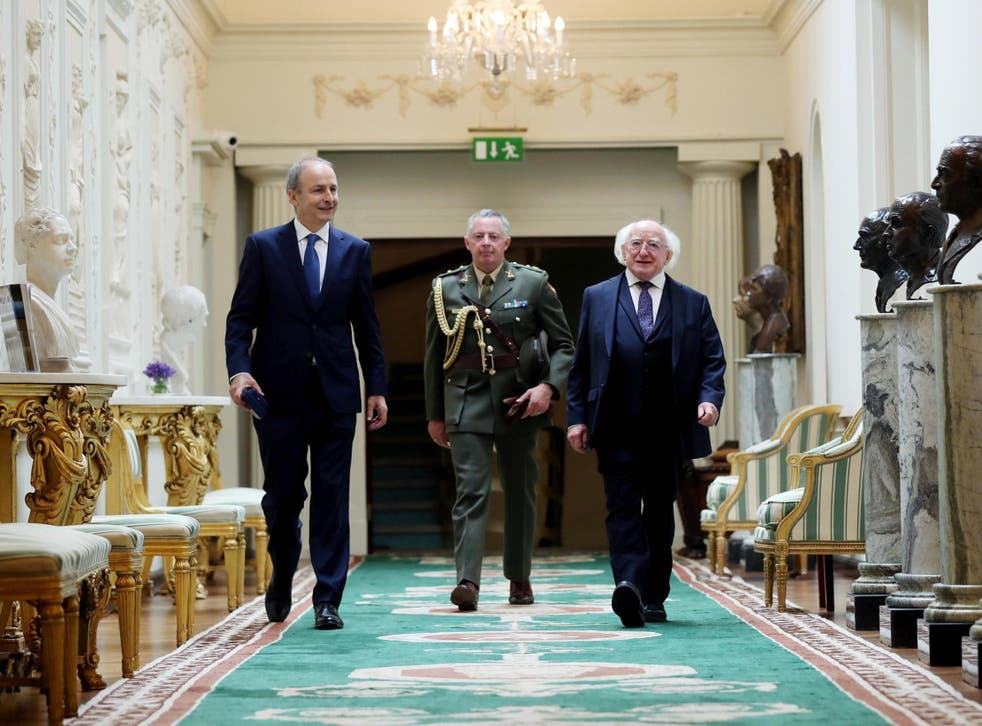 Civil war politics is over in Ireland's parliament, outgoing premier Leo Varadkar has said, after political rivals agreed to form a historic governing coalition.
The coalition between Fianna Fail, Fine Gael and the Greens was ratified on Friday night by all parties and confirmed by the nation's parliament the following evening in a special meeting of Irish MPs hosted at Dublin's Convention Centre to allow for social distancing.
Micheal Martin, the Fianna Fail leader, has since been sworn in as Taoiseach by president Michael D Higgins at Dublin castle – although the role will revert back to Fine Gael's Mr Varadkar halfway through the government's term.
"We are meeting away from our permanent chamber because of a historic pandemic which has struck Ireland and the rest of the world," Mr Martin told the parliament in his inaugural address. "As of today, 2,278 people on this island have lost their lives.
"Many thousands more have fought a long struggle to recover. There is no community, no part of our country, which has escaped untouched. In the last three and a half months, enormous progress has been made in controlling the spread of the virus and treating those who have become sick.
"The struggle against the virus is not over. We must continue to contain its spread. We must be ready to tackle any new wave, and we must move forward rapidly to secure a recovery to benefit all of our people."
Mr Varadkar, who has since been named as minister for enterprise, trade and employment alongside his role as deputy to Mr Martin, told the parliament the accord between the three parties was "historic".
"I believe civil war politics ended a long time ago in our country, but today civil war politics ends in our parliament," he said.
"Two great parties coming together with another great party, the Green Party, to offer what this country needs, a stable government for the betterment of our country and for the betterment of our world."
Joining Mr Varadkar in the new cabinet is Fine Gael deputy leader Simon Coveney, who returns to his post as minister for foreign affairs, alongside new faces from Fianna Fail, and the Greens. Their leader Eamon Ryan was named minister for climate action. While it had been expected that half of the posts would be filled by women, only four were appointed.
While both Fianna Fail and Fine Gael can be classed as centre-right parties through the general lens of European politics, their agenda will be dragged slightly to the left by the coronavirus pandemic and their deal with the Greens.
The programme for government is ambitious in scope, and will attempt to please a diverse spread of constituencies. It aims to spend its way out of the pandemic, although it does not include new tax measures – a win for Fine Gael. Fianna Fail will point to housing commitments as a delivery on their manifesto promises, while the Greens have secured a big push for Ireland to reduce its carbon output.
A unit exploring the future of a "Shared Island" is to be established within the office of the Taoiseach – in a nod to Irish unity, which will aim to placate Sinn Fein voters.
Cork-born Mr Martin will be Ireland's 15th Taoiseach, but he is as establishment as they come in Dublin. An elected politician for three decades, he has served as minister for foreign affairs and for education, among other senior government roles, and he has led his party since 2011.
World news in pictures

Show all 50
Although this is not Ireland's first grand coalition, it is the first time that Fianna Fail and Fine Gael have gone into office together.
The two parties were born of opposing sides in the 1920s civil war, and fought over the terms of the treaty that saw Ireland break away from the UK. Since then, they have governed back and forth between them.
While they commanded almost 85 per cent of the Irish vote between them by the 1980s, their support has eroded to the point where they now require the Greens to help them reach an overall majority even after they have joined forces.
While Sinn Fein may have triumphed in this election's popular vote, the coalition has excluded them from office. Now, the party led by Mary Lou McDonald will be the official opposition in the Republic of Ireland for the first time.
Describing the coalition as a "marriage of convenience" and accusing the government of shutting out the voices of millions of the nation's voters by pushing her party into opposition, Ms McDonald added: "Faced with the prospect of losing their grip on power, Fianna Fail and Fine Gael have circled the wagons."
Register for free to continue reading
Registration is a free and easy way to support our truly independent journalism
By registering, you will also enjoy limited access to Premium articles, exclusive newsletters, commenting, and virtual events with our leading journalists
Already have an account? sign in
Register for free to continue reading
Registration is a free and easy way to support our truly independent journalism
By registering, you will also enjoy limited access to Premium articles, exclusive newsletters, commenting, and virtual events with our leading journalists
Already have an account? sign in
Join our new commenting forum
Join thought-provoking conversations, follow other Independent readers and see their replies