Ireland's same-sex marriage vote: As date looms, the Irish ask - how would God vote?
Ecclesiastical opinion is more nuanced than you might have thought, finds Emily Dugan in Dublin
Emily Dugan
Thursday 21 May 2015 00:13 Comments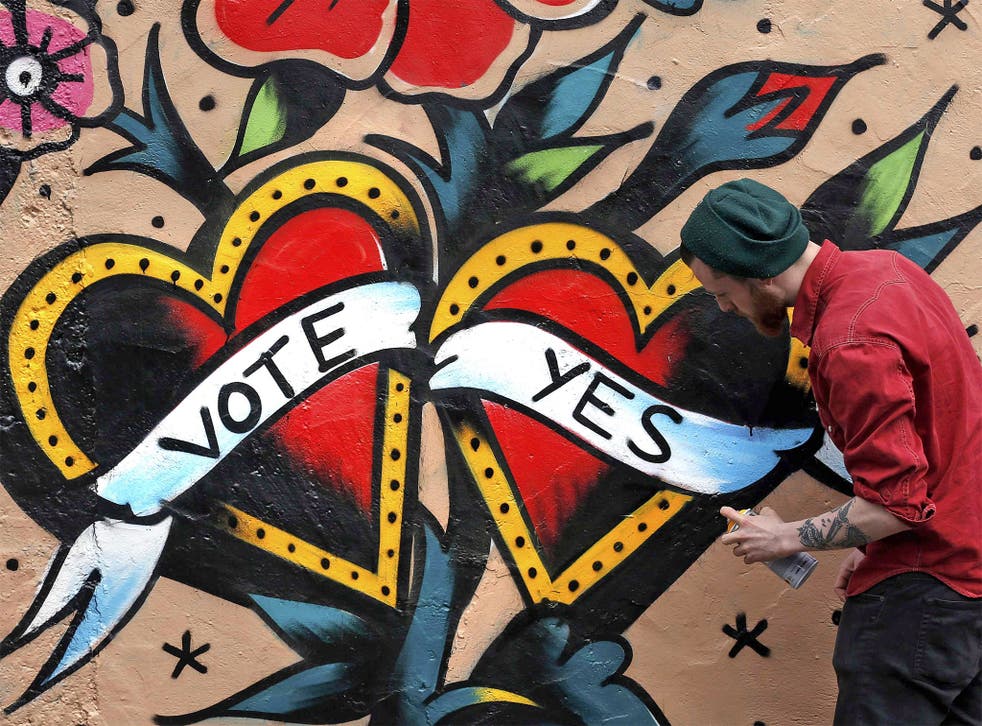 Father Peter McVerry is a Dublin priest whose charity work has earned him a Pride of Ireland Lifetime Achievement award. A respected pillar of Irish society, he is also one of several high-profile Catholics backing a Yes vote in the referendum on same-sex marriage.
The nationwide poll has been billed as a battle between the Catholic Church and the state, but now a growing minority of priests and nuns are speaking out in favour of equal marriage rights.
"For me it is a matter of equality," Father McVerry told The Independent. "I think we ought to recognise the love that exists between two people of the same sex; that's not a problem for me. It's essentially a civil matter that marriage is being regulated by the state and I don't think the church should impose its own moral code on people who may not believe it."
Ireland's primate, the Archbishop of Armagh, Eamon Martin, has been vociferous in his opposition to same-sex unions, however. He says that they are not "similar or even remotely analogous to God's plan for marriage and family."
But not even receiving hate mail has convinced Father McVerry that his leader's position is right. "I've had some correspondence, shall we say, from right-wing Catholics telling me I'm going against the word of God and the teaching of the church," he said. "I don't accept that for a second. Even if one accepts the church's position – which I don't – that homosexuality is intrinsically disordered, we can't legislate for the moral code of the Catholic Church."
He added: "If this referendum fails I think it would send an appallingly negative message to people that are lesbian or gay. It would say that they're not equal in the eyes of society."
Brian Sheehan, co-founder of the Yes Equality campaign said: "We've had the hierarchy in the Church coming out strongly against marriage and having letters sent to churches to be read out at Mass. But what we do know is that a large number of priests and religious figures have now come out and said they're voting Yes.
"The opinion polls show gay marriage has the support of the majority of the population – and the majority of the population is Catholic. The bishops are out of step with the country on this one."
Sister Stanislaus Kennedy – or Sister Stan as she is affectionately known – is one of Dublin's best-known nuns. The 75-year-old, who founded a homeless charity, has also come out in favour of the Yes camp.
"I am going to vote Yes in recognition of the gay community as full members of society," she said, in an interview with The Irish Times. "They should have an entitlement to marry. It is a civil right and a human right."
She added: "I have a big commitment to equality for all members of society. It's what my life has been about. We have discriminated against members of the gay and lesbian community for too long. This is a way of embracing them as full members of society."
The Archbishop of Dublin, Diarmuid Martin, has stopped short of telling people to oppose a change in the law. In a sign of the church's loosening of its position on the issue, he explained that while personally he would be voting No, he did not want to tell people how to vote. Instead, he simply said: "I encourage everyone to vote and to reflect carefully."
Analysts say his reticence to order Catholics how to cast their ballot is a sign of changing times. In previous referenda on issues such as divorce, church leaders have all been more outspoken in telling their followers what to do.
Faith for Yes, a campaign group bringing together religious figures from across Ireland to campaign for equal marriage, held an event in Dublin city centre. Six speakers from different faiths, including Catholicism, spoke in favour of gay marriage. Phil Hogan, co-convenor of the Catholic group We Are Church Ireland, told the audience: "I pray on Friday my gay brothers and sisters will be embraced by Yes."
The latest polling suggests that the Yes campaign will win around 58 per cent of the vote. All major political parties are backing a change in the law and the Taoiseach, Enda Kenny, urged voters in a press conference yesterday to "go out and create history".
Register for free to continue reading
Registration is a free and easy way to support our truly independent journalism
By registering, you will also enjoy limited access to Premium articles, exclusive newsletters, commenting, and virtual events with our leading journalists
Already have an account? sign in
Join our new commenting forum
Join thought-provoking conversations, follow other Independent readers and see their replies